Image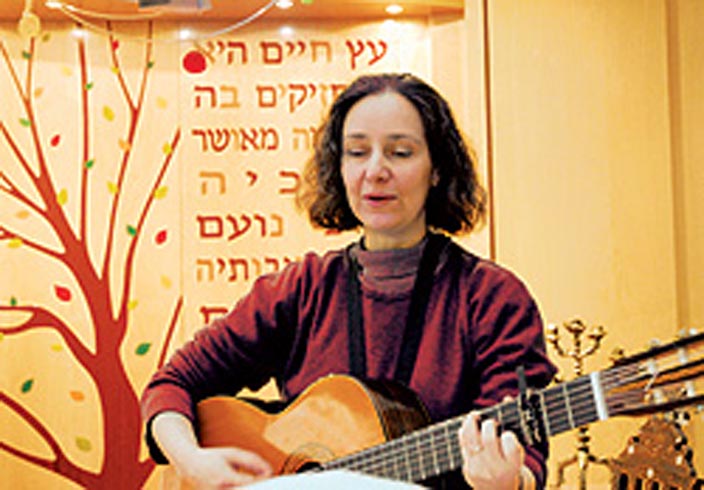 Liberal Judaism in France, which just marked its 100th anniversary, is more vibrant than ever before. France's 14 synagogues are all full for Shabbat services, rent large concert halls to accommodate High Holiday demand, and have such popular religious schools that families have to wait in long lines to sign up.
The country's largest and most popular Liberal community is the Union Libérale Israélite de France (ULIF). Its flagship Rue Copernic Synagogue, with 4,500 individual members, is in the heart of the French capital's elegant 16th arrondissement (district); its satellite synagogue in Vigneux-sur-Seine (south of the French capital) has 200 members, and its Marseille synagogue has 800. ULIF members are prominent figures in French society, from past and present political leaders, including former European Parliament head Simone Veil; to top entertainers, including singer Patrick Bruel and television personality Anne Sinclair; and successful business figures in the garment, real estate, and advertising industries.
ULIF is also the country's oldest Liberal community, established in 1907 by modern-minded French Jews. Its founding rabbi, Louis-Germain Levy, formerly an Orthodox rabbi in Dijon, served the community until his death in 1946. Breaking with traditional practice, Rabbi Levy promulgated a "rationalist approach" that reconciled Judaism with the lifestyle of highly educated and prosperous Jews who wished to integrate more fully into French society. Services were often on Sunday, mostly in French; men and women sat together; and kippot and tallitot were not in use.
In the past 30 years, ever since the British-born Rabbi Michael Williams, 64, took over, the ULIF synagogues have returned to more traditional Jewish practices. "Our Saturday service now resembles a Conservative service in the U.S.," Rabbi Williams says, attributing the change to a demographic shift. In the late 1950s and early 1960s, when former French colonies in North Africa gained their independence and anti-Jewish sentiment intensified among Muslims in response to the Israeli-Arab conflict, hundreds of thousands of Jews fled and many of them settled in France. Today, seven of ten French Jews are of North African origin, and they tend to be traditional in their Jewish practice.
The Rue Copernic Synagogue has struck a perfect balance for those seeking a modern approach to Judaism without breaking completely from their North African Jewish heritage. "The majority of people who now come here do so because we are a reasonably traditional place," Rabbi Williams says. "Women sit with men but do not read from the Torah [as in other French Liberal synagogues]. People from North Africa recognize this as a synagogue."
Conflicting views of what constitutes Liberal Jewish practice have sometimes caused strained relations among Progressive congregations in the French capital. "I don't think there is a single non-Orthodox congregation in Paris not created as a result of a split from another group," Rabbi Williams says.
The ULIF's main rival is the Mouvement Juif Libéral de France (MLJF), created in 1977 by Rabbi Daniel Farhi, who left the Rue Copernic Synagogue when more traditionalist practices were introduced. Today MJLF has three congregations in Paris and its suburbs, and close to 4,000 members. Committed to putting a tolerant and humanist face on Judaism, MJLF is known for its multiplicity of cultural activities, including frequent lectures by leading intellectuals. Rabbi Farhi, or "Daniel" as he is known by the congregation, is the author of several popular books and second only to Orthodox chief rabbi Joseph Sitruk as the country's best-known rabbi. The opinions of both men are often sought by the national media.
In 1990 Rabbi Farhi established a national religious commemoration of Yom Hashoah. The annual event is held on the 27th of Nisan and attended by government leaders. Its high point is "La lecture des noms" ("The reading of the names"), an emotional 24-hour public reading in which surviving relatives are among the people who read aloud the names of the 76,000 Jews deported to Nazi death camps from France. In 2003 the then Roman Catholic Archbishop of Paris, Cardinal Jean-Marie Aron Lustiger, read a portion of the list. The Jewish grandson of a Polish rabbi, he had been placed in a Catholic boarding school for protection during the Nazi occupation of France, and there, at the age of fourteen, decided to convert to Christianity. His mother, who had remained a Jew, died at Auschwitz. After reading several names, the prelate paused and then, in a barely audible voice, read the next name: " Gisèle Lustiger…ma maman" (my mom).
Rabbi Pauline Bebe, 44, is one of only two women rabbis in France. In 1995 she left MJLF, where she was a junior rabbi, and created her own congregation in Paris-now the 300-member Communauté Juive Libérale (Liberal Jewish Community). "We are in tune with the Liberal movement in Israel and the United States," she explains. "In comparison, the ULIF and MJLF are more classic. We have total equality between men and women, and women here wear the tallit." LJC prayer books are the same as those one finds in Reform congregations in the U.S. and Israel; those at ULIF and MJLF are more Conservative, she says. Also, congregants are more active participants in services, sometimes leading services from the floor; and when she leads services, Rabbi Bebe often plays guitar-something that would be unthinkable at ULIF.
In April 2006 Rabbi Bebe's "Maayan" community center was inaugurated by Paris mayor Bertrand Delanoë. A religious opening ceremony (Hanukat habayit) took place the following month, attended by several other Liberal rabbis, including Rabbi Williams, who collectively pronounced a blessing for the occasion. The center houses a synagogue, theater, and library, as well as classrooms and offices, and features art exhibits. Also planned-to draw in Jews of all ages and interests-are art and dance studios, a cybercafé, and a mikveh.
Some of the Liberal Jewish community's social and educational activities are conducted in common with another Liberal community, Kehilat Gesher-not surprising when you know that Rabbi Bebe is married to Kehilat Gesher's spiritual leader Rabbi Tom Cohen. The American-born Cohen created Kehilat Gesher to cater to expatriate English speakers (Americans and Brits) as well as to native French Jews. With about 150 member families in total, Kehilat Gesher maintains two sites: one in the elegant west Paris suburb of St Germain-en-Laye and the other in Paris' equally upmarket 17th arrondissement. It is one of the rare synagogues in the world where prayer books are in three languages: Hebrew, French, and English.
The latest addition to the French Liberal rabbinical community is Celia Surget, the 30-year-old daughter of a French father and an American mother. Brought up in Geneva and educated in Jeru­salem, New York, and at London's Leo Baeck College, Rabbi Surget joined the ranks of MJLF rabbis this past summer.
---
France's 600,000-member Jewish community is the third largest in the world, second only to Israel and the U.S. As numbers go, only a small minority of French Jews are affiliated with Liberal Judaism; the majority are Orthodox. Compare, for example, the fourteen Liberal congregations in all of France to the nearly 200 Orthodox synagogues and prayer halls in the Paris area alone.
Within France, the overwhelming majority of Reform Jews live in the Paris area, where more than half of France's Jews reside. Far more Reform Jews are in Paris than in the combined five provincial cities (Marseille, Tou­louse, Strasbourg, Montpellier, Lyon) where there are Liberal congregations. These provincial congregations are often aided by the larger Parisian congregations.
Liberal communities tend to draw in many families with young children, a significant number of whom are composed of Jewish fathers and non-Jewish mothers, or mothers converted to Judaism by Reform rabbis. In contrast, those who attend Orthodox shuls are older, and many of their children are "Yom Kippur Jews"-only showing up at their parents' synagogues for the High Holidays. ULIF president Claude Bloch recounts how, when asked by a well-known Orthodox rabbi how many people attend Shabbat at his Liberal synagogue, he replied, "Sometimes 500 people. And you?" The Orthodox rabbi, having expected a lower figure, stammered: "I'm not really good at math."
While a large segment of French Jewry can be classified as lower-middle class or working class, most affiliated Liberal Jews are middle- and upper-middle class. And because they usually reside in well-to-do areas, Liberal Jews have been spared the antisemitic attacks which, since 2000, have disproportionately affected poorer Jews living in or near mixed Muslim-Jewish neighborhoods, prompting a yearly aliyah of some 2,500-3,000 French Jews.
Like most citizens in this nation where secularism exerts a strong hold over society (fewer than 10 percent of the majority Catholic population attend church at least once a month), two-thirds of French Jews have no connection with organized Jewry. Still, two diverse strands of French Judaism are growing: Chabad, which is attracting newly religious Jews, and Liberal Judaism, which, according to opinion polls, appeals to 20 percent of French Jewry.
"We see this phenomenon in France and elsewhere," says Rabbi Uri Regev, the Jerusalem-based president of the World Union for Progressive Judaism. "As Orthodox Jews become frummer [more observant], many Jews opt for more liberal expressions of Judaism. Younger, serious Jews who don't take their Jewish affiliation for granted are seeking meaningful, modern, liberal ways of expressing their faith."
"All the Liberal communities are expanding," adds Rabbi Farhi, "and I am certain we could create another thirty communities in the Paris area alone if we had rabbis to staff them."
Celebrations of the 100th anniversary of Liberal Judaism in France brought a rare note of unity to the Liberal congregations. And interestingly, the rabbi serving as a bridge between the various Liberal communities was born in New York.
Rabbi Stephen Berkowitz, 51, is one of MJLF's three spiritual leaders. In May 2006 and May 2007 he organized meetings devoted to prayer, study, and discussion attended by nearly all of the French-speaking Liberal rabbis. "Coming from the U.S.," he says, "it was difficult for me to adapt to the situation in France, where such contacts did not exist." But adapt he did, and, in part thanks to his efforts, the heads of ULIF and MJLF, along with a Paris Conservative congregation, have created a joint day school, which opened last September.
ULIF president Claude Bloch believes that the 100th anniversary of his congregation provided another opportunity for all Liberal communities in France to show their unity, since all have been invited to actively participate in the celebrations as if they were their own. "The problem about unity among Liberals," he says, "is that all the 'old tigers' have had their claws out defending their terrain for years, and the main Liberal rabbis worked alone in their corners with their respective congregations. But now we have initiatives toward common action, and the most influential Liberal leaders have indicated they will work together."
In November 2012, the heads of most of France's Liberal congregations met in Paris with Rabbis Andrew Goodstein and Joel Oseran, respectively the chairman of the European Region and the WUPJ vice president for international development, to discuss tightening unity among French groups. The meeting led to the planned creation of an all-encompassing federation of French-speaking communities which would be an umbrella organization for France, Belgium, and Switzerland.
With this kind of support, says Bloch, "there are few limits to where French Liberal Judaism can go."