You are here
Quiz: Is This Kosher for Passover?
How much do you know about Passover dietary customs? Take this quiz to find out, and share the results with your friends!
As summer winds down, here's how to get ready for the Jewish New Year.
Making a successful holiday dinner can be an overwhelming, frantic experience. But with some advance planning, it doesn't have to be! 
Learn how to navigate the stress of the High Holidays as a parent. Make your holidays less frantic by following this helpful guide.
Some see the round shape as a reflection of the continuing cycle of years and seasons.
Whether you're a member or a visitor, familiarity with synagogue etiquette will help you get the most from your experience.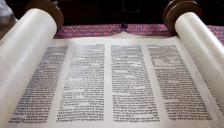 You shall appoint magistrates and officials for your tribes, in all the settlements that the Eternal your God is giving you, and they shall govern the people with due justice. - Deuteronomy 16:18
Want to explore Reform Judaism but have no in-person opportunities to study? This class is for you! Register now.
There's a deep relationship between Judaism and social action.
Learn why Anat Hoffman fights for women's rights in Israeli society.
Mattan loves his homeland while disagreeing with its government.
Search URJ.org and the other Reform websites:
WRJ Shop MRC
The artwork on this note card was created by 5768 WRJ Art Calendar artist Césan d'Ornellas Levine.
$7.50/pack
Show your WRJ pride with this zippered canvas bag. Features the phrase "Well-behaved women rarely make history" and the WRJ logo.
$18 $15