Image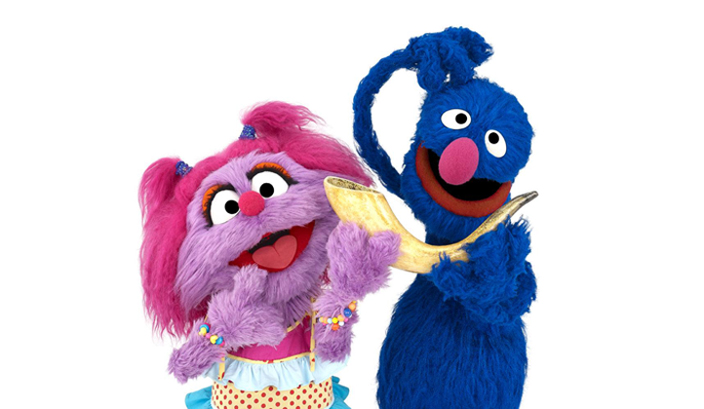 Together with your children, watch the "The Sticky Shofar," three videos by Shalom Sesame to introduce the shofar, its meaning, and customs. Then, try some of the discussion ideas and activities below, created by Reform Jewish educators, to further extend the lessons learned in the videos. If you wish, share your experiences and ideas in the comments sections below!
View parts 2 and 3 and more Shalom Sesame videos about Rosh HaShanah.
Discuss: Sounding the Shofar
Blowing the shofar can be a way for people to wake up and pay attention. The shofar blasts offer an opportunity to think about sound and how it affects us.
Talk to children about what it means to reflect on something.  
Ask if there are mistakes they made during the last year that they'd like to correct. 
Discuss their responses.
Activities
Make up a song. Pick a simple tune together ("Row, Row, Row Your Boat" or "The Itsy Bitsy Spider") and re-write the lyrics to fit the theme of the Jewish New Year. Ask your children to incorporate their wishes for the upcoming year, favorite traditions, or new Hebrew words you learn from Shalom Sesame! Can you include the word shofar in your tune or imitate the shofar's sound?
Read with your children. Check out these great books about sounding the shofar:
Sophie and the Shofar by Fran Manushkin, Rosalind Charney Kaye (Illustrator): After describing some of the traditions of Rosh HaShanah to her cousin from Russia, Sophie learns about trust and forgiveness.
Sound the Shofar: A Story for Rosh HaShanah and Yom Kippur by Leslie Kimmelman, John Himmelman (Illustrator): Uncle Jake gets to blow the shofar twice within 10 days, as the family first celebrates Rosh HaShanah and then Yom Kippur.
It's Shofar Time by Latifa Berry Kropf, Tod Cohen (Photographer): It's Rosh HaShanah, the Jewish New Year. It's time to learn new things, wear new clothes, and taste new fruits. It's time to toss crumbs into the water and say "I'm sorry."
Practice the shofar blasts. Use kazoos to learn and make the different blasts of the shofar, or experiment with sound and movement by having children and other family members create shofar blast sounds with their voices or other objects:
Tekiah: one long blast _____________
Shevarim: three medium blasts _____ ____ ____
Teruah: nine short blasts __ __ __ __ __ __ __ __ __
Tekiah Gedolah: a very long, final blast, for as long as you can hold your breath
Sing together. Another great way to learn the sounds of the shofar is to sing the ever-popular and catchy song "Shofar Blast!" by Peter and Ellen Allard.
Share your ideas. Do you have a favorite activity for learning about the shofar with kids? Share it in the comments section below!
For more Shalom Sesame videos, activities, and other materials, visit our friends at ShalomSesame.org.