Image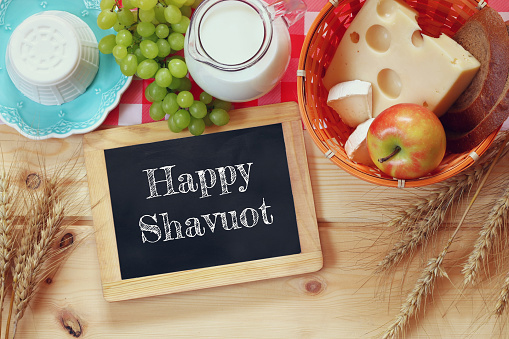 Exactly seven weeks and one day after Passover, we arrive at Shavuot, the feast of "weeks." Shavuot was, in ancient times, a pilgrimage festival. Our ancestors would journey from afar to the holy Temple in Jerusalem, where they would offer the first grains of their wheat crop and their most superior first fruits as well.
Shavuot also is a time when we celebrate the giving of the Torah at Mount Sinai – though it should be noted that this connection between Shavuot and the giving of Torah is not found in our Torah; it was developed later on, after the destruction of the second Temple, during the rabbinic period.
Ages ago, having escaped enslavement in Egypt and experienced the miracle of deliverance at the shores of the Red Sea, our ancestors gathered at the foot of Mount Sinai. There, amidst blasts of thunder and streaks of lightning, as some say – or maybe it was, as others teach, in a moment of stunning, absolute silence – God granted our people the Torah. (We named this sacred encounter "revelation" because God was revealed in that moment, as was the wisdom of our Torah. So too was the very special relationship that we have with God, called our "covenant," which is something like a promise between us and God.)
On Shavuot, we honor this moment in two important ways: First, during Shavuot services, we recite the Ten Commandments. In many congregations, the community rises before the passage is read and remains standing throughout the entire recitation. As important as the Ten Commandments were generations ago, they are just as important, today – if not more so. Later on, we will often read and study the Ten Commandments during the Shavuot tikkun, or study session.
Our Shavuot tikkun is the second way we honor Torah during the holiday. But this is no ordinary study session: On Shavuot, it has become customary to study all night long! It's a true Torah-filled sleepover where all kinds of wonderful learning can happen. For example, you might spend your Tikkun Leil ShavuotTikkun Leil Shavuotתִּקּוּן לֵיל שָׁבוּעוֹתA celebration specific to the holiday of Shavuot, it includes a late-night – or even all-night – study of Torah and Jewish texts that commemorates receiving the Torah at Mount Sinai. reading the Book of Ruth, one of Shavuot's traditional texts. (One of the possible reasons we read Ruth on Shavuot is that, just as our people accepted the Covenant at Sinai, so Ruth took on the Covenant of the Jewish people in her time.) But you might also do a number of completely unconventional activities during a Tikkun Leil Shavuot too, like cooking, Israeli dancing, yoga or even krav maga (self-defense)!
At home, we celebrate Shavuot with the most delicious dairy meals. When we eat dairy, we think about the Israelites, who traveled 40 years to the Promised Land, "a land flowing with milk and honey" (Exodus 3:8). Some also compare the Torah to milk, which is nourishing and helps us grow. Thus, during Shavuot, it is an Ashkenazic custom to eat platefuls of blintzes with sour cream, oodles of noodle kugel, and generous helpings of cheesecake to wash it all down! In many Sephardic communities, however, you might find Jews indulging in soutlach, a Turkish rice pudding dish made from milk, honey, rose water, and rice. Given that we are also celebrating the first fruits of the season, fresh, delicious fruit adds incredible colors, flavors, and hey, some nutritional balance, too, to our holiday meals.
As we gather with family, friends, and community this Shavuot, may we all be inspired to re-engage with Torah, recall our love and passion for Israel, and reignite our commitment to Jewish learning and living!