Image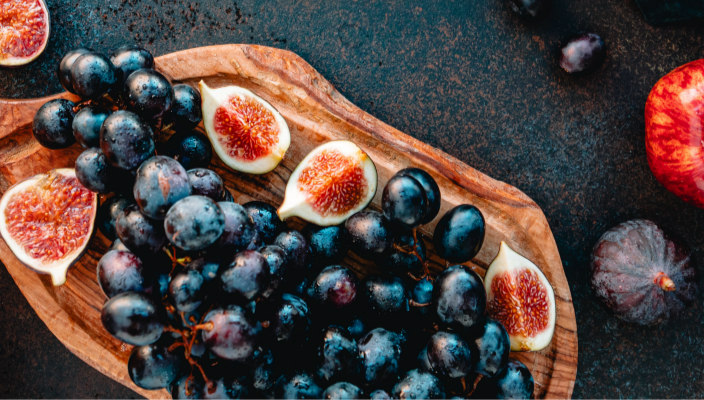 Collectively known as shivat haminim, the Seven Species are sacred fruits and grains grown in the Land of Israel. Eating these foods, especially during the holiday of Tu BiShvat, has become a popular way for Jews around the world to maintain a connection to Israel.
Below, we've rounded up three recipes that highlight each of the Seven Species. Mix and match to create a perfect Tu BiShvat feast!
1. Wheat
Savory Persian Herb and Cheese Hamantaschen: This savory take on traditionally sweet Purim food uses spring herbs, a Persian favorite. Made with whole wheat flour, they're reminiscent of burekas – and delicious all year long.
Stuffed Kibbeh: Kurdish Jews call this dish kubba, and in Egypt, it is called kobeba. In the Middle East, Jewish women used to be judged on their prowess in shaping kibbeh into long, torpedo-shaped, shelled dumplings!
Techina Cookies: Techina (tahini) is a staple found in most Israeli kitchens. This family cookie recipe is made with equal parts all-purpose flour and whole wheat flour.
2. Barley
Baked Chicken with Barley: This classic Bulgarian Shabbat dish is delicious, comforting, and – bonus! – very easy to make.
1654 Barley Salad: This recipe was created in 2005 in celebration of the 350th anniversary of Jews in America – inspired by gardening techniques practiced in Plymouth, MA.
Vegetarian Mushroom Barley Soup: One favorite dish of the Ashkenazim that survived the move from the Eastern European shtetl to North America was a hearty mushroom-potato-barley soup called krupnick.
3. Grapes
Wine Jelly and Frosted Grapes: Kick back and relax with a cheese board and wine jelly (a wonderfully sweet counterfoil to strong and earthy blue-veined or chevre cheeses) decorated with sugared grapes.
Chicken Salad Veronique: This cold salad features Israel's summer bounty. Did you know that French recipes with "Veronique" in the name signify the inclusion of grapes?
Sangria de Curaçao: This unique sangria recipe adds only a minimal amount of fruit juice added to the wine – but the cinnamon-scented syrup, limes, and nutmeg make for a refreshing sipper.
4. Figs
​*Jaroset [Panamanian Halek]: This Passover recipe comes from a Panamanian Jewish woman whose roots go back to Spain via Amsterdam and Curaçao, which had a significant Jewish population in the seventeenth and eighteenth centuries.
Fresh Figs with Goat Cheese and Honey: Although upscale restaurants and caterers now often serve this popular combination of fruit and cheese, it's one that Middle Easterners have been enjoying for thousands of years!
*Date Fig Bars: This recipe mixes up figs and dates for extra Tu BiShvat flavor – and the resulting, easy-to-make bars are great for breakfast.
5. Pomegranates
Chicken Fesenjan with Walnuts and Pomegranate Syrup: This famous Persian dish is considered a festive meal served for important occasions. In the north of Iran, it is customary is to make this dish with duck or pheasant.
Tart Pomegranate and Cherry Tonic: Behold the heart-healthy mojito mocktail, so brightly delicious and refreshing! Pomegranates contain 613 seeds, the same number of mitzvot (commandments) as are in the Torah.
Pomegranate Orange Sheet Pan Shabbat Chicken: Nothing is easier, faster, or more worry-free than a sheet pan dinner! In this recipe, you don't even have to stagger the ingredients to jockey the cooking times. It all cooks perfectly from the get-go.
6. Olives
Orange and Fennel Salad: Combining fruits and vegetables in salads is very Israeli. Oranges, in particular, are identified with Israel, and this recipe pairs them with fennel and olives for an unusual flavor combo.
Marinated Olives: Olives and oranges are often combined in foods of the Mediterranean. Here, the foods of Morocco and Spain join to create a great nibble at cocktail parties, as a part of a meze, or tapas assortment.
Vegan Mediterranean Grilled Tofu: This dish combines both cooked and raw vegan items, including some of the most flavorful ingredients in the Mediterranean cuisine.
7. Dates
*Moroccan Sweet Couscous with Mixed Dried Fruits: In reality, this traditional Moroccan dish is served for Hanukkah – but why relegate it to just one holiday? Topped with both dates and pomegranates, it's also perfect for Tu BiShvat.
*Arugula Salad with Dates and Chevre: This recipe was created with Uganda's Jewish community in mind, as the sunflowers and pomegranates included in it are indigenous to the area where the Abayudaya Jewish people reside.
Lemon Poppyseed No-Bake Energy Bars: These delicious, healthy snacks are gluten-free, oil-free, and vegan, combining combine almonds, dates, whole grain oats, fresh lemon, coconut, and poppyseeds.
What are you making this Tu BiShvat? Tweet us or head to our Facebook page to share your favorite recipes