Image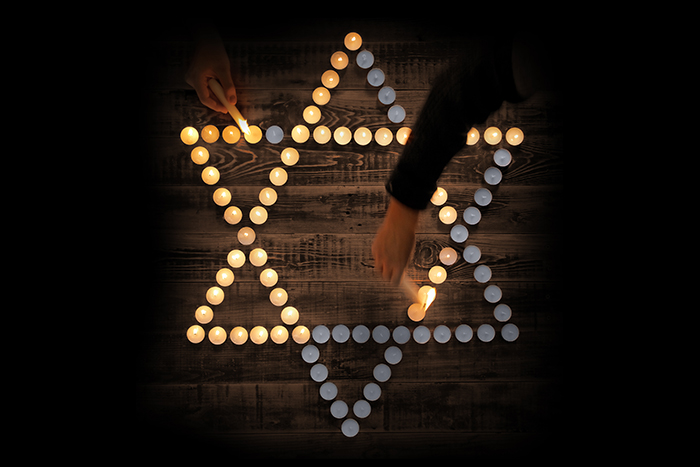 El Malei Rachamim
El Malei Rachamim ("God full of compassion") is a prayer for the departed that asks for comfort and everlasting care of the deceased. It is recited at funeral services, but different versions exist for different moments. The version for the Shoah (Holocaust) can be found in the Reform prayer book, Mishkan T'filah. Listen to the liturgy and read the translation below:
Fully compassionate God on high:
To our six million brothers and sisters
murdered because they were Jews,
grant clear and certain rest with You
in the lofty heights of the sacred and pure
whose brightness shines like the very glow of heaven.
Source of mercy:
Forever enfold them in the embrace of Your wings;
secure their souls in eternity.
Adonai: they are Yours.
They will rest in peace.
Amen.
Kaddish with Names
A liturgical addition since the Shoah, found in many Reform and Conservative prayer books, is what some refer to as the "Camps Kaddish" or the "Holocaust Kaddish," which juxtaposes the traditional Aramaic text of the Mourner's Kaddish with the names of the concentration camps and ghettos where massacres occurred. There are a few versions with slight differences. This recitation is from Elie Wiesel and is found in Mishkan T'filah. Listen to the reading:
Zog Nit Keyn Mol ("The Partisan's Song")
This Yiddish song is considered one of the anthems of Holocaust survivors. The lyrics were written in 1943 by Hirsh Glick, a young Jewish inmate of the Vilna Ghetto. He was inspired to write the song by news of the Warsaw Ghetto Uprising of 1943.
The title means "Never Say," and derives from the first line of the song. Glick's lyrics were set to music from a pre-war Soviet song written by Dmitri and Daniel Pokrass. During the war, Zog Nit Keyn Mol became a symbol of resistance against Nazi Germany's persecution of the Jews and was adopted by many partisan groups throughout Eastern Europe. Listen to the song.
Eili - Halicha L'Kesariya ("My God, My God – Walk to Caesaria")
Hannah Szenes (Senesh) (July 17, 1921 - November 7, 1944) was a Hungarian Jew who emigrated to Israel in 1939. She was one of 37 Jews who was trained by the British army to parachute into Yugoslavia during World War II to help save the Jews of Hungary, who were about to be deported to the German death camp at Auschwitz.
Szenes was arrested at the Hungarian border, imprisoned, and tortured, but she refused to reveal details of her mission and was eventually tried and executed by firing squad on November 7, 1944. She is regarded as a national heroine in Israel.
She kept diary entries and was a poet and playwright; one of her more well-known poems, Eili ("My God, My God") was set to music by David Zahavi. Listen to the song.