Image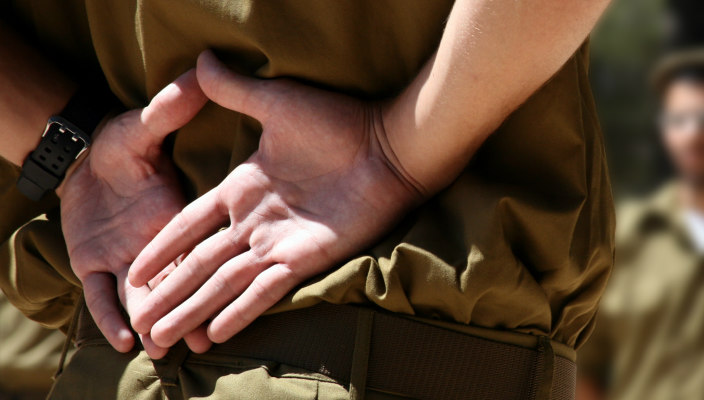 Yom HaZikaron, Israel's Memorial Day, is a deeply somber time in the State of Israel. Writes an American Reform cantor who took her sabbatical in Israel,
In Israel, it's personal.

There is nothing remote or symbolic about Yom HaZikaron for Israelis. It is the day when you remember specific people in your family, or your friends or in your friends' families. It is a day to remember the people who graduated from the same school you go to, or those who were members of the same communities to which you belong.
Though most of us in North America don't have the same connection to those who have died in service to Israel, we can still observe Israeli Memorial Day as we mourn from afar those who gave their lives to protect the Jewish State.
1. Observe two minutes of silence.
Most Israelis observe the day by standing at attention for two minutes at 8:00pm Israeli time. For those 120 seconds, life in Israel slows to a halt as Israelis stand still and quiet, remembering and honoring their fallen soldiers.
2. Say a prayer for Israel.
Israeli activist Anat Hoffman wrote this poem, "A Prayer for Israel," which is perfect for Yom HaZikaron. Recite it with your family, with your Jewish community, or even just by yourself. It's the remembering that matters.
3. Attend a communal ceremony.
Many local Jewish communities host ceremonies on or around Yom HaZikaron as a means of gathering together in mourning and remembrance. At these ceremonies, the names of the dead are often read aloud.
4. Wear a yizkor (remember) sticker.
On Yom HaZikaron, many Israelis will wear a special yizkor sticker to show their respect for Israel's dead. Download and print your own sticker, or share the image on social media to encourage others to remember fallen soldiers and terror victims, too.
5. Make a donation.
Whether you donate to your synagogue or to your favorite Jewish organization, making a donation in the name of all those who have died in Israel is a tangible way to observe Yom HaZikaron and strengthen the Jewish people. We invite you to join us in our movement-wide effort to support the Reform Movement in Israel through a generous donation.
How will you observe Yom HaZikaron?