Image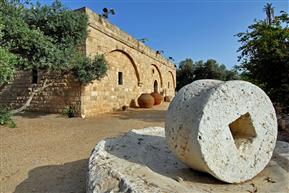 Though you may want to spend your time in Tel Aviv checking out its Bauhaus architecture or lounging on the beach, the city features some fantastic museums that are worth the trip.
The Tel Aviv Museum of Art comprises a number of different departments, including architecture and design, photography, Israeli art, sculpture and more. The Herta and Paul Amir Building, opened in 2011, is considered an international architectural landmark.
The Eretz Israel Museum is a historical and archaeological museum near Tel Aviv University. The museum features many frequently changing temporary exhibits and eight permanent exhibits, including Ethnography and Folklore, Ceramics, and The Land of the Baron- as in Baron Edmond Benjamin James de Rothschild, whose generous financial assistance helped lead to the establishment of Israel.
Beit Hatfutsot (The Museum of the Jewish People) is a global institution that tells the 4,000-year-old story of the Jewish people. The museum seeks to connect visitors to their Jewish identities and serve as an address for Jewish discourse.
The Bauhaus Center offers guided architecture tours and educates visitors about the history of Bauhaus architecture, both in and outside of Israel. It also provides a bit of insight into Tel Aviv's nickname, "The White City".
The Yitzhak Rabin Center, located inside a library and research center, features a permanent exhibition on the life of Yitzhak Rabin against the backdrop of Israeli history.
The Rubin Museum, which displays the works of Reuven Rubin and other early Israeli artists, is housed in Rubin's former residence. His studio has been preserved exactly as it was left, and the museum features a collection of biographical items telling his life story.
The Nahum Gutman Art Museum pays homage to the life's work of Nahum Gutman- displaying his work as a painter, illustrator, sculptor and children's author. The museum resides in one of the first 48 houses built in Neve Tzedek, Tel Aviv's first neighborhood.
The Design Museum of Holon, which itself is designed by Ron Arad, serves as a resource for artists and design students and provides visitors with exciting and varied exhibits dedicated to understanding design and the role it plays in our everyday lives.
The Herzliya Museum of Contemporary Art features both Israeli and international Contemporary art, focusing mainly on pieces that offer a perspective on social and political issues.