Image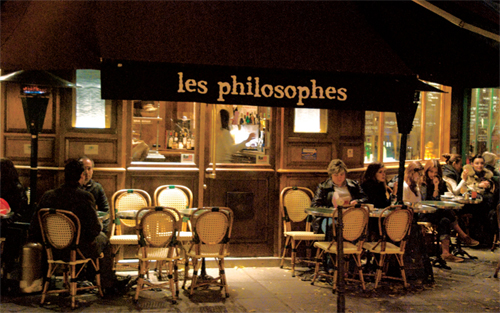 Interview with Stéphane Beder, president of the Federation of French-Speaking Liberal Jews (an organization representing liberal communities across France, Switzerland, Belgium, and Luxembourg), vice-chairman of the European Union for Progressive Judaism, and a member of the World Union for Progressive Judaism's executive board.
What should travelers not miss in Paris?
There is a reason why Charles Dickens dubbed Paris "the most extraordinary place in the world," Henry James referred to it as "the greatest temple ever built to material joys and the lust of the eyes," and Ernest Hemingway called it a "moveable feast." Beyond the historical landmarks, monuments, incredible museums, and restaurants that serve meals that can only be described as sensuous, Paris displays a unique beauty you can discover just by walking and looking at buildings at different angles in different lights of day and night. History and romance are part of the fabric of every street, bridge, and shop you visit. Interestingly, some Parisian museums offer great restaurant experiences with fabulous views that are not tourist traps. I recommend Georges on top of the Pompidou Museum; Monsieur Bleu within Palais de Tokyo, a contemporary and modern art center in the 16th arrondissement (neighborhood); and Les Ombres on the rooftop of Musée des Arts Premiers, which offers one of the best views in the city of the twinkling Eiffel Tower at night.
Food is a French obsession. Parisians spend hours comparing the merits of local bakeries, cheese stores, and restaurants. Today, a number of young chefs have joined the "fooding" movement, a fusion of the words food and feeling, which emphasizes quality products prepared in fun, modern, and accessible ways. At Pierre Sang Boyer, for example, the chef serves up affordable, gourmet dishes, such as panned fried foie gras with figs, to walk-in patrons. Reservations are not accepted and there are no tables—only bar stools. Les Cocottes, too, serves exquisite food, but in verrines (canning jars) and cocottes (cast-iron pots).
In Paris you can also experience kosher gastronomy. Yayin pairs excellent wines with reinvented traditional dishes, such as gefilte fish wrapped in banana leaves with coconut milk and duck filet with a charoset crust.
What is your top travel tip?
Don't schedule too much. Allow time to wander and just look around at places and people. Be open to the unexpected. That is how I met my American wife 30 years ago, in an elevator, the day she arrived in Paris.
What are the Jewish sites?
Don't miss Rue des Rosiers, the heart of the Jewish quarter, with its mix of bohemian clothing shops, art galleries, falafel stands, kosher butchers, Jewish bakeries, and crowds of eclectic Parisians, everyone from Orthodox Jews in shtreimels to gay hipsters decked out in the latest fashions. For great falafel, locals flock to L'as du Falafel. If you're a strudel lover, don't miss Florence Kahn on rue des Ecouffes, which intersects with Rue des Rosiers.
When you're done feasting, visit Le Musée d'Art et d'Histoire du Judaisme, which displays Judaic objects dating back to the Middle Ages. The Memorial de la Shoah captures the horrors of the Second World War, when nearly 76,000 French Jews were deported to concentration camps and only 2,500 survived. Many French Jews lost their lives because they were betrayed by their fellow citizens.
As a result, to this day, many French Jews prefer to keep their religious affiliations private.
Is it difficult, then, to live as a Jew in France today?
France's reputation as an anti-Semitic country is overblown. Today France is probably the least complacent country in the world when it comes to anti-Semitic acts or statements. American readers who are attached to notions of freedom of speech may be surprised to learn that many anti-Semitic statements about Jews that would be viewed as "opinions" in the U.S, such as Holocaust denial, are illegal in France and punished with fines and jail terms. The French courts recently ordered Twitter to furnish personal details about everyone who has tweeted an anti-Semitic insult. And very precise statistics regarding anti-Semitic acts—which do occasionally occur, as they do in the United States—are maintained in coordination with the French police.
Overall, France's 500,000-strong Jewish community is thriving. Jewish classes, conferences, concerts, and cultural activities are held every day or night. And kosher restaurants are multiplying—in my neighborhood, in the 17th arrondissement, there are more than a dozen within a five minutes' walk.
How did Progressive Judaism first come to your city?
The first Progressive synagogue, the Union Libérale Israélite de France (ULIF), opened in 1907. Its founding rabbi, Louis Germain-Levy, wanted to combine Judaism with science and philosophy, and the synagogue grew quickly.
Nowadays, the majority of Jews in France think of themselves as traditionalists, but the Progressive movement is growing. Like in Israel, many French Jews think the Jewish choice is being Orthodox or nothing at all—but once they are exposed to the reality of Progressive Judaism, many realize this is what they have always wanted. Today we have four Progressive congregations in Paris, plus Progressive synagogues in Grenoble, Lyon, Marseille, Montpellier, Toulouse, and Strasbourg.
What is Progressive congregational life like in Paris today?
ULIF, led by Rabbi Yossi Kleiner and Cantor Armand Benhamou, is renowned for developing a musical liturgy derived from 19th-century "consistorial" music, with an organ and a mixed choir. Rabbi Pauline Bebe, the first woman rabbi in France, created Communaute Juive Liberale Ile de France (CJL), a warm and welcoming community with a participatory style which focuses on social action, welcoming strangers, helping the unemployed, collecting food and clothes for the needy, and supporting people with AIDS. Kehilat Gesher is served by an American rabbi, Tom Cohen, and holds trilingual services (Hebrew, English, French). With its primary sanctuary in the 15th arrondissement, Mouvement Juif Liberal de France (MJLF) is led by a woman and a male rabbi, Delphine Horvilleur and Yann Boissière. MJLF has organized France's Yom Hashoah commemoration, with the reading, over a 24-hour period, of the names of every Jewish child, man, and woman deported from France during WWII.
All the worship services differ, but many of our congregations bestow a special place to music. Kehilat Gesher has its own choir; CJL has Shabbat Rock; MJLF has Shabbat Zimra, a musical Shabbat featuring musicians that mix traditional and new tunes; and Copernic hosts concerts featuring klezmer music, Israeli jazz, traditional liturgy, and choirs.
What is unique about Progressive Jewish life in your city?
Along with Israel, France is one of the few countries with a strong Sephardi community. A large percentage of our Jewish families emigrated from Algeria, Morocco, and Tunisia in the early 60s, when these nations gained their independence from France. As a result, we benefit from a very interesting mix of traditions. For instance, we enjoy the more joyous Sephardi approach at the end of Yom Kippur, singing the Neila (closure) with an upbeat tune rather than the more solemn Ashkenazi melody. And many Sephardi foods are now part of our French Jewish experience, everything from traditional Friday night couscous to the specialty pancake Mofletta, which we eat at the Mimouna celebration beginning after nightfall on the last day of Passover when North African families typically consume all kinds of chametz (leavened food).
I hope that you can visit us and enjoy the diversity and richness of Progressive Jewish life in France. A bientôt! (See you soon!).