Image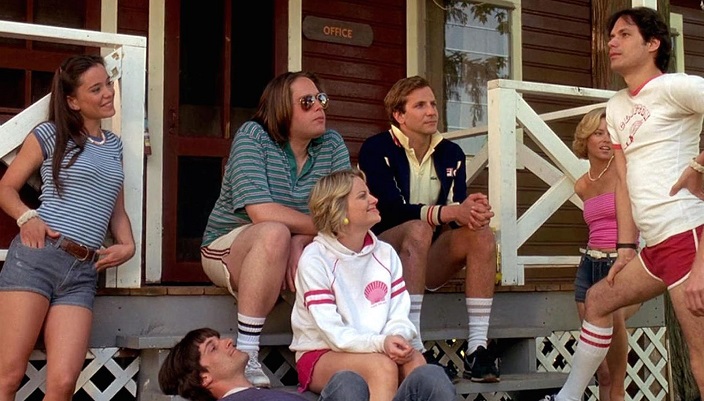 Originally written for Jewish American History Month, this list features 10 films that celebrate the happy, sad, and hilarious of American Jewry.
Don't see your favorite on this list? Tweet us to let us know! 
Gentleman's Agreement (1947)
The Best Picture winner of 1948 tells the story of a journalist who poses as a Jew in New York City while researching an article on anti-Semitism. Even though it was widely acclaimed, Jewish film producers were wary of making the film, fearing it would "stir up trouble." What they ended up creating was a movie that tells the story of bigotry unlike any movie of its time, and one that holds up today as a portrait of what it means to be blinded by privilege and to suffer under oppression.
Funny Girl (1968)
This musical dramedy is loosely based on the life of vaudeville, Broadway, and film star Fanny Brice, and it won Barbra Streisand a well-deserved Oscar. Streisand's portrayal of Brice as an unapologetic Jewish woman carries the film, and it depicts Jewish women in a way that they hadn't been portrayed before – as confident, witty, and talented. Plus, this movie features some of the greatest show tunes ever written, including "People" and, of course, "Don't Rain on My Parade."
Hester Street (1975)
Carol Kane, Doris Roberts, Steven Keats, and Paul Freedman star in this story of Jewish immigrants who move to the Lower East Side of New York City from Eastern Europe in 1896. Much of the film is spoken in Yiddish with English subtitles, and it shows what is possibly the most detailed representation of early American Jewish life that exists on film. The challenges of assimilation, and of sticking to tradition in modern society, are displayed in Hester Street with accuracy and empathy.
The Chosen (1981)         
Based on the 1967 Chaim Potok novel of the same name, The Chosen depicts the friendship between Reuven, the son of a Modern Orthodox college professor, and Danny, the son of a Hasidic rebbe. Set in Brooklyn in the 1940s, the film follows their friendship as they question their faith and family, and as they each find their purpose.
An American Tail (1986)
An American Tail is arguably the cutest movie on this list. It follows Fievel Mousekewitz, an animated Jewish mouse who immigrates with his sister and parents from Ukraine to the United States, where there are no cats. But Fievel gets separated from his family along the way, and the film follows his quest to find them. It's a musical, and the song "Somewhere Out There" will be stuck in your head for days after you watch this movie. Be warned.
Crossing Delancey (1988)
This romantic comedy set mostly in New York's Lower East Side centers on Isabelle Grossman, whose bubbe (grandmother) hires a marriage broker to set her up. What comes next forces Isabelle to think about what she wants in a partner, but it involves funny Jewish humor and people who make pickles. It's worth a watch.
When Do We Eat? (2005)
What happens when a Passover seder leader accidentally ingests psychedelics? At this family's first seder in three years, that's what happens. This hilarious comedy features a cast of future stars, and it makes your dysfunctional Passover seder look like a trip to the spa.
Keeping Up with the Steins (2006)
Everybody knows the b'nai mitzvah service is more important than the party, but that doesn't stop many families from planning extravagant celebrations. Keeping Up with the Steins depicts Joanne and Adam Fiedler as they attempt to plan a bar mitzvah party for their son that is better than the Stein's party, which took place on a cruise ship and had a Titanic theme. This movie is hilarious and, sadly, a little relatable.
Wet Hot American Summer (2001)
Amy Poehler, Bradley Cooper, Molly Shannon, Paul Rudd, and Elizabeth Banks all starred in this cult hit long before they became household names. Based on writers David Wain and Michael Showalter's experiences attending Jewish summer camp, it's extremely silly, and for anyone who attended camp, very nostalgic. When you finish the movie, check out Netflix's eight-episode prequel, made 14 years later but featuring the entire original cast.
A Serious Man (2009)
This black-comedy from the Coen Brothers follows Larry Gopnik, a physics professor in 1967 Minnesota whose life seems to be falling apart. His wife wants a get (divorce), and he may lose his job. But even though the film deals with some dark subjects, it's extremely entertaining, and at times, hilarious.
For more Jewish content, subscribe to the Ten Minutes of Torah series.