Image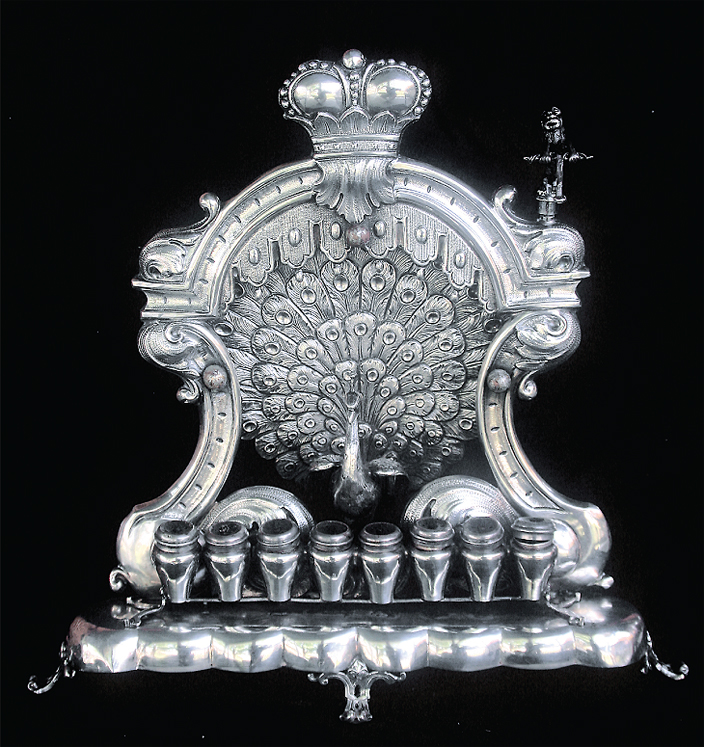 Dear Jonathan,
We inherited this 13" x 13" silver oil-burning menorah from my husband's grandfather, a rabbi who emigrated from Eastern Europe. We think he may have acquired it either in Vienna or Budapest, where he spent some time before coming to America.
It occupies a special place on our mantelpiece, and we polish it up (a job and a half!) to use every Hanukkah.
We'd love to know more about it-nobody thought to ask the rabbi before he passed away.
Miriam*, member of a URJ congregation in Virginia
---
Dear Miriam,
This magnificent menorah was crafted of 87.5% pure silver about 110 years ago in Vienna. It is known as a Peacock hanukkiyah because the peacock-spreading his tail feathers to show off his beauty-is the most ornate part of the lamp. The motif calls attention to the mitzvah of dramatizing the miracle of Hanukkah, much like a peacock publicizes his plumage. While there are several varieties of the peacock lamp, the simplest one made of silverplate and approximately 6" tall, yours is the most elaborate and rare of the genre; I have seen this model only three times in my 27-year career. If you look closely on the base, you will find a very small head of Minerva encased in a clover-like circle. This is the hallmark of Austrian silver, much like we would see the word "sterling" today.
Most likely this was a commissioned piece, as it would have taken as long as three or four months to craft. The lamp's owner was either wealthy, prestigious, or both to have had such an intricate work made for his family's use. I estimate its value at $20,000-$30,000.
To preserve it, avoid polishing by a silversmith's machine, which would make it look new, and softly polish with a Ro­keach creme once every couple of years.
Jonathan Greenstein,
founder, J. Greenstein & Co., Inc.
(the world's only auction house solely selling antique Jewish ritual objects)
Dear Jonathan,
I am staggered-we had no idea that we had such a rare and valuable item! Now that we know an approximate date, we are wondering if the hanukkiyah might have been a wedding present to my husband's great-grandparents; the timing would be about right.
By trial and error, my husband has perfected the technique of lighting it with cotton wicks and olive oil. The "eyes" of the peacock tail feathers reflect the lights beautifully; when lit, practically the entire hanukkiyah glows.
We'll continue to appreciate its beauty, but now we will also get it insured.
Best, Miriam
*Name changed to preserve anonymity.
Pricing Your Judaica
To learn more about your antique Judaica, email: jgreensteinco@aol.com.