Image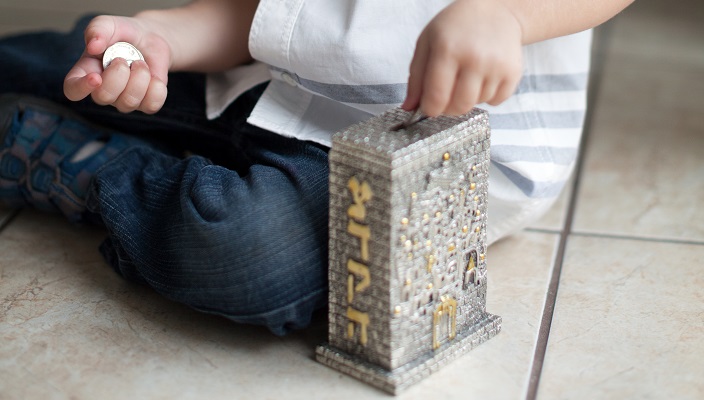 "I'm putting in 83 cents!"
"I'm giving 17 cents!"
"Here's $1.44!"
The loose change sounds like a brief waterfall as it is poured into the tzedakah box.
According to Jewish tradition, tzedakah, or charitable giving (often translated as "righteousness"), is part of our obligation to help repair the world. By making financial or material donations to appropriate agencies, we can assist the hungry, the homeless, the oppressed, and others who are struggling. It is our responsibility to make such donations, and it is our honor to do so. Even the poor are compelled to contribute toward the greater good.
The idea that the poor should also make donations resonates in my life. I am a single mom, and finances are tight – to put it mildly. Prior to having children, I was able to give regularly to a number of charities. But the challenges related to difficult economic times has made it impossible for me to continue that level of giving.
While the scale of my donations has been reduced, I still make it a point to give. Making charitable contributions helps others, and it also helps me and my sons. We feel happy knowing that we are making a difference in the lives of others, and we are gratified to do the right thing.
Every Friday evening before we light our Shabbat candles, my sons and I put money into our tzedakah box. The box is nothing fancy – just an old, decorated baby wipes container.
My 6-year-old son, who gets an allowance of $1 per week, must give at least five cents. My 9-year-old son, who gets $2 per week for allowance, must give at least a quarter. And I must donate at least $1 each week. We almost always give more than the minimum.
It takes a couple of months for us to save enough to make a contribution of $15 to $25. At that point, we decide as a family where to donate the money.
I encourage my sons to connect the donation we make to a Jewish holiday so that the charity reflects the themes of the holiday we're celebrating at the time. If we're giving at Passover, we may help to feed individuals who experience food insecurity; Sukkot is a good opportunity to assist those who are homeless; we might send money to an environmental agency for Tu BiSh'vat. (All charities we support are verified through online charity-rating sites, so we know our money will be used wisely.)
Importantly, these donations are related to our Jewish heritage and culture. Money is collected weekly as part of our observance of Shabbat and is distributed in celebration of the holidays.
My children are learning a tremendous amount through this simple ritual. As a family, we understand that it is important – and compulsory – to give to charity. Instead of focusing on what we don't have, we readily see that we have enough to help others – people who are less fortunate than ourselves.
By requiring only a small weekly donation, my sons don't feel they are being forced to give more than they can afford, yet they see that by giving a little at a time, we are able to save a meaningful amount of money.
It is our pleasure, our obligation, and our honor to give.
Your gift strengthens ReformJudaism.org and our vibrant Jewish community, enabling us to provide comprehensive and compelling resources for more than three million users each year. This #GivingTuesday, please give generously.
Learn more about how to teach children about the importance tzedakah by watching "Get with the Giving," an animated video from Shaboom! that comes with an accompanying discussion guide for families.