Image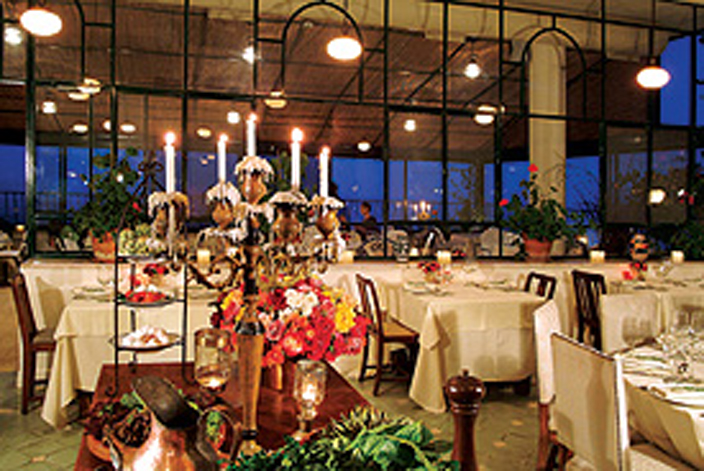 Thirty years ago, no one would have predicted that one day Israel would produce a generation of talented, innovative, and remarkably crea­tive chefs. In those days, dining in Israel was restricted largely to ethnic restaurants, Middle Eastern street food, a few overly expensive French restaurants, and several pretentious hotel-based dining rooms.
Nowadays, fine dining can be easily encountered from Tel Aviv to Jerusalem to the hills of the Galilee. And some of the chefs are as skillful and ingenious as their colleagues in France.
In the Beginning
In the late 19th century, when Jewish settlers arrived in Palestine from Europe, they brought their culinary preferences—it's to them we owe the integration of borscht and gefilte fish into the local cuisine.
Later, after the State of Israel was founded in 1948, immigrants from many different nations opened an abundance of ethnic eateries—mostly working-people's restaurants offering Yemeni, North African, and Eastern European food along with dishes from the Balkans. Unfortunately, they tended to offer similar menus and were sadly deficient in service and cleanliness. Many of the fish restaurants that opened in those early years suffered from similar problems. With the exception of two French restaurants, Casbah and Alhambra, both of which were launched in the 1960s and were frequented primarily by the wealthy, few signs of culinary sophistication could be found. Even Casbah and Alhambra never moved past the most traditional and sometimes even moribund of French dishes; both closed in the 1990s.
Israel's culinary revolution started in the mid-1980s. Over a period of two years, four young chefs—Tsachi Buchester, Itamar Davidov, Chaim Cohen, and Shimon Reisher—each of whom had worked both in Israel and Europe, opened restaurants in the metropolitan Tel Aviv area that forever changed the dining-out experience in Israel. Buchester's "Pink Ladle" was the first French restaurant in the country to explore modern and sometimes experimental French-Mediterranean cuisine with such original dishes as halvah parfait. Davidov's "Pitango" offered up a nouvelle cuisine menu with personal and, at times, outrageous touches, such as his fillet steak in a coffee and red wine sauce. Cohen's "Keren" featured French dishes with a distinct Mediterranean touch, as in his seafood salad with oranges, mango, and mint leaves. And Reisher's "Papillon" presented traditional Provencal cookery, his most famous dish a cassoulet with Mediterranean herbs.
The emergence of these new chef-restaurateurs was encouraged by a new breed of food writers, most prominently Israel Aharoni and Shaul Evron; the pair cooperated in writing books and were restaurateurs in their own right. During the 1990s Aharoni's French restaurant, The Golden Apple, was a showcase of culinary excellence. His sous-chef, Jonathan Roshfeld, has gone on to become the most appreciated chef in the country.
Meanwhile, Israelis had been expanding their own culinary horizons during their travels abroad, and responded very positively to these new restaurants. After many years of dining out on fried steaks and chicken schnitzels tucked into a pita bread with French-fries and hummus, it became not only acceptable but fashionable to dine in well-designed restaurants spearheaded by daring, playful, and talented chefs. Whether at a prestigious French restaurant, a formal emporium of Japanese cuisine, an upscale Manhattan- or Napa Valley-style establishment, a simple but good Italian trattoria, or a Provencal bistro, Israelis were discovering that fine dining can be among life's great pleasures.
That first generation has spawned a second and even a third generation of chefs, many of whom now regularly demonstrate their talents in their own restaurants, offering exciting and excellent fare by any standards. Today, most of the country's chefs are native Israelis who come from a variety of ethnic backgrounds and combine their personal culinary roots with traditional dishes. Many of them have trained and worked outside Israel, often with world-renowned chefs.
The New Israeli Cuisine
As local chefs have adapted other culinary influences, they have also invented what are now uniquely Israeli dishes, such as goose liver with tchina (sesame-seed paste or sauce), hummus and spinach soup, eggplant carpaccio, sea bass in a cream of Jerusalem artichokes, and halvah parfait. Some of these creations have been integrated into the repertoire of well-known chefs in fine restaurants throughout Europe and North America.
In many of Israel's best restaurants, one cannot fail to notice the prominent reliance on select ingredients. Mediterranean herbs such as rosemary, thyme, basil, and za'atar (the biblical hyssop) along with olive oil and black and green olives—all reflecting the soil and climate of the region—are prevelant in this new Israeli cuisine. For example, "super-star" Chef Jonathan Roshfeld gives a new face to traditional French lamb stews by cooking the meat slowly for seven hours together with root vegetables and Mediterranean herbs such as tarragon, rosemary, and basil. Other ingredients—such as lamb, quail, eggplant, couscous, pomegranates, Jerusalem artichokes, goat cheeses, and philo dough—are accurate reflections of the tastes and historical background of the country, largely because they have been both available and prized for a thousand or more years. For example, Chef Ezra Kedem's leg of lamb with a puree of Jerusalem artichokes and Chef Victor Gluger's charlotte of grouper with mushrooms and walnuts both add true French elegance to traditional Middle Eastern fare. Still other ingredients—such as pasta, shallots, truffles, and edible seaweed—demonstrate how influences from other countries are now accepted and integrated into the local cuisine.
With several notable exceptions, most of Israel's best restaurants are not kosher, largely because high-end dining has been far more readily accepted among the non-Orthodox and because this cuisine cannot easily be reconciled with the rules of kashrut. Many of the better menus abound with shellfish or game meats, and/or combine meat and dairy in the same course. Those who are comfortable in non-kosher restaurants can, however, choose from a large variety of dishes that do not contain seafood, pork, or other foods they might find objectionable for religious reasons.
While stating that as a whole Israeli chefs have attained a world pinnacle would be an exaggeration, they do offer their customers—both locals and travelers—exciting and very rewarding culinary experiences, and Israel's best chefs do compete comfortably with their colleagues in Europe and North America. Although this mini-guide touches only on the twenty very best restaurants in the country, literally dozens of fine dining experiences are available. Equally important, visitors will find little in the way of a language barrier, as many of the top restaurants provide English as well as Hebrew menus and nearly all have waitstaff who speak English.
In the future, an increasing number of Israeli restaurants and chefs will likely be written up in prestigious international magazines. And, as more observant Israelis are now taking a greater interest in dining out, we can also expect a blossoming of kosher restaurants that will meet many of the standards of their non-kosher cousins.