Image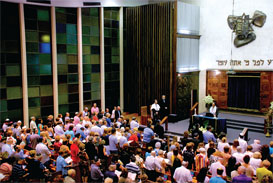 Raul Cesar Gottlieb is vice president of WUPJ Latinamerica, board member of Associação Religiosa Israelita of Rio de Janeiro (ARI), and editor director of Devarim magazine.
What excites tourists about Rio?
Brazil is a very welcoming country. Be ready to be surrounded by smiling people 24/7, to drink heavenly "caipirinhas" (a strong alcoholic beverage made of lemon, sugar, and the sugar cane alcohol called "cachaça"), and to relax in the sun.
Rio's south zone, nestled between the Serra do Mar mountains and the Atlantic Ocean, offers spectacular views, both from the mountaintop down and from the beach up.
A must is February's Carnival parade, which is too exciting to be described in words; please YouTube it and come. And go to a soccer game; when you sit in the middle of the torcidas (team supporters), you'll feel a part of our lively rituals.
What are some culinary delights?
Rio is famous for all-you-can-eat Churrascarias (barbeque restaurants), where dozens of different kinds of meat are served, along with a sumptuous assortment of side dishes, including all kind of salads, fish, and cheese.
What are your top travel tips?
Pick up my favorite guide, How to Be a Carioca by Priscilla Goslin, a small, delightful book that captures the soul of Rio de Janeiro.
Also, be careful traveling. Avoid carrying passports and valuables with you. Choose popular destinations such as Pão de Açucar (Sugar Loaf cable car), Corcovado (a mountain with a magnificent view), Ipanema (a popular beach), Copacabana (another popular beach), and Jardim Botânico (a botanical garden with a large collection of tropical plants). A stroll in the historic downtown on a weekend is also a good option.
What is Jewish life like in Rio?
In Brazil, the Jews are a small minority—0.05% of 195 million people. Within Rio, 30,000 Jews are well integrated among the 12 million "cariocas" (as those born in Rio de Janeiro call themselves). Our Jewish community is quite active and diverse. There are 20 synagogues: one Reform, one Conservative, and various streams of Orthodoxy. We also have three big Jewish day schools (two pluralist and one Orthodox) as well as welfare, cultural, burial, women's, Zionist, and social organizations—about 80 institutions in all!
In Rio, the biggest congregation is Reform, our own 900-family Associação Religiosa Israelita (ARI). Founded by German Jews in 1942, it now attracts Jews of all kinds drawn to modernity, egalitarianism, and the balancing of spirituality and rationalism. The congregation is always bustling with religious, cultural, and social activities.
What are Shabbat services like?
Before the service, almost every worshiper joins in the festive meeting we call hora do cafezinho ("little coffee time"), talking about the week and enjoying the company of friends.
Now, imagine yourself in our main sanctuary, built in the shape of a desert tent, with two large stained glass lateral walls representing the openness of Judaism. Most Friday nights the space is filled with around 500 persons, members and non-members alike, attracted by the challenging intellectual messages that emanate from our pulpit, by the beautiful music, and by a genuinely friendly ambience. Our rabbis—Rabbi Sergio R. Margulies, a Brazilian who belonged to ARI as a child, and Rabbi Dario E. Bialer of Argentina—follow a long tradition (that begun with Rabbi Henrique Lemle, our German founding rabbi) of bringing to the fore the main questions and concerns of contemporary Jews. And whenever Israel is threatened or celebrated, ARI serves as the center of activity for Brazil's strongly Zionist Jewish community.
Religious services are almost all in Hebrew, with very little Portuguese. Because Brazil is the only Latin American country where Portuguese and not Spanish is spoken, ARI uses a homemade siddur in Hebrew and Portuguese for Kabbalat Shabbat, and prayer books edited by the liberal congregation of São Paulo for all other services.
Kippot (head coverings) and tallitim (prayer shawls) are mandatory for men—a custom dating back to our congregation's German roots. In European Reform Judaism, the wearing of talitot and kippot by men has always been compulsory; American congregations began to abandon this practice in the 1890s. That said, as we are an egalitarian community, kippot and tallitim may be worn by women as well. Women participate equally in all ways. Some years ago we had a female rabbi, Rabbi Sandra Kochman, the first woman to serve as a community rabbi in Brazil.
What is the worship music like?
Our two full-time chazanim (cantors)—Oren Boljover of Argentina and Andre Nudelman, who has also been a member of the community since his youth—conduct the musical prayers, accompanied by an electronic organ.
The music includes many compositions by Louis Lewandowski and other 19th-century German composers—a reflection of our founders' origins—along with modern and participatory music, including a few pieces of jazz and just a touch of Brazilian and South American music.
What else is unique about ARI?
ARI holds a daily minyan every evening, seven days a week, which provides a space for the community to recite Kaddish and to pray at the end of the business day.
On the High Holy Days, our services draw more than 3,000 Jews—a remarkable feat for a congregation of 900 and a Jewish community of 30,000. Other congregations are overflowing as well. This says a lot about how Brazilian Jews feel about being part of a religious community; even the least observant of them will be in a synagogue on Rosh Hashanah and Yom Kippur.
What are ARI's other priorities?
On the cultural level, ARI publishes Devarim, a high-standard magazine aimed to strengthen Reform awareness in Brazil, and to dispel the awkward notion that Reform congregations "are like churches." We print some 5,000 copies three times a year and distribute them for free all over Brazil.
We also emphasize social awareness and activism. Recognizing that persons with special needs are productive and creative human beings, we've created a space inside the synagogue building for them to use daily, mostly for crafts—instead of seeing them relegated to an almost invisble parallel world. Our youth movement, Chazit Hanoar, holds ongoing teaching and recreational programs with children in Rio's disadvantaged communities, helping them to organize themselves as a youth movement, which raises their self-esteem. The Social Action committee collects needed goods (medicines, food, clothes, etc.); supports "Ballet Santa Teresa," a ballet school for disadvantaged youth; and helps hire teachers for the supplementary education necessary to prepare students for acceptance into colleges, as the level of teaching in public schools is woefully inadequate.
Please come and see all we do at ARI! You will be very welcome.