Image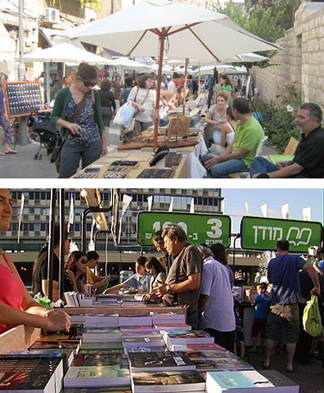 Israelis love fairs, festivals, 'festigals' and the ever-popular 'heppening.' They happen frequently — given the months of warm weather, a plethora of gifted artisans and the Middle Eastern penchant for market shopping — and everywhere, in nearly every city, almost all the time.
Here are a few of our favorites from the steady offerings.
Nachalat Binyamin – Tel Aviv
The best and largest of the artisan fairs is Tel Aviv's Nachalat Binyamin, which takes place twice a week, on Tuesdays and Fridays. The Nachalat Binyamin Arts & Crafts Fair, as it's officially known, has been around since 1987 and is the country's largest fair with more than 200 artists who exhibit and sell their creations. If you're seeking ceramic vessels, beaded jewelry, boiled wool slippers, stuffed animals, tree trunk platters, handmade paper notebooks, silver rings, gold earrings, leather bracelets, paper mache animals, fimo figurines, textured textiles, clever trinkets, blown glass, street performers, outdoor cafes and reams of fabric from the surrounding textile stores; it's all here.
Bezalel Arts Fair – Jerusalem
Established more recently, this Friday market works with the storeowners and artists of the city, and hones in on the relocation of Hebrew University's Bezalel art school downtown. The weekly creative collection, which aims to be the largest in the country, currently features approximately 150 artists and creators, and is sprawled across the Bezalel pedestrian alley, the newly pedestrianized Shatz Street and Gan HaSus (the small park marked by a horse sculpture which connects Bezalel Street to Shatz Street.)
Shuk Ramle-Lod
Jerusalem (Monday); Ramle (Wednesday); Shilat (Thursday); Rosh Ha'ayin (Friday)
When you're seeking more down-home, local kind of fair fare, as well as fabulous deals, find that day's location of the traveling Shuk Ramle-Lod, a collection of kitchen utensil vendors, fruits and vegetable sellers, cheap made-in-Israel seconds as well as made-in-China clothing and shoes for kids and adults, toys and Judaica objects, alongside some real finds among the crowded, noisy and too-close-for-comfort aisles. There's almost always a stand offering malawach-wrapped delicacies for easy chomping, but don't take too much time eating, as bargains are to be had.
Dizengoff Yotzer
Called 'Dizengoff Creates' in English, this is a small antiques and secondhand fair right off Dizengoff Square in central Tel Aviv. Held Tuesdays and Fridays – same days as Nachalat Binyamin – but from the mid-afternoon into the evening, there's everything from finer art and antiques to hand tools, secondhand clothing and 'one-person's-garbage-is-another-person's-treasure' types of items.
Hebrew Book Week
Okay, this doesn't exactly qualify as a weekly 'happening', but Hebrew Book Week is a countrywide book fair, an annual event celebrating literature and reading in the State of Israel. During book week, which is actually closer to ten days, and held in June, outdoor fairs are set up in the parks and outdoor plazas of Israel's major cities — all the large and small publishing houses set up stands to sell their titles, usually at a discount. The event dates back to 1926, on Tel Aviv's Rothschild Boulevard, when Masada Press launched a Book Day, offering discounted books for, natch, the People of the Book.