Image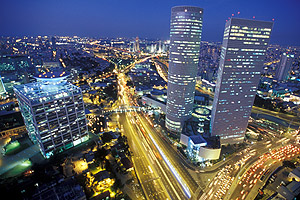 Tel Aviv was founded in 1909 by the Jewish Community of Jaffa, in a new neighborhood they called Ahuzat Bayit, later known as Tel Aviv. In the 1930's, Tel Aviv became the country's largest economic center and had the highest concentration of social and cultural institutions. Tel Aviv was the center of the emergence of Hebrew culture and culture in Hebrew – and remains so to this very day. Tel Aviv became known for its modern cafes, hotels, concert halls and nightclubs. The city enjoyed a sense of international chic, which was rare for the region, especially at the time.

At the start of the 1948 War of Independence, the city and its periphery became the focal point of the conflict between Jews and Arabs. The fight over Jaffa's future started immediately after the UN decision for partition. As in other areas where Jewish and Arab forces clashed in close quarters, civilian populations both in Tel Aviv and Jaffa suffered and ultimately many fled. In April 1950, Jaffa was formally merged with the Tel Aviv municipality and a unified city was established – Tel Aviv-Yafo.

Tel Aviv is Israel's center for culture and entertainment. The city has more than 20 museums, the most important of which are the Land of Israel (HaAretz) Museum and the Tel Aviv Art Musuem. Other Tel Aviv museums include the Museum of the Diaspora, the Israel Defense Forces History Museum, the Etzel Museum, the Haganah Museum, the Palmach Museum, The Lekhi Museum, and theNachum Guttman Museum. The city hosts the Israel Philharmonic Orchestra and the Israeli Opera Company, as well as most of the national dance and theater companies. 

Tel Aviv's important historical sites include Bialik House, Ben Gurion House, Dizengoff House, the old cemetery on Trumpeldor Street, and Reuven House. Nature lovers can visit the garden at Abu Kabir, HaYarkon Park, and the Botanical Gardens near Tel Aviv University. Tel Aviv's White City, designated a UNESCO World Heritage Site in 2003, comprises the world's largest concentration of Bauhaus buildings.
The buildings of The White City were designed by Jewish architects, who had studied in the Bauhaus School in Germany (or were influenced by it). Following the rise to power of the Nazi regime these architects fled Europe; many came to Tel Aviv, where they developed a new architectural language, characterized by its asymmetry, functionality and simplicity.
Tel Aviv is also an economic and trade center. As the home to Israel's stock exchange, corporations and research labs, Tel Aviv is the business capital of Israel and an international center for conventions, exhibitions, and conferences.