Image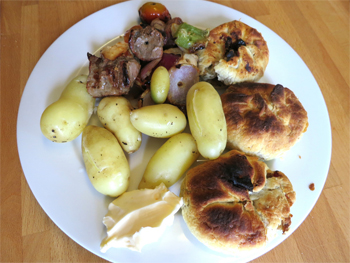 When you consider Jewish law, history, and tradition, it's not surprising that little "pies" of dough filled with vegetables, cheese, or meat are ubiquitous throughout the Jewish diaspora. The prohibition against cooking on Shabbat encouraged the preparation of foods that could be made in advance of the day of rest. Also, these little dough-encased packets of vegetables (sometimes meat if the budget allowed) could be cooked when time permitted and later served as a family meal or snack.
In short, the dough pie is the ultimate Jewish finger food.
In North America, we have been exposed to many permutations of this genre. Long ago, the popular Eastern European and Russian version, the potato knish, was a bite-sized morsel served as part of a Russian zakuski (appetizer plate) or at special events such as a bris, bar mitzvah, or wedding. Today we know it as a 4-inch-square pillow of dense, crusty dough with savory potato-onion filling. Another version, from Poland, is the piroshki (otherwise known as pierogen), boiled, baked, or fried dough with sweet (cheese or fruit) or savory (meat or sauerkraut and mushroom) filling. A 17th-century medieval custom created the kreplach (meat-filled triangles of dough) we know today. At Yom Kippur, Jews from Germany would place their New Year's wishes in a piece of dough to wear around their necks as an amulet. Eventually these amulets made their way into chicken broth, and it is now customary to serve kreplach on erev Yom Kippur.
Sephardic Jews were also fond of filling dough with edible treats. In Turkey, Jews created bolemas, savory pumpkin-filled ropes of yeast dough rolled into small coils and baked. Jews from Bulgaria and other parts of the Ottoman Empire enjoyed borekas, baked half-moons of pastry dough packed with eggplant or potato and cheese; and Jews from Iraq stuffed fried yeast dough, called sambusak, with spicy meat or chickpeas.
As you enjoy these delicacies — their preparation simplified with the use of modern cooking equipment — think back to our ancestors who lovingly made each dough pie by hand. Eat in good health!