Image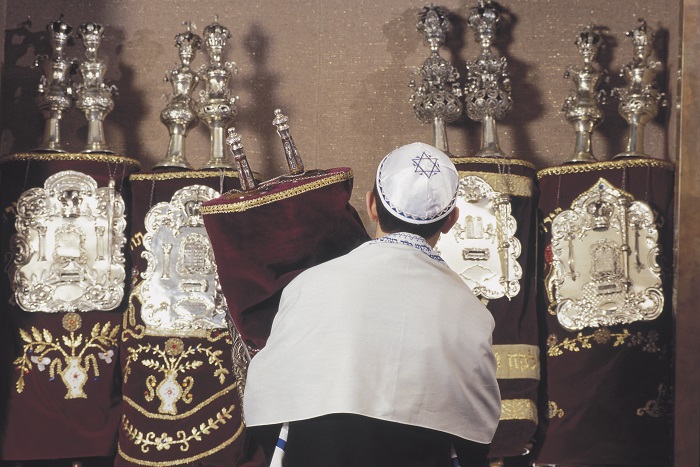 What is the meaning of bar/bat mitzvah?
Bar and bat mitzvah mean, literally, "son and daughter of the commandment." Bat mitzvah is Hebrew, while bar mitzvah, historically a much earlier ceremony, is Aramaic. The word bar is the Aramaic equivalent of the Hebrew ben (son of). While bar and bat mitzvah are often used to refer to the ceremony, the terms also refer to the child. Thus, a boy if referred to as a "bar mitzvah" and a girl as a "bat mitzvah."
Historically, first bar mitzvah and later bat mitzvah represented a ceremonial recognition that a young person had reached the age when he or she was no longer a minor according to Jewish law and thereby took on new religious privileges and responsibilities of an adult. For boys, this age was 13, for girls, 12.
What is the origin of bat mitzvah?
The bar mitzvah ceremony was developed as a public recognition of a legal and religious status, attained with or without the ritual. In other words, a Jewish boy of 13 years and one day automatically became a bar mitzvah even if no public ceremony took place. While the beginnings of the modern bar mitzvah ceremony appeared as early as the sixth century C.E., it was not until the Middle Ages that a fully developed ritual emerged. By the 13th or 14th century, the custom of calling a boy up to the Torah was established as the way of recognizing entry into manhood. The bar mitzvah boy would chant the blessings, all or part of the Torah portion of the week, and/or the haftarah section from the prophetic books. The boy's father would then recite a special blessing: Baruch sheptarani mei-onsho shelazeh. "Blessed is He who has freed me from responsibility for this boy." The bar mitzvah boy would often give a scholarly address on the Torah portionor some section of the Talmud. Then followed a gala feast, called s'udat mitzvah ("meal of celebrating the performance of a mitzvah"), to which family, friends, and sometimes the entire Jewish community would be invited. In short, then, almost all the elements we associate with the modern bar mitzvah ceremony were present by the Middle Ages. Learn more about the origins of b'nai mitzvah.
When did bat mitzvah begin?
Starting in the second or third century C.E., Jewish girls at age 12 took on legal responsibility for the performance of the mitzvot. As with age 13 for boys, 12 probably corresponded with their onset of puberty. However, girls were subject to far fewer commandments than boys. Today, liberal Jews affirm the total equality of women in terms of religious privileges and responsibilities. In the 1800s, Reform Judaism abolished bar mitzvah in favor of confirmation for both boys and girls (bat mitzvah was not considered an option at that time). Within the 19th-century traditional community, some families held as'udat mitzvah for a daughter on her 12th birthday, with the girl sometimes delivering a talk and her father reciting the Baruch Sheptarani.
The first-known bat mitzvah in North America was that of Judith Kaplan, the daughter of Mordecai Kaplan, in 1921. Reform Judaism (which had by this time reintroduced bar mitzvah) and then Conservative congregations quickly adopted bat mitzvah, though in slightly different forms.
Celebrating Bar/Bat Mitzvah Today
When does a bar or bat mitzvah take place?
In Reform synagogues, girls and boys mark symbolic entry into Jewish adulthood at age thirteen. The bar or bar mitzvah is usually celebrated on the Shabbat closest to the child's thirteenth birthday. Congregations usually schedule these dates a couple of years in advance, giving the family plenty of time to plan for the day.
What does the bar/bat mitzvah do in the service?
Depending on the congregation, boys and girls may conduct all or part of the service, read or chant the b'rachot over the Torah (an aliyah), read a section from the Torah portionfor that week, read or chant the b'rachot for the haftarah, read a section from the haftarah, and deliver a sermon.
What does aliyah mean?
The Hebrew word aliyah (literally, "going up") is used as a description of being "called up" to read from the Torah. Aliyah is also the word used to describe the act of immigration to Israel. In Jewish tradition, as far back as biblical times, going to Israel was always referred to as "going up."
Are there times besides bar/bat mitzvah when Jews are called up to the Torah for an aliyah?
In Reform Judaism, any adult Jewish member of the congregation may be called up to the Torah for an aliyah at any Torah service. It is common practice in all branches of Judaism to mark with an aliyah occasions such as the birth of a child, an impending marriage, or recovery from an illness.
Are bar and bat mitzvah always celebrated in the synagogue?
Most families consider the synagogue the most meaningful, appropriate, and moving setting for a bar/bat mitzvah. Bar/bat mitzvah has significance both personally and communally. A bar or bat mitzvah holds great significance for a synagogue community. It celebrates the congregation's efforts to educate a child. Once a child becomes a bar or bat mitzvah, they may now be counted in a minyan, the quorum required for the recitation of certain prayers during a worship service. They may now be called for an aliyah, or invited to read from the Torah on future occasions. A child, having become a bar or bat mitzvah, may now go on to advanced Jewish learning in their congregation.
In recent years, growing numbers of families have chosen to travel to Israel to celebrate their simcha at the Western Wall in Jerusalem or at the top of Masada. While this may limit the number of family members and friends who can attend, these can be powerful Jewish experiences.
How far in advance should a boy or girl begin to prepare for bar or bat mitzvah?
For bar/bat mitzvah to be both a meaningful and substantive Jewish moment, it is essential that it be based on more than a crash course of study. Several years in the religious/Hebrew school of a synagogue prior to bar/bat mitzvah is recommended as a minimum of requisite Jewish education. In addition to Jewish history, observance, and the study of Torah, children learn how to participate in and lead worship. As part of the preparation to become a bar or bat mitzvah, most synagogues ask boys and girls to participate in a mitzvah project. In doing so, they apply their Jewish learning to help make the world a better place.
What should we do about a party?
The bar/bat mitzvah party derives from the custom of serving a s'udat mitzvah ("meal celebrating the performance of a mitzvah"), which arose in the Middle Ages.As early as the thirteenth century, local Jewish communities were concerned thatsuch feasts might become ostentatious and wasteful displays of wealth, therebydetracting from the ceremony's religious significance. Accordingly, communityleaders often enacted formal legislation, strict guidelines, or special taxes to limitthe size and nature of these feasts.
While the custom of each congregational community most often dictates the form of bar/bat mitzvah parties, more Jewish families today invest the celebration with deeper Jewish feeling. Israeli dancing and singing, for example, as well as the giving of tzedakah, are evident more than ever. Jews love simchahs and celebrations with family and friends, and now that joy is being shared in ways that are ever more Jewish.
What if you never had a bar/bat mitzvah?
It's never too late to have a bar or bat mitzvah. Whether you are sixteen or sixty, if you want a bar/bat mitzvah, you should have one. Many congregations have created adult bar/bat mitzvah programs for individual or group instruction. As a result, rabbis throughout North America have reported officiating at bar/bat mitzvah services for members well into their eighties. If you did not celebrate becoming a bar/bat mitzvah, speak to your rabbi. It can be one of the most fulfilling experiences of your adult life.