Image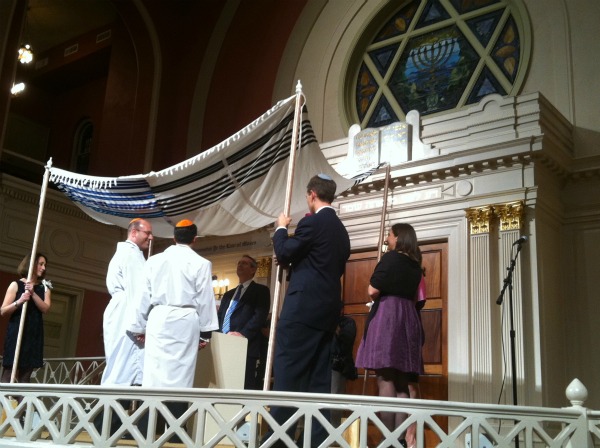 Engaged to be married? Mazal tov! As you begin to plan your Jewish (or Jewish-ish) wedding ceremony, here's a helpful guide to finding a member of the clergy to perform the ceremony, getting pre-marital counseling, selecting a date, and other important elements of the process.
Finding a Rabbi or Cantor
It's never too early to make arrangements with the rabbi or cantor you want to officiate at your wedding.
Are you, as a couple, connected to any clergy? If so, having "your" rabbi or cantor present at the ceremony will enrich the experience for everyone. If, as a couple, there is no clergy member with whom you have a personal or congregational connection, think of those with whom you or your families have had a prior relationship and consider the possibility of reconnecting with them. Your shared history could provide an added personal dimension to your kiddushin.
If you have no personal connections to clergy or do not know cleargy in the area in which you will be getting married, your first step is to do some homework. Finding the right officiant for you is like finding the right therapist or the right business partner. Think of weddings you have attended where the officiant's tone and message resonated with you. Speak to friends and relatives for recommendations. Perhaps they can ask their clergy for a local referral for you. Or you can always search congregations on this website. Some congregational clergy, by contract, are not able to officiate at lifecycle events for nonmembers, but often will be able to make referrals to other clergy in the area.
Your next task is to narrow down your options, finding people with whom you can work comfortably. Are you looking for someone who will simply show up at your wedding and perform the ritual? Are you looking for someone who will take time to get to know you and let you get to know them? Are you looking for someone who is concerned about your perspectives and preferences regarding Jewish ritual and practice? Do you want to be part of a decision making process that will lead to an individualized, personal ritual? Or would you rather have a fixed liturgy, determined by the rabbi? When you contact potential rabbis, be ready to share your answers to these questions, so that you can fully explore the compatibility of your desires and expectations with theirs.
Consistent with a commitment to informed decision making and personal choice, many clergy make their own decisions about officiating at weddings and determine their own criteria. Some see absolute parity between gay and straight marriage. Some will offer similar ceremonies to Jewish and interfaith couples. Others are willing to officiate at LGBT or interfaith ceremonies but are not comfortable calling them Jewish marriages or weddings, or kiddushin. For these clergy, the ceremonies they conduct for LGBT or interfaith couples will differ from those they perform for straight, Jewish-Jewish couples. Finally, there are some clergy who will only officiate at ceremonies affirming and celebrating the union of straight Jewish-Jewish couples.
So, do your homework, and don't be afraid to ask questions. Ideally, through this process, you will find someone who can help you arrange the ceremony you want. If it is a good match, you will find that you remember and value not only the day of your marriage, but also the preparatory time you spent together.
Pre-Marital Counseling
Most clergy meet with couples a number of times prior to a wedding. These meetings addresss specifics related to the ceremony. They also give the officiant and the couple a chance to get to know each other and to discuss issues related to sustaining a long-term committed relationship. You may discuss money, in-laws, religious practice, children, and other topics. Don't be surprised if, as you discuss children, the clergy member suggests genetic testing, especially if you are both of Eastern European descent. There are a number of Jewish genetic diseases you can pass on to the next generation. Foreknowledge about whether or not you are carriers can help you with responsible family planning.
These discussions with the officiant are meant to encourage you to communicate openly with each other. Clergy members bring to these meetings years of experience working with families approaching this milestone. You may be pleasantly surprised to find that the clergy member has worked with people who have had similar questions and conflicts to yours and is able to offer helpful suggestions or solutions.
An ever-growing number of clergy officiate at ceremonies for members of the LGBT communities. Those who do so fall into two categories: some already have years of experience providing pre-marital counseling and officiation to a wide spectrum of couples, and other do not; experienced or not, they likely bring open hearts and good intentions. If your clergy member does not seem immediately sensitive to your particular needs and concerns, don't automatically assume prejudice or malice; it simply may be a sign of ignorance and inexperience. See if they are willing to work and learn with you to help you create the ceremony you seek. If not, remember that you need not continue working with an officiant who is not meeting your needs.
Selecting a Date
Traditionally, Jewish weddings are not held on Shabbat, Jewish festivals or holy days. The focus of such days is the communal celebration of Shabbat or the holiday rather than the more personal joy of a wedding celebration. In addition, most rabbis and cantors do not officiate on days of mourning such as Tishah B'Av and Yom HaShoah.