Image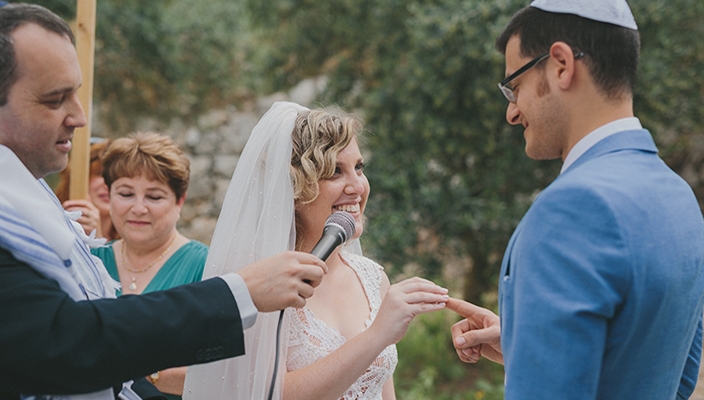 Although my own children are closer to their bar and bat mitzvah than their weddings, every time I facilitate a couple's wedding, I can't help but reflect on what an emotional experience it is for their parents and grandparents. I can only imagine how extraordinary it must be to realize that your child has grown to adulthood and has chosen to create a new family through marriage. When I officiate at a wedding, I like to acknowledge that it marks a significant milestone moment – not only for the couple, but also for their parents.
At Jewish welcoming ceremonies for babies, the traditional blessing for parents is that they should merit to raise their child to a life of Torah (Jewish learning), chuppah (the wedding canopy), and maasim tovim (good deeds). Now, having reached the occasion of chuppah, I orchestrate a ritual moment, inviting parents to bless their child and their child's beloved.
Couples may choose to invite their parents (step-parents and grandparents, too) to offer them a blessing on their wedding day. For couples, this is one way to express gratitude to those who raised them. For parents, it is an opportunity to express their hopes, dreams, and wishes for the couple, as well as their advice for a strong and happy marriage.
Not every couple takes me up on this offer. It doesn't fit every relationship, family configuration, or personality, but the couple's relationships with parents and future in-laws (or out-laws, as my own spouse likes to joke) is something the couple and I have discussed in our premarital counseling.
Sometimes what's right for the family is for me, as the officiating rabbi, to offer a blessing of gratitude for the parents as a group, rather than to invite them to offer a blessing. Sometimes what's right for the family is to skip that moment altogether.
Those that do invite their parents to offer a blessing often report that their parents react with gratitude…and a little bit of nervousness. In some cases, I suggest readings for the parents and in others, parents have an idea of their own in mind or prefer to write personal remarks, which I suggest should be no longer than half a page.
If the idea of a "blessing" feels intimidating or strange, I invite the family to reframe it as an opportunity to share wishes. I always caution parents to write out their words in advance and not rely on speaking spontaneously in what is often an emotional moment. At some weddings, parents will speak as a pair, at others each will speak individually. Some couples also invite grandparents, step-parents, and/or co-parents to offer a blessing, too.
My practice is to invite parents to share their blessings during the ketubah signing ceremony, immediately before the wedding ceremony, because it provides a more intimate setting, but it may also be done under the chuppah as part of the ceremony.