Image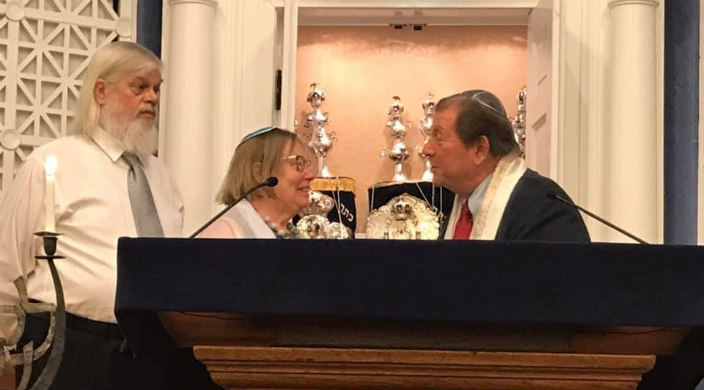 Just as scholar Walter Brueggemann suggests that biblical text is filled with themes of chaos and hope, it is interesting to see how signal events in society – even (or especially) catastrophic events – affect each of us differently and surprisingly, can lead to hope.
Who would have thought that the tragedy in Pittsburgh last fall would prompt a woman to finally set a date for her conversion to Judaism? But that is exactly what happened to Linda North, now known as Ruth bat Avraham v'Sarah. Linda chose the Hebrew name Ruth in honor of the biblical Ruth, who is often considered the archetype of all who choose to convert to Judaism; it also was her mother's name and honors her as well.
Linda's recent conversion ceremony took place at Temple Beth El in Glens Falls, New York, but her connection to the Jewish community began some 15 years ago when her daughter Allison and Matthew, her Jewish son-in-law, were married . They agreed that their children would be raised in the Jewish faith. Linda started attending services to understand something more about her grandsons' lives and to enhance her relationship with them.
Linda's husband Bruce, a musician, started playing the cello for Shabbat evening services at the temple. Linda found herself attending regularly with Bruce, seeing services as an opportunity to be with her family on Friday nights. She found the community to be welcoming, and greatly enjoyed the peacefulness she felt from Shabbat services.
The more she attended, the more she learned about Judaism and slowly came to realize she was discovering a spiritual home she had never known. Here, she discovered, was a religious tradition that matched her values and ethics. Although Linda had been raised in a Christian home, her family did not attend church services, religion was not discussed, and holiday celebrations were secular. She attended a vacation Bible school, which was viewed as entertainment.
All this changed once she connected with the small Jewish community in Glens Falls, NY. Linda and Bruce felt they wanted to offer their own support to this welcoming community – which they did. Although she had not yet considered becoming a Jew-by-choice, she was curious to learn as much as she could. She started reading about Judaism and followed the annual cycle of the Jewish calendar; the more she learned, the more convinced she became that the underlying philosophy, theology, and ethical values of Judaism felt right for her. She started lighting Shabbat candles once she had learned the blessing. Her oldest grandson Jonah's bar mitzvah was a highlight of the family's life.
After discussing the possibility of becoming Jewish with a friend, she felt it was time to raise the topic with her rabbi. Once again, she was encouraged to follow her heart and joyfully, she recognized she was where she was supposed to be – on the long, circuitous spiritual pathway she was meant to take. It felt "beshert" (Yiddish for intended, meant to be) – a word she learned and embraced.
When Linda started a formal program of study, everything she read and learned confirmed her decision. It was during this period that the synagogue tragedy occurred in Pittsburgh, and she felt impelled to set the date for the ceremony to mark her choice. She wanted to identify officially with the communal family she had come to embrace as a way to acknowledge her spiritual and religious community as an important part of her life. Although she and Bruce had participated in the community for several years, she always felt like an outsider and knew that it was time to set things right.
Linda is fortunate that her family has been most supportive and happy that she has found her spiritual home. She was delighted, almost to the point of tears, on the emotionally charged night of her ceremony when Bruce, on the bimah with her, surprised her by lovingly wrapping her in a new tallit (prayer shawl) he purchased for the occasion. He had thoughtfully selected one that featured the four matriarchs from the Bible – Sarah, Rebecca, Leah and Rachel. 
Her decision, Linda says, has brought her great joy, and she feels that a spiritual void in her life has now been filled. She feels complete and expects that these feelings will continue and grow. To others who may be considering making such a commitment, she said she would encourage them to attend services weekly for at least a year, to attend all holiday services and lifecycle events, and to learn – on a practical level – as much as possible about Judaism. She also would encourage these individuals to discuss their feelings with family and friends, but, ultimately, to recognize that the choice about conversion is a uniquely personal one.
She believes that, somehow, we know exactly when the moment is right. When her moment came – following the synagogue shootings in Pittsburgh – Temple Beth El was there to celebrate with her and welcome her home.
Customarily, the Book of Ruth, which, in part, retells the story of Ruth's conversion to Judaism is read during services on Shavuot. Like the Jews at Mt. Sinai, Ruth accepted the Torah, casting her fate with that of the Jewish people. This year, Shavuot, the holiday that celebrates the giving and receiving of Torah, begins tomorrow evening, Saturday, June 8.
Photo: Bruce North surprises Linda with a tallit and kippah (yarmulke) as she is blessed by Rabbi Norman Mendel on the bimah of Temple Beth El in Glens Falls, NY.
Related Posts
Image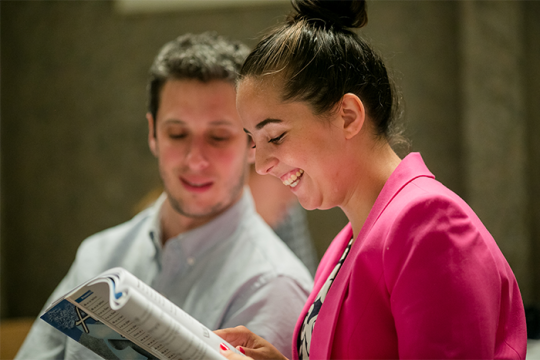 Lifelong learning, however, can be easier said than done. For many, as they enter adulthood, with its competing demands and obligations, setting aside time for learning – and especially for Jewish learning – can be challenging indeed.
Image
At 10, Jeff Erlanger appeared on "Mister Rogers' Neighborhood" in his wheelchair. I recently asked Jeff's parents about how they raised such a competent and loving son.
Image
When I became rabbi of Monmouth Reform Temple in Tinton Falls, NJ, I quickly discovered that some people in our community thought we were a church. Mail was addressed to "Monmouth Reformed Temple," and letters were addressed "Dear Pastor."