Image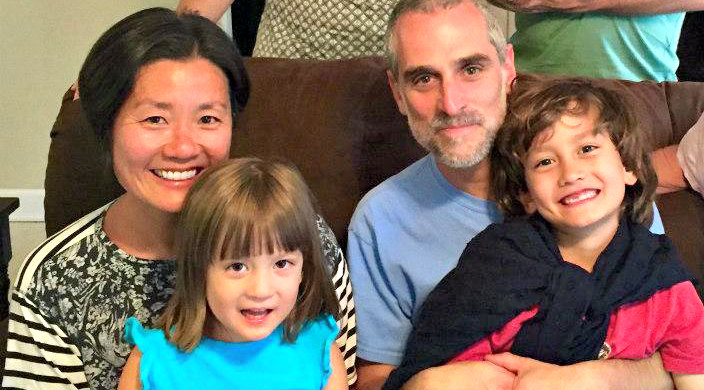 In their book JewAsian: Race, Religion, and Identity for America's Newest Jews (University of Nebraska Press), scholarly husband/wife team Helen Kiyong Kim and Noah Samuel Leavitt examine the intersection of race, religion, and ethnicity in the increasing number of households that are both Jewish American and Asian American (like theirs is).
Using in-depth interviews with couples and children of Jewish/Asian American marriages, the authors shed light on the everyday lives of these partnerships and how their children negotiate their own identities today. They told us a bit about their work.
ReformJudaism.org: What motivated you to write this book?
As a couple and as new parents, we wanted to know whether or not others who were intermarried along religious, ethnic, and racial lines were thinking about the same kinds of issues regarding growing a marriage and a family. We couldn't find anything in existing literature that could offer much guidance.
Many Jewish American and Asian American couples say they were drawn together by a shared set of values that sustains their relationships. What are those values?
They revolve around education, a strong work ethic, and close-knit families. For the majority of the Asian American partners who were not Jewish, raising a Jewish family was not seen as being in conflict with their own cultures because of the baseline similarities in values. (That doesn't mean, of course, that all Asian and Jewish Americans believe in or live by these values.)
In raising and educating their children, how do Jewish-Asian couples decide on the relative importance of passing on their own inherited religious and ethnic customs, practices, and beliefs?
The couples we interviewed generally try to expose their children to all aspects of their religious, racial, and ethnic background, but educational decisions often boiled down to a balance between what types of resources were available in their respective communities. Many couples talked about how practicing Judaism outside the home was easier than enacting a particular Asian ethnicity because of the greater presence of organizational and community-based resources, including synagogues, day schools, and Jewish community centers.
How do the adult children of these intermarriages think about and negotiate their racial, ethnic, and religious identities?
First and foremost, they see themselves as multiracial individuals. For some, this plays out in everyday life as being able to float in different, racialized social spaces because of their mixed backgrounds. As mixed-race Jews themselves, they are likely to discount the fact that Jews are white because they don't see themselves as Jews in this way.
We heard from some Asian American spouses that when they walked into Jewish spaces, they were automatically assumed to be only "partially Jewish" or not committed to Judaism.
How can we make sure that every family feels like they belong?
It's vital not to make assumptions about their commitment, knowledge level, or religious attachment to Jews and Judaism just because of what they look like or their ethnic background. That said, during the eight years that we've been working on this project, we've seen the Union for Reform Judaism take significant and laudable steps toward helping congregations become more responsive to the diversity of their membership. We encourage continued investment in this kind of work, because we've seen that Jewish families that might be thought of as "diverse" are often highly energetic and engaged in Judaism.
You end your book with a description of a Hanukkah candle-lighting ceremony in the White House, where Rabbi Angela Warnick Buchdahl of Central Synagogue, daughter of a Jewish father and Korean Buddhist mother, commented that our founding fathers "could not imagine that in 2014 that there would be a female, Asian-American rabbi lighting the menorah in the White House for an African-American president." What did that scene signify for you?
It signified the demographic changes happening in our country in general, and particularly within the Jewish community. As a reflection of the increase of interracial unions, Rabbi Buchdahl and President Obama are just two, albeit very prominent, examples of children born to these kinds of couples.
This scene also provided us with an opportunity to see ourselves as what we have always been throughout history: a racially and ethnically diverse people with an enormous degree of variation in how communities define and celebrate our Judaism.
Related Posts
Image
Sam and Lauren Trohman, a Jewish couple, run NOSH Butters, a company specializing in nut butters. We spoke with them to learn more about their business venture and what their work means to them.
Image
I looked forward to the lights that adorn houses and streets in celebration of the holiday, not to mention watching Christmas specials on television and getting extra days off work to be with family. However, things changed last year when my family and I joined our friends to help them decorate their Christmas tree.
Image
It's a conversation I had had hundreds of times in my 44 years as a Jewish educator. However, this time was different: It was with my son.