Image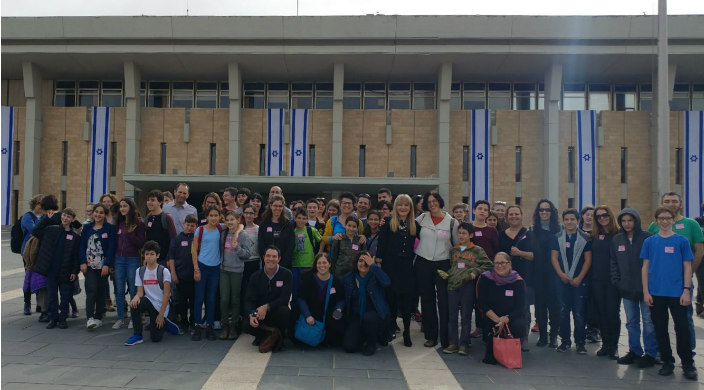 All Israeli Reform congregations have a b'nai mitzvah course. We invite the young men and women and their families not only to learn to read from the Torah and formulate a d'var Torah, but also to explore the Jewish tradition and gain tools for their journey as Jewish Israeli adults.  (In Israel, of course, all the kids know Hebrew, and most families don't start looking for a synagogue until three to six months before the ceremony!)
In my congregation in Tzur Hadassah, most of the kids identify as "secular." (Of course, Israelis see Jewish identity as "secular" or "religious," and identifying as secular does not necessarily mean that they do not have any Jewish practice or faith.)  I open the b'nai mitzvah course teaching the kids about different streams of Judaism and offer them this statement: "I want you to be proud of your Jewish identity, able to speak from a place of knowledge, and not let anyone tell you your Judaism is not authentic."
This year, when I wanted to add a new session to the b'nai mitzvah curriculum, I turned to the Israel Religious Action Center for help organizing a visit to the Knesset for the students. As part of our exploration of Jewish responsibility, the visit would offer an experiential way to see how liberal Jewish values are both rooted in tradition and can inform our public policy decisions and the governance of the State of Israel, which affects us all.
We visited during Hanukkah, when the kids have vacation from school, meeting with two members of Knesset, Michal Biran and Yael Cohen-Paran, of the Zionist Camp Party.  MK Cohen-Paran is the first and only member of Knesset who also is a member of a liberal (Conservative) congregation! We invited Reform congregations from the Jerusalem area and beyond to join us on our visit, and in total we were a group of about 100 b'nai mitzvah students, parents, and rabbis.
The families of Congregation Mevasseret Tzion and Congregation Shoham first stopped at the egalitarian platform of the Western Wall (Ezrat Israel) for a festive Torah service. I happened also to be there, officiating at a bar mitzvah in a family from abroad. The atmosphere was festive, and singing filled the air! As we all prayed in our separate groups, all kinds of other people came privately and prayed – including an ultra-Orthodox couple who stood side-by-side praying at the Wall. Young yeshiva men came by, observed us, including women in tallitot (prayer shawls) and kippot (yarmulkes), and went peacefully on their way.  Conservative Rabbi Sandra Kochman, the administrator of the area, noted to me that around one-third of the ceremonies at Ezrat Israel now are Israelis, a number that is growing.
We then gathered at the Knesset, everyone getting a sufganiyah (jelly donut) in honor of the Hanukkah festival. Loren Puris, the Reform community's liaison to the Knesset, told the families about her work to bring the community's issues onto the table of various Knesset committees and educating MKs about Reform Judaism. Orly Erez-Likhovski, director of the IRAC Legal Department, shared the wide scope of court activities, including several high-profile hearings in the Supreme Court dealing with such topics as equal egalitarian access to prayer at the Western Wall, banning signs that deny women access to public sidewalks, bringing racist inciters to court, and ensuring adoption rights for same-sex couples.          
The meetings with the MKs were fascinating as the legislators explained how laws are made, and talked about the issues close to their hearts, including social and economic equality and environmental protection. Young women from Congregation Yuval in Gedara spoke about their choice to read from the Torah – a practice still rare in Israel – and how it was both empowering and challenging, as they were oftentimes the only girls in their class to do so. They noted how important the Reform Movement in Israel is for them, providing a platform for Judaism which gives them, as young women, an equal place next to young men. We lit the Hanukkah candles and sang songs about freedom, heroism, and bringing light to banish the darkness. We sat in on a session of Knesset, and the kids were thrilled to see some well-known politicians in person on the Knesset floor.
My heart swelled with pride as our b'nai mitzvah students felt their strength in numbers, and saw Jewish values in action.
Israel has undergone many wars and some seemingly miraculous victories, reminiscent of the ancient Maccabee story.  These victories achieved the 2000-year-old dream to return to our land and to Jewish sovereignty. However, the true test of our victories not only is our ability to win wars but also, and perhaps more important, our ability to govern – with justice and compassion, informed by Jewish moral values, and with religious freedom for all.
Perhaps in 20 years' time, on our annual b'nai mitzvah Hanukkah visit to the Knesset, some of the MKs we will meet will be those who were with us in the room this year, those for whom the fire of leadership was lit just now.
Related Posts
Image
These are Torah portion haikus.
Image
These Haikus focus on weekly Torah portions.
Image
These Haikus focus on weekly Torah portions.