Image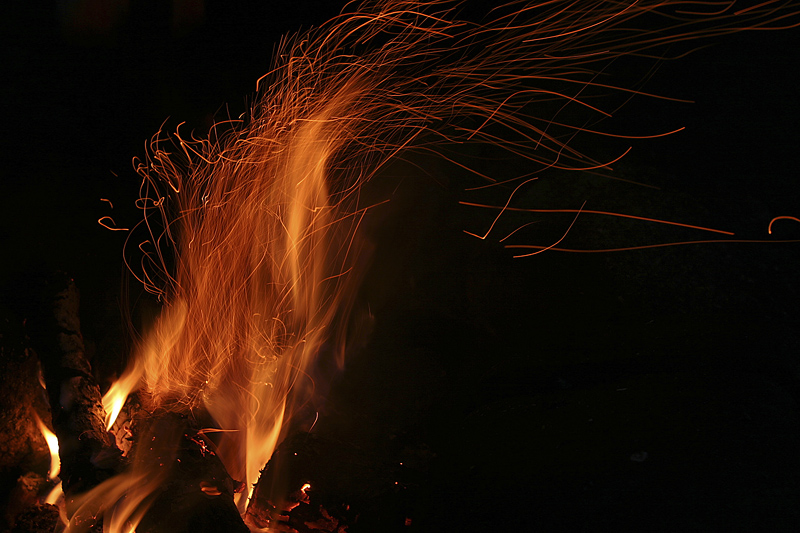 During my studies at the Hebrew University, I took an elective course on environmental issues in Israel. In a lecture on air pollution, the professor shared with us a graph of pollution levels during the year. One day in particular showed levels that were twice as high as any other day, and when he asked what day it was, we knew immediately that the only day that can account for such high levels of air pollution is Lag BaOmer.
This past Saturday night, May 17, in towns, villages, and kibbutzim throughout Israel, every open space was filled by groups of young people sitting around huge bonfires. During the week before Passover (which is vacation time in the Jewish Israeli school system), these same young people began collecting supermarket carts full of wood boards and other materials to burn in their Lag BaOmer bonfires. Groups compete with each other to collect the most wood, hoping their bonfire will be the biggest of all.
Eight years ago, when I served in my first shlichut (emissary) position at the Jewish Federation of Greater MetroWest NJ, I was surprised to learn that Lag BaOmer is not widely celebrated outside of Israel, where it is part of the Jewish calendar and curriculum.
What makes this holiday a favorite among secular Israelis, while it is almost forgotten by Jewish kids in the Diaspora?
The answer has to do with Zionism, which in its early days sought to educate young people using engaging stories of brave heroes, including those at Masada, at Gamla, and in the Bar Kochba rebellion. As Ari Shavit details in his latest book, My Promised Land, the story of the heroes who died defending Masada gave modern Zionism and Zionists educators such as Shmaryahu Guttman, a physical site as a touchstone in the modern fight for Jewish independence in Israel. Lag BaOmer is celebrated in that same quest for heroes and heroic myths.
Ask anyone at a Lag BaOmer bonfire why they are lighting a fire and everyone – including young children – will tell you that it is "in honor of Bar Kochba's rebellion," and most of them will sing you this song about him:
A man was in Israel
His name was Bar Kochba
A tall young man
With shining eyes.
He was a hero,
He called for freedom,
He was loved by the whole nation.
He was a hero!
A hero!

One day a sad thing happened
Bar Kochba was captured
And put in a cage.
How terrible is this cage,
In it a lion is roaring!
Once seeing Bar Kochba,
He attacked him. The lion!

But listen here – Bar Kochba
was a hero and strong!
He jumped on the back of the lion
And flew like an eagle.
Between mountain and valley he cruised
Holding a flag of freedom
The Nation clapped
Cheering: Bar Kochba!
Hurray!1
In neither the story of Masada nor the rebellion of Bar Kochba are young Israelis told of the national tragedy that befell the heroes at the end. As someone who celebrated Jewish holidays in secular Israeli culture, I was disillusioned and alienated when I finally learned the truth.
Only when I started studying Talmud as a rabbinical student did I find thoughts that echoed my own. The Talmud teaches that "R. Akiba had twelve thousand pairs of disciples, from Gabbatha to Antipatris; and all of them died at the same time because they did not treat each other with respect. The world remained desolate."2
One of interpretations of this passage suggests that the Talmud refers here to the death of the soldiers of Bar Kochba, who died not fighting in a war for independence but because they disrespected each other. This interpretation reminds me of another Talmudic quote about a different revolt-the Great Revolt that led to the destruction of the second temple: "But why was the second Sanctuary destroyed, seeing that in its time they were occupying themselves with Torah, [observance of] precepts, and the practice of charity? Because therein prevailed hatred without cause."3
The Talmudic interpretations about the terrible outcomes of these revolts help me see a new meaning in the bonfires of Lag BaOmer.
Thinking about the Zionist narrative that begins with Pesach and runs through Yom HaShoah, Yom HaZikaron, and Yom HaAtzmaut, I want to suggest a second Zionist narrative. This one runs from Lag BaOmer to Yom Yerushalayim (Jerusalem Day) and the 17th of Tammuz, and ends with Tishah B'Av. Yes, we should and must celebrate our independence and our new Jewish sovereignty with the state of Israel. But we also must not forget that national emotions – especially when they turn into fanatic movements that promote hatred – can be dangerous.
Like the chart of air pollution levels in Israel, may the light of our Lag BaOmer bonfires shine as a warning sign for us and for the generations to come.
Written in 1930 by Levin Kipnis
Talmud Bavli, Yebamut, 62b
Talmud Bavli, Yoma, 9b.
Alona Nir is the central shlicha (emissary) for the URJ and the Jewish Agency for Israel (JAFI). Alona has been working in the field of Jewish education for more than 15 years, and for the last four years she has been the director of Neshama, a semester-long program in Israel for seniors of conservative day schools in New Jersey. Alona has just finished her 3rd year as a rabbinical student at HUC-JIR in Jerusalem and lives with her partner, Yael, and their daughter, Ori, in Manhattan.
Related Posts
Image
These are Torah portion haikus.
Image
These Haikus focus on weekly Torah portions.
Image
These Haikus focus on weekly Torah portions.