Image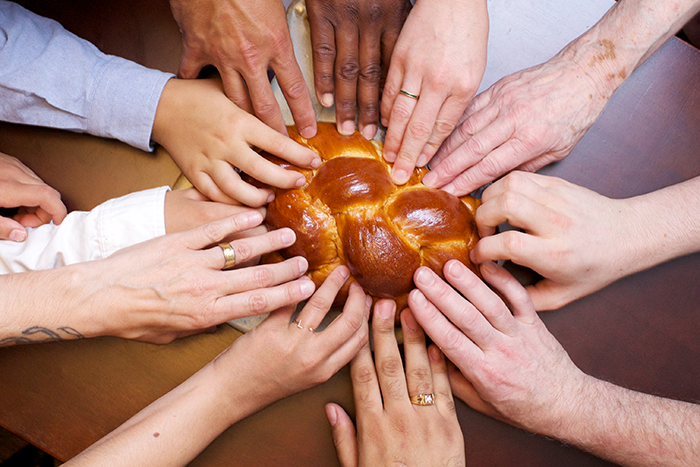 There are many ways that rabbis nourish their communities. Some focus on working with local charities to support people in need, others connect with the wider community through education. Some rabbis have found a way to do both using a unique medium: challah.
On Friday mornings at the nonprofit community bakery founded by Rabbi Jonathan Rubenstein in his Temple Sinai synagogue of Saratoga Springs, New York, people from all walks of life meet with each other and stay connected by baking loaves of challah. Meanwhile, Rabbi Joel Mosbacher uses his challah recipe to help people share sacred stories. To both, challah isn't just a way to feed the body; it's also an avenue for meeting their communities' spiritual needs.
Rabbi Jonathan Rubenstein founded Slice of Heaven Breads in 2014 as a volunteer-operated community bakery at Temple Sinai, where he and his wife served as co-rabbis until their retirement at the end of 2022. Rubenstein shared that he was inspired to "give people a different way to understand Judaism through the gifts of the earth, offering both physical and spiritual sustenance."
Even after his retirement, Rubenstein's Slice of Heaven Breads welcomes bakers who are synagogue members, as well as secular folks, Quakers, clients from local mental health programs, and individuals with disabilities. Week after week, these volunteers make delicious challah, and Rabbi Rubenstein leads everyone in the prayer: "I am braiding these loaves with the intention of unifying the holy sparks of the human… with all that is divine."
Once the bread has been baked, complimentary loaves go to homebound community members, hospitalized patients, and nursing home residents. Other community members place orders for challah that will adorn their Shabbat tables and enhance their lifecycle celebrations.
All of the profits from these orders support hunger relief programs, Temple Sinai's programs, and other local charities. Rabbi Rubenstein's challah is truly special to the community and keeps them engaged.
Rabbi Joel Mosbacher, the senior rabbi of Temple Shaaray Tefila in New York City, also uses his breadmaking skills to connect people across different backgrounds. Mosbacher recently launched All Rise Community, which offers baking workshops for churches and synagogues.
Participants in Rabbi Mosbacher's workshops discuss meaningful experiences, spiritual insights, and stories from shared religious texts. Reflecting on two recent workshops in which he partnered with local churches, Mosbacher explained, "participants were curious about the history of challah and gave themselves over freely to the sacredness of their own stories in relationship to the sacredness of their holy religious texts."
Rabbis Mosbacher and Rubenstein have developed unique ways to serve their communities. They each sustain the souls of community members through the shared experiences of baking delicious breads. Challah can intertwine people, regardless of faith, circumstance, or background, just as strands of dough come together to create mouth-watering challot that feed our bodies.
Related Posts
Image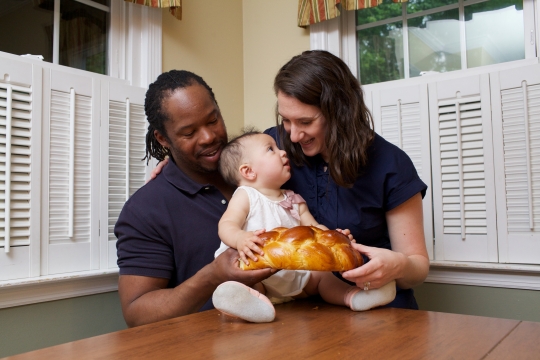 Ease into the intentional space of Shabbat through some preparatory cooking and baking, reading up on the parashah, making pre-Shabbat well wishes, and doing some self-care.
Image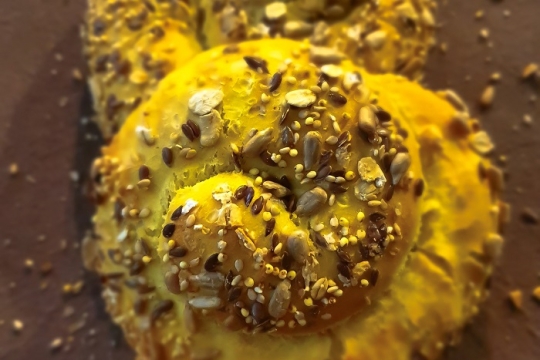 Decorate your Sukkot table with Ethiopian, North African, and Sephardi breads full of fall colors and tantalizing spice mixes while broadening your palate with the customs of worldwide Jewish communities. Laden with seasonal honey, pumpkin, or orange, they don't need braiding and make perfect gifts.
Image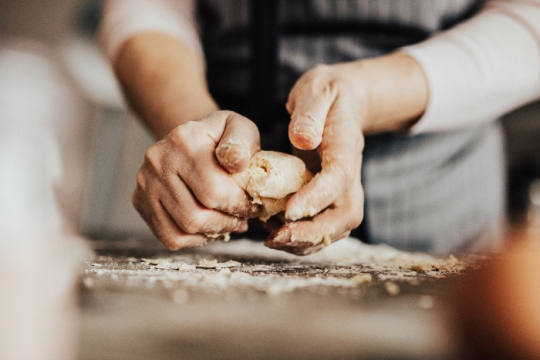 I've made challot each Friday while sheltering in place, kneading in prayers not only family and friends but also for our country and our world during these trying times.