Image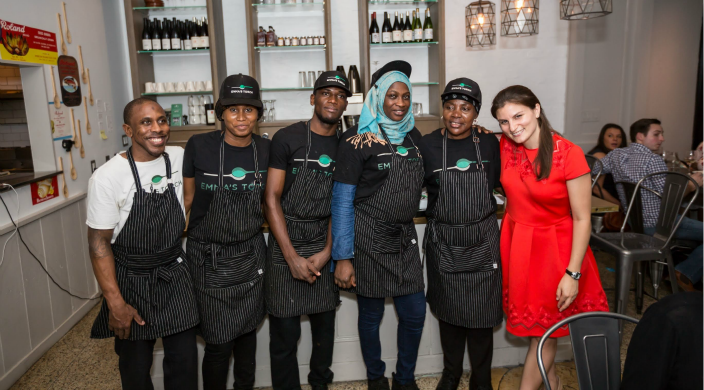 Kerry Brodie is founder and executive director of Emma's Torch, a non-profit social enterprise that provides paid culinary training and job placement for refugees, asylum seekers, and human trafficking victims. Kerry, her Israeli-born husband, and baby daughter, are members of Congregation Beth Elohim in Brooklyn, N.Y.
I caught up with Kerry, at Emma's Torch restaurant, where I enjoyed a delicious brunch of black-eyed pea hummus, a succotash grain bowl, pulled lamb on pita, and knafeh, a Middle Eastern sweet cheese pastry.
ReformJudaism.org: What led to your changing your career path from public policy student to restaurateur?
Kerry Brodie: While in grad school, I worked at the Human Rights Campaign helping LGBT asylum seekers and volunteered a couple of mornings a week at a homeless shelter. These experiences got me thinking about whether there might be a better way to improve the lives of refugees, and I came up with the idea of creating opportunity and building bridges through food.
I joked about this idea with my husband, until one day he asked me, "Why not you?" I tried to come up with a reason why not me and couldn't find one. So at the end of 2015, I started speaking to people in refugee resettlement circles and in the culinary industry and realized the potential of being a kind of matchmaker, bridging their respective needs. I left my job, enrolled in a six-month program at The Institute of Culinary Education in Manhattan, and one year later launched Emma's Torch as a pop-up eatery in Red Hook, Brooklyn.
How did you come up with the name Emma's Torch?
The ethos of welcoming the stranger, so deeply rooted in both Jewish and American values, is powerfully expressed in "The New Colossus," the sonnet by Jewish-American poet Emma Lazarus that is inscribed at the base of the Statue of Liberty.
I know from my own family history what happens when we close our doors to refugees and asylum seekers. My maternal great-grandparents were the only members of their family who escaped Lithuania during the Holocaust.
I felt we were facing a moral moment in September of 2015, when the body of 3-year-old Alan Kurdi, a Syrian refugee boy, washed up on a Greek shore. That photo convinced me that I could not stand idly by.
How did you get the idea of centering your action plan on food?
Growing up, food was an expression of love every Friday night, when our family and friends sat down for Shabbat dinner. Also, volunteering at the homeless shelter showed me how food can be truly universal. You don't need to speak the same language to express love, sympathy, or compassion through food.
From a pragmatic point of view, I saw that restaurants were struggling to fill their kitchen staffs. So there was an opportunity to train and place immigrant workers in an industry with low entry barriers in ways that are respectful of their diverse culinary heritages.
How challenging was it to set up and staff your experimental pop-up restaurant in June 2016?
Very challenging. We put theory to practice on a shoestring budget in only five days, thanks to my astrophysicist husband and can-do sister-in-law, who served as our very first waiters and helped us get started. We recruited our first students for a 24-hour-a-week training program.
At the end of six months, we rented a larger space and expanded the menu, days of operation, and length of the training program to 40 hours a week, which include ESL classes and interview coaching. We have since added a café at the Brooklyn Public Library.
How does your menu reflect your mission?
We integrate foods that students bring from their home countries, which causes a kind of culinary ripple effect, adding more diversity to the menus of the larger restaurant community. It also reflects the teaching in Pirkei Avot (The Sayings of Our Ancestors): "Who is wise? He who learns from all men, as it is written… 'I have gained understanding from all my teachers.'"
How many students have graduated from Emma's Torch and found jobs in restaurants?
We will soon be enrolling our 90th student into the program. We have had over 60 graduates from 30 countries, and they work at 40 different New York City restaurants. More than 95 percent of our job seeking graduates are working in the industry, but I think job creation metrics do not tell the whole story.
As Einstein said, "Everything that can be counted does not necessarily count; everything that counts cannot necessarily be counted." Statistics do not capture the life-changing journey our students experience during our partnership.
Emma's Torch remains a home and a beacon of hope for our alumni, who are living the American dream.
To learn what the Reform Jewish Movement is doing to promote immigrant and refugee justice, visit the Religious Action Center of Reform Judaism's Gilbert and Eleanor Kraus Initiative Immigrant and Refugee Justice Action Center.
Related Posts
Image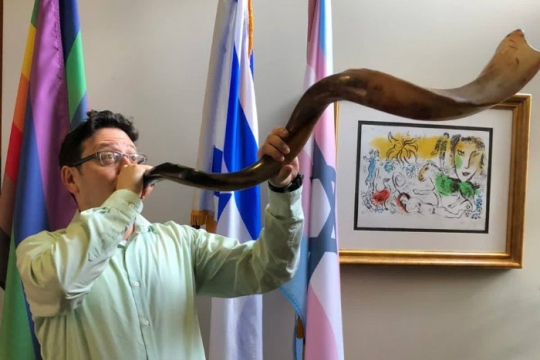 Rabbi Max Chaiken, our Ten Minutes of Torah commentator for the Book of Deuteronomy, is the associate rabbi of Congregation Kol Ami in Los Angeles, CA. We talk to him about his Jewish journey and the ideas behind his commentaries.
Image
A classmate recently snapped a photo of a billboard promoting Israel's right-wing Yachad party that read: "So there won't be a child with a father and a father!"
Image
Shavuot, like most other Jewish holidays, has been celebrated in many different ways throughout Jewish