Image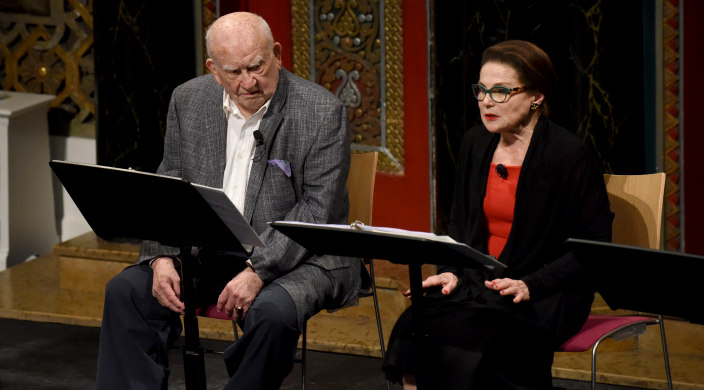 Film and television stars Ed Asner and Tovah Feldshuh headline The Soap Myth, a play by Jeff Cohen about a cantankerous Holocaust survivor on a crusade to convince Holocaust museum curators that the Nazis manufactured soap from the corpses of murdered Jews.
Asner plays the survivor; Feldshuh plays dual roles of a scholar and a Holocaust denier. They are joined by Drama Desk Award winner Ned Eisenberg in various roles and by Liba Vaynberg, who portrays a young journalist struggling to sort out the historical truth.
I caught up with playwright Jeff Cohen to get his take on the play, which is on a national tour in commemoration of Yom HaShoah, Holocaust Remembrance Day.
ReformJudaism.org: How did you get the idea for this play?
Jeff Cohen: An elderly man handed me a manila envelope and said, "Take a look at this. Maybe there is something you can do with it." It contained a copy of Moment magazine with an article about a survivor named Morris Spitzer, who was terribly upset that Holocaust museums refused to include an exhibit of human soap as evidence of Nazi atrocities.
It took me years before I found a way to make Spitzer's story stage-worthy. For dramatic purposes, I decided that more important than the question of human soap was the tension between scholars' standard of evidence and the testimony of survivors. At the core of this play are the questions: Who has the right to write history, and how do we determine what is true?
How do Holocaust deniers figure into your play?
I found in my research that the Holocaust scholars changed the status of soap from a fact to a myth during a time when Holocaust deniers used this issue as their battleground. If the deniers could show that one atrocity attributed to the Nazis is false, then all is false.
Feldshuh says she portrayed Holocaust scholar Esther Feinman as "prickly" and Holocaust denier Brenda Goodsen as "gentle" and "irresistible." Was that your intention?
My intention was showing the cheerful side of evil. I made the character of Brenda Goodsen – who is an amalgam of David Irving and several other deniers – very charismatic, charming, and likeable because I wanted to show how she could pull the wool over the eyes of the young, naïve journalist who tells the story in the play.
Are the scholars in the play who dismiss Saltzman's evidence as historically false engaging in a different kind of denial?
I believe it was Elie Wiesel who said that those who have not experienced the Holocaust cannot know it. And that is a dilemma for historians, because they are working with a different set of criteria, coming from a different place than survivors. 
That said, memory is a tricky thing; it can be faulty. But does that mean that memory is irrelevant? Does that mean that the experience that one has and the way one remembers it, in a very specific context, does not have great historical value?
I think the experiences of Holocaust survivors have to be recognized, respected, and reckoned with. 
Ed Asner saw Milton's soap battle as essentially a "means of leaving his mark in the world, so that his life will mean something."
Before long, there will be no more Holocaust survivors. The beauty of live theater is that every time an actor takes on the role of Milton Saltzman, that character is alive. There is an aspect of immortality to it.
When I asked Ed Asner why he agreed to play Milton Saltzman, he said, "It's a beautifully written piece and perfect for me. I play the old wounded Jew very well." Did you have him in mind when you wrote the part?
When I conceived of this character's inchoate rage, ferocity, inability to let this go, unwillingness to be denied, demand to be reckoned with, I could think of no one better to play him than Ed Asner. You have no idea of how wonderful it is for a playwright to have his play voiced by who is one of the greatest American actors of all time.
What do you hope people take away from this play?
Human beings are constantly at war between and their worst selves and their better angels. I would love people to walk away with the idea that we have it in our control and capacity to live on the better side.
It is my hope that by telling the stories of our inhuman history, that one day, people will say, "Why are we doing this? Where does it get us? We have the capacity to stop."
Related Posts
Image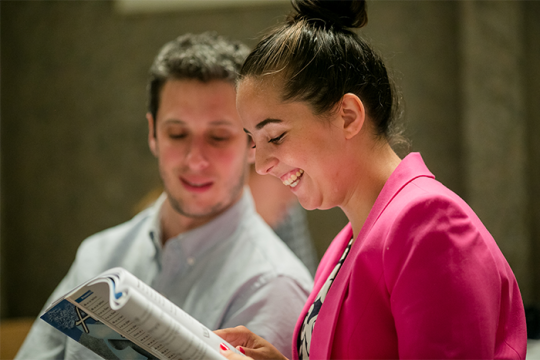 Lifelong learning, however, can be easier said than done. For many, as they enter adulthood, with its competing demands and obligations, setting aside time for learning – and especially for Jewish learning – can be challenging indeed.
Image
At 10, Jeff Erlanger appeared on "Mister Rogers' Neighborhood" in his wheelchair. I recently asked Jeff's parents about how they raised such a competent and loving son.
Image
When I became rabbi of Monmouth Reform Temple in Tinton Falls, NJ, I quickly discovered that some people in our community thought we were a church. Mail was addressed to "Monmouth Reformed Temple," and letters were addressed "Dear Pastor."