Image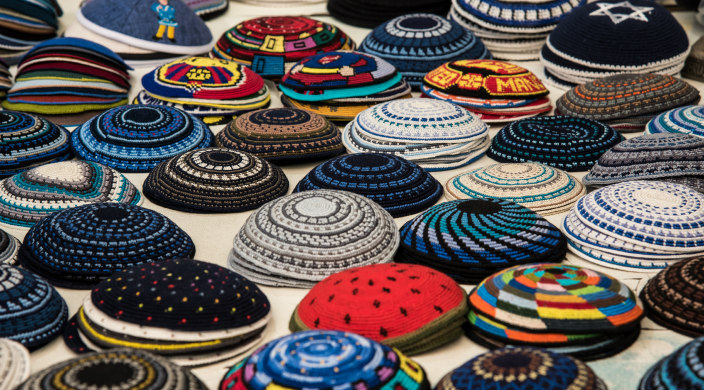 Kippot (plural of kippah, which in Hebrew means yarmulkes or skullcaps) are religiously and culturally important pieces of Jewish prayer garb. Typically, kippot are small velvet, suede, or knitted skullcaps that cover only the upper back part of the scalp, but they are also available in a variety of sizes, colors, and designs.
Some wearers consider their kippot to be an extension of their personality, which is something Kate Rachel Lozier, a Judaica creator, fully understands. Lozier lives out her passion by designing and crafting kippot that stand out and tell their own unique stories - and she chatted with me about her work.
"I started making kippot when my sons were quite young and were attending shul (Yiddish for temple or synagogue) and Hebrew school," Lozier says. "I spent a lot of time experimenting with my designs and my guys were my models! I also started wearing a kippah myself, and I wanted to wear something stylish and different."
Lozier explains that her primary inspirations for creating kippot were Torah, Hebrew, Jewish symbols, engaging in Jewish holidays and rituals, and learning Jewish history. She particularly has an appreciation for the clothing requirement of the Kohanim (Levitical priests, whose garb is described in the Torah).
"I imagine amazing, beautiful wares, and I enjoy reading the detail every year at shul," she tells me. She continues:
For example…all of the priestly garments and their colors mentioned in Exodus Chapter 28 are very important in my work. I favor the colors of turquoise, purple, silver and gold…I am also very influenced by how God instructs Moses in the building of the ark, the tabernacle, the sanctuary, and the Tent of the Meeting with all the beautiful colors, shapes, the stones and jewels. (My jewelry favors lapis lazuli, jaspers, agates, crystals, and turquoise stones.)
Lozier was inspired to create kippot after she noticed that there was an absence of diversity in the ones she would often find in Judaica stores. After designing kippot for her sons, who requested logos featuring their favorite sports teams, she decided to take things a step further by designing kippot she found "elegant" and "funky."
Fusing tradition and novelty, her kippot designs include characters from pop culture icons such as Harry Potter, Star Wars, and Marvel Comics; batik-inspired designs and tapestry trims; and  Jewish symbols, including the Star of David, hamsa, menorah, pomegranates, and imagery inspired by the seder. (I purchased a matzah­ print kippah that I couldn't resist!).
"Just walking into a fabric store gets my creative juices flowing," Lozier explains. "I will look specifically for certain fabrics that I know kids will like. I am totally thrilled when a customer reaches out to me to say how much they like their kippah and that their child or grandchild is ecstatic."
The diversity of the Jewish people is something that heavily inspires Lozier's craft as well: ""I spend time learning about the Jewish artwork from all over the world and enjoy seeing how kippot, challah covers, and other Judaica were made in the past," she says. "I go to museums, art galleries, arts and crafts shows, and often pick up some new ideas just from looking at artwork that has nothing to do with my work."
Lozier says that one of her most popular crafts, kippot based on the style of Bukharan Jews, combines the rich history of this Jewish sect with her own personal sense of style. This type of kippah, which covers the entire scalp and almost resembles an African kufi, resonates with me as a black Jew whose background is not typical – neither white nor Ashkenazi. Because of its similarities to African style and cultures, combined with a distinctly Jewish design, it demonstrates my Judaism in a way that feels authentic – and sometimes prompts others to ask me where I got my kippah.
Lozier also loves creating other types of Judaica, such as challah covers, matzah cases, home décor, and jewelry. "I am working on a new line of Jewish wedding goods – ring bearer pillows and smash bags, in which a couple can store the shards after they step on the glass at their wedding," she tells me. "I recently purchased an embroidery machine so I can personalize most of my goods in Hebrew or English."
To learn more and see Kate Lozier's kippot and other Judaica items, visit her Etsy store.
Related Posts
Image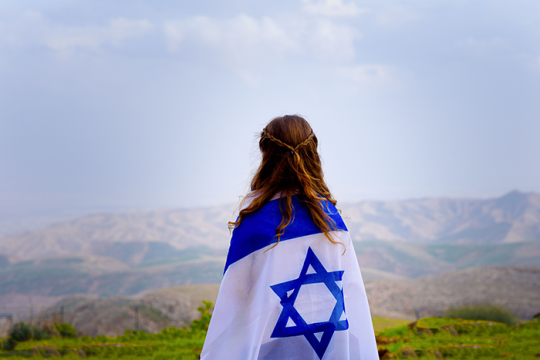 We stand with the people of Israel during these difficult and challenging days and pray for the safety and immediate release of all of the hostages. See our resources and actions you can take.
Image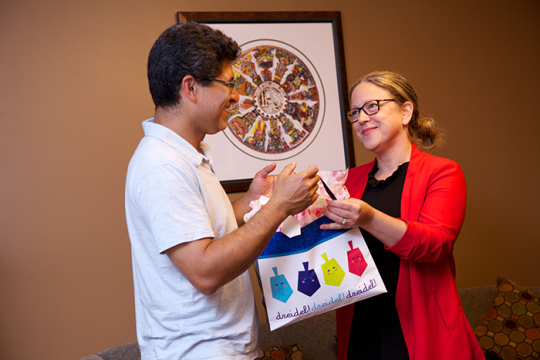 Hanukkah is one of my favorite holidays, partially because it gives me the opportunity to give gifts to my loved ones every night for eight nights! Gift giving with intentionality is one of my favorite ways to express affection while teaching my child about Jewish values and traditions.
Image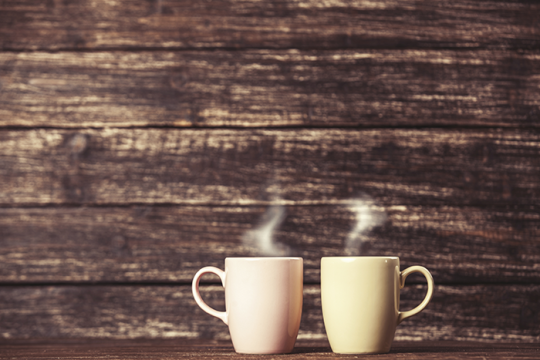 In the winter months, adding elements of simplicity, presence, and coziness can elevate the rituals and intentions of Shabbat. Here are a few tips for your most hygge/heimish Shabbat yet!