Image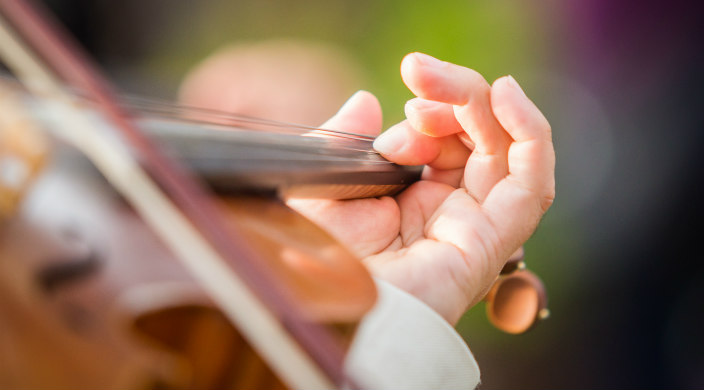 Music has the power to bring people together. One piece, "Bridal March" from Richard Wagner's opera "Lohengrin" (known in the vernacular as "Here Comes the Bride"), brings modern Jewish brides together in a unique way: Except for The Nanny'sfictional Fran Fine, few use it as the music for their procession down the aisle.
Wagner was a virulent anti-Semite who trumpeted his hatred for Jews through inflammatory, vitriolic letters. His notorious musical-dramatic portrayals of Norse characters as unflattering Jewish stereotypes abound, as in the gold-hungry Alberich of "Das Rheingold."
Another German composer, Jakob Felix Mendelssohn (1809-1847), also created a famous wedding march that largely fails to make it to the chuppah (wedding canopy under which Jewish weddings take place). Mendelssohn was born in Hamburg to the son of Jewish philosopher Moses Mendelssohn and raised without religion until his parents had him and his siblings baptized as Lutherans when he was 11. 
For this apostasy, Mendelssohn's Wedding March from the opera "A Midsummer Night's Dream" misses out on being chosen as the recessional for most Jewish weddings. The scene set to this music appears at the opera's finale, in which all the reunited couples join in matrimony after a long sylvan night of mistaken identity and romantic comedy. 
Nonetheless, I believe there are several reasons Mendelssohn and his wedding march should be invited to Jewish weddings:
The composer's age when he was baptized could hardly have been of his own accord or initiation. 
Even if "Elijah" is not a direct salute to Mendelssohn's ancestry, the lyrical oratorio from Nevi'im(the Prophetic writings), serves up tender regard for the prophet's trials and tribulations, and celebrates Elijah's validation in the monotheistic minority of his time. (In case you're wondering whether Elijah's English text was worked out by Mendelssohn or is a translation thereof, the oratorio premiered in Birmingham, England in 1846. Mendelssohn and England were great fans of one another.)
Mendelssohn remained Jewish in the eyes and ears of many of his time, including Wagner, who excoriated Mendelssohn in writing. Mendelssohn's compositions also were banned by the Nazis, who destroyed the statue of him that stood in front of the Leipzig Gewandhaus, a concert hall in Leipzig that is home to the Leipzig GewandhausOrchestra.As Maestro of the Gewandhaus from 1835 to 1847, Mendelssohn falls into a succession of such illustrious conductors as Bruno Walter and Kurt Masur.
I throw in one final ingredient for your consideration: this. Mendelssohn's overture to Shakespeare's "A Midsummer Night's Dream" offers pure celebration, as well as fanciful and fun dialogue. Woodwind tetrachords beckon the listener to a sylvan world far beyond the confines of urban boundaries. Coloratura string motifs teasingly portray the fairies and elves who gleefully inhabit woodsy territory. Brass and percussion introduce the chorus of tradesmen and the bellicose "hee-haw" of Bottom, their enchanted donkey of a leader. Without a single word of sung or spoken language, Mendelssohn invites us to life itself, showing us tradition, relationships between humanity and the Divine, the beauty of nature, love and friendship, mistaken identity, and reconciliation in the face of adversity. Thematically, this overture could not be more Jewish.
To paraphrase Cantor Dr. Eliyahu Schleifer, a great cantor and my teacher, Jewish music is by Jews, about Jews, and /or for Jews.The boundary expands to include Maurice Ravel, Max Bruch, Dmitri Shostakovich, and Sergei Prokoviev. We can relax and send Mendelssohn an invitation to the wedding as well.
Enjoy, and toi toi toi!
Related Posts
Image
These are Torah portion haikus.
Image
These Haikus focus on weekly Torah portions.
Image
These Haikus focus on weekly Torah portions.