Image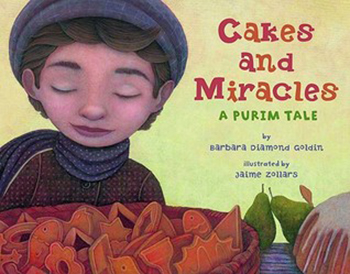 Title: Cakes and Miracles
Author: Barbara Diamond Goldin
Illustrator: Jaime Zollars
Publisher: PJ Publishing
Intended for Ages: 5 - 6 years
Jewish Customs: Purim, making hamentashen
Jewish Values: B'tzelem Elohim (created in the image of God), Adam Yehudi Nivrah (celebrating the uniqueness of every individual)
Synopsis
Even though Hershel can no longer see, he remembers what things looked like before he lost his sight. After a vivid dream in which an angel reminds him to use that special ability, Hershel creates beautiful shapes from his mother's hamentashen dough. His cookies earn him a compliment and a possible future job from the town baker.
Highlights
This story reminds us that everybody has different ways of experiencing the world. The text is beautifully illustrated with rich sensory descriptions of Hershel's activities. He forms shapes in the mud in the creek near his home. He hears the groggers at the Purim celebration. He smells the different aromas and feels the excitement around him at the marketplace when his cookies are selling so well. They must be very tasty!
Sometimes the most loving parents need to be reminded that different children can contribute to the home in different ways. Hershel was already gathering water and wood, but his mother could not imagine he would also be able to create shapes for cookies.
Jewish Topics for Family Discussion
PJ Library® provides the gift of free Jewish books and music to families raising Jewish children between the ages of 6 months and 8 years. Cakes and Miracles has been one of the popular selections for the 5-6 year old children who subscribe to PJ Library®. Enroll your child to be a part of this exciting program.