Image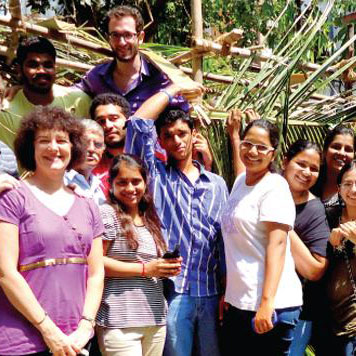 Just a few weeks ago, Reform and Progressive Jews from all over the world gathered in Rio de Janeiro, Brazil, for the World Union for Progressive Judaism's CONNECTIONS 2015 Conference. The conference opened with a magical evening at the city's historic synagogue, with attendees dancing the samba up and down the aisles. On Friday evening we were treated to an Erev Shabbat service led by the two rabbis and two cantors of Congregation ARI, and in a town known for Antonio Carlos Jobim, we listened to Levendowski and Binder. The following morning Nashama Carlebach and Josh Nelson had everyone lifting their voices. The sounds in Rio that weekend were as diverse as the people there – and yet we were bound together by our passion for Jewish values and Jewish learning in settings that treated all as equals.
Rabbi Larry Milder wrote a terrific song that was long popular with members of the North American Federation of Temple Youth (NFTY) and campers at URJ Summer camps, "Wherever You Go, There's Always Someone Jewish." It was recorded on the Fifty Years In the Making NFTY album.
Wherever You Go
Words and music by Rabbi Larry Milder

Wherever you go, there's always someone Jewish
You're never alone when you say you're a Jew
So when you're not home and you're somewhere kind of newish
The odds are don't look far, cause they're Jewish too.
Some Jews live in tents and some live in pagodas
And some Jews pay rent cause the city's not free
Some Jews live on farms in the hills of Minnesota
And some Jews wear no shoes and sit by the sea.
Amsterdam, Disneyland, Tel Aviv
Though they're miles apart
When we light the candles on Sabbath eve
We share in the prayer in each one of our hearts.
And some Jews wear hats and some Jews wear sombreros
And some wear kafiahs to stay out of the sun
Some Jews live on rice and some live on potatoes
Or waffles, falafels, or hamburger buns.
Amsterdam, Disneyland  . . .

©1983, Laurence Elis Milder; Used by permission
Rabbi Milder was absolutely correct. In over 50 countries around the world, there are people, like you, who strive to create warm, welcoming, egalitarian, pluralistic Jewish communities. In North America we call ourselves Reform, but in other parts of the world, we are known as Progressive or Liberal. (If one were to ask for a Reform congregation is most of Europe, directions would be given to a local Protestant church.)
So how does one locate and contact a Progressive/Reform/Liberal congregation when travelling outside of North America? That is what the World Union for Progressive Judaism can do for you. Unlike synagogues and Jewish institutions in North America that have  "open-door" policies and regularly welcome visitors; outside of North America, there is a pervasive sense of security consciousness. Synagogues do not publish their street addresses, return phone calls or emails, or openly declare their presence.  A random visitor, even one claiming affiliation with a Reform synagogue in the United States or Canada, will be turned away if visiting unannounced. On the other hand, with a simple email to the New York office of the WUPJ, several weeks in advance of your visit, we can arrange for you to be welcomed and treated as honored guests.
When planning a vacation, visit the World Union for Progressive Judaism website and on the Congregations page you'll find WUPJ congregations listed by country. Click on a country to see the congregations listed alphabetically by city. When you verify the presence of a "sister" community, please email me, Rabbi Gary Bretton-Granatoor at WUPJ's New York office. We will need the dates of travel, where you will be staying, when you would like to visit, number of people travelling with you, and a way to contact you once you are there. If given sufficient time, we can arrange a visit that will remind you that we are all a part of one extended family. This is a great way to really see a country – for you will meet your international "cousins" who can give you insights into their lives, and the challenges and triumphs of living as Jews in their communities. So, wherever you go….
Rabbi Gary Bretton-Granatoor is Vice President, Philanthropy, at the World Union for Progressive Judaism.