Image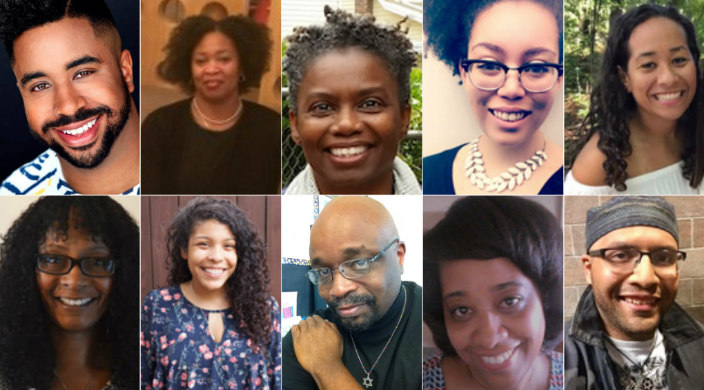 With Black History Month upon us, a time dedicated to learning about and celebrating the accomplishments of Black individuals and movements, I cannot help but wonder how to use our sacred history to create a better future. As Black Jewish leaders in particular, we are tasked with upholding our identities in the face of oppression in the pursuit of tzedek (justice) and tikkun olam (repairing the world).
To gain further perspective on this, I consulted my fellow Black Jewish leaders, all of whom are alumni of the Union for Reform Judaism's JewV'Nation Fellowship, to share their insight and perspectives. I hope their insightful responses inspire you as deeply as they inspired me.
Yolanda Savage-Narva says:
"When I think about Blackness, I think about the richness of the soil and how it nurtures whatever is grown there. I think my Black roots have that same power and within that power, we, as Jewish leaders, can multiply the effect of Jewish values as well."
Kelly Whitehead observes that the intersectionality of Black history and Judaism is equally important:
"Intersectionality is inherently Jewish. I believe that Black Jewish leaders can lift up Black stories [by] bringing them to the bimah, the sukkah, the Shabbat dinner table, etc. without it being criticized for erasing Jewish tradition."
Marques Hollie agrees:
"Much in the same way that there isn't one way to 'do' or 'be' Jewish, Black history isn't limited to a handful of names; it is the acknowledgement that the existence of self-determining Black people in the United States as is an act of defiance and is worthy of celebration."
In terms of specific movements within Black history, Everlyn Hunter is inspired by the shift from British colonialism in 1970s Jamaica:
"In the 70s, the entire [Jamaican] education curriculum in  grades K-13 was divorced from the British model…National heroes who led slave rebellions were added to the group of largely male light-skinned national heroes and colonial laws that stigmatized non-white practices were removed from the books."
Says Rivka Campbell,
"There are several movements in Black history that I find inspiring, [but] a person who I find most impressive and awe-inspiring…is Katherine Johnson. She is an African-American woman who was a mathematician and was pivotal to the success of NASA. She not only overcame the racially charged atmosphere in the United States (particularly NASA), but was a woman in a field where it was a challenge. She is my hero."
From Destiny Karash-Givens:
"Ruby Bridges is my personal (s)hero. The bravery that Ruby and her family had was unmatched. No matter the threats, trials, and tribulations they went through, Ruby walked up those steps every morning and attended school. As an educator in New Orleans, I took it upon myself to go visit William Frantz Elementary (now known as Akili Academy of New Orleans) and I felt an overwhelming sense of pride…She paved the way for me to not only be able to attend a school with children of all races, but most importantly, she paved the way for me to be able to teach my own classroom of children of different races. As I'm writing this, I'm thinking of my students who have Palestinian, Chinese, Honduran, Mexican, European, Ethiopian, Pakistani, American, Vietnamese, and all other types of ancestry. They are able to sit next to one another in class and tell their friends about their lives in other countries and traditions they cherish. For this, I thank many leaders in Black history, but for this particular moment, I thank Ruby Bridges."
Tani Prell adds:
"As a writer, I'm constantly inspired by our creative leaders during the Harlem Renaissance. We have a group of people who took the trauma of past and present and collectively created voice and representation. They reclaimed the arts and made a movement; through words and art they showed the fierce power, intellect, and potential of [the] Black community."
Marques Hollie agrees:
"As a classically-trained musician and queer person, I find myself most inspired by breadth of Black artists. Singers like Mattiwilda Dobbs, Marian Anderson, and Leontyne Price, whose debut at The Metropolitan Opera concluded with a 42-minute standing ovation…writers like Audre Lorde and James Baldwin, whose words I continually find deeper meaning in no matter how many times I read them. I'm inspired by artists like Wadsworth Jarrell and Cliff Joseph whose art allows me to see myself in ways I never thought possible."
Gina Drangel is most inspired by the U.S. civil rights movement, which she views as a journey we are still on:
"We are carrying so much more on our shoulders now and we have so many communities that need to be seen and heard," she says. "I believe we can only speak up and not keep silent and make sure we carry all our ancestors on this journey with us. Sankofa!"
Robin Harrison also finds himself inspired by modern activism:
"I became immediately enthralled by the Colin Kaepernick protests…I'm so impressed at both his strength of character and the positive influence it has had on the nation, despite the attempts to impede him. It is my hope that this generation takes his baton and carries it forward to countless young people who are awakening to the reality that they can make the same historical difference as those who carried them this far."
It is this focus on the past and the present that Robin believes will lead us to a better tomorrow. He muses:
"As members of our respective Jewish communities, we have the capabilities to use our past to not only lead and inspire, but to also educate future generations about our shared experiences and history. We also have the shared obligation to bring our gifts and guiding influence to other Jews of Color who are seeking a bit of that same illumination many of us have found."
May this month – and every month of the year – serve as sacred inspiration for Black Jewish leaders to thrive, to love, and to use the beautiful stories of the past to craft a future rooted in diversity, inclusion, and equity.