Image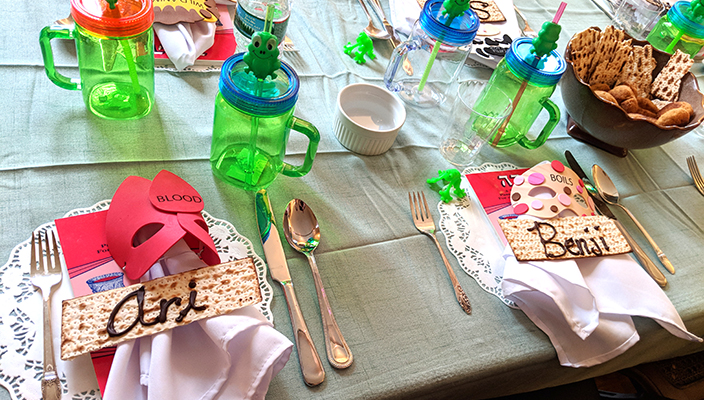 A Passover seder is more than a fancy meal. It's an opportunity to use all our senses to retell the story of the Exodus from Egypt, one of the most spectacular in the entire Bible.
One of the primary lessons of the seder is that we all must feel as if we personally were rescued from slavery. For these ideas to be accessible to even the youngest children, everyone tastes, touches, smells, hears, and sees symbols from the story, using a guide book called a Haggadah.
We've rounded up eight different family Haggadot (plural of Haggadah) recommended by the Early Childhood Educators of Reform Judaism (ECE-RJ) and the staff of the Union for Reform Judaism (URJ).
What makes these Haggadot different from all other Haggadot? Although they are designed with young, wiggly, giggly children in mind, they provide enough substance to keep adults and older children challenged. They are child-friendly but not childish. All of them are mostly in English, with Hebrew translated into English, and Hebrew intended to be read aloud transliterated (using English letters for Hebrew pronunciation).
We couldn't come up with a favorite because there are as many ways to engage little ones as there are families, but feel free to use your imagination, pick and choose different parts from among these (and other Haggadot), and improvise. Check out these resources, too, if you're planning a seder for 2- to 3-year-olds or 4- to 5-year-olds.
Set in large type and beautifully illustrated by Devis Grebu, this Haggadah is widely used at community and school seders, but equally well suited for family gatherings. It includes melodies for traditional seder songs, just a little Hebrew, and a fold-out section about how to set the seder table.
This full color Haggadah strives to make everyone at the seder feel comfortable from first-timers, young, old, people who aren't Jewish, and others. The illustrations feature the diversity of Jewish peoplehood and it's organized so older children and adults can learn and follow the story of Passover while younger children are engaged in the experience of the seder.
Richly detailed illustrations make this Haggadah a feast for the eyes. Every step of the seder is explained and illustrated to delight your guests whether it is their first seder or their 50th.  Poems, stories, and songs, including both lyrics and musical scores, ensure everyone can participate.
Colorful and clear, this Haggadah has special sections – "Memory Lane" and "Top Secret" – to enrich the holiday's core rituals. 
This Haggadah is useful for all types of seders, whether or not children are present. It's also useful as a spring board to introduce active elements into the seder each year as children grow and learn.
---
In addition to published Haggadot, here are two to download – graciously donated by preschool directors. Follow along from cover-to-cover or pick and choose from among the many wonderful elements the ones to include in your home celebration. Both Haggadot contain links to melodies for modern and traditional Passover tunes.
Jill Cimafonte, director of early childhood education at Temple Emanu-El in Westfield, NJ, uses this activity-filled Haggadah  for the congregation's 4- and 5-year-old students. It is easily adaptable for home use, and the many parts for adults can be combined if you have fewer people around your table.   
Lisa Samick, director of early childhood and family engagement at Temple Israel of the City of New York in New York, NY, uses this delightful coloring book style Haggadah for the congregation's model seder for 2- to 5-year-olds, as well as parents and grandparents. It includes singing, dancing, and an afikomanafikomanאֲפִיקוֹמָן"Dessert" (Greek); matzah is the official "dessert" of the Passover seder meal. During the seder, the children traditionally "steal"and hide the afikoman, and it must be redeemed by the seder leader. hunt, all of which you can do at home!
Still looking for the right Haggadah for your seder? Check out 16 Unique Haggadot to Enliven Your Passover Seder.