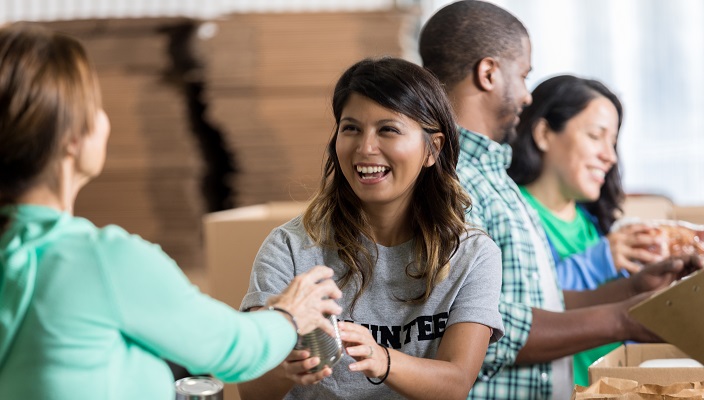 In spite of, or perhaps because of, its fun-filled celebrations and traditions, Purim remains a holiday about social justice. The commandments to eat, drink, and be merry are accompanied by the mitzvahmitzvahמִצְוָהLiterally, "commandment." A sacred obligation. Jewish tradition says the Torah contains 613 mitzvot Mitzvot refer to both religious and ethical obligations.  of giving matanot la-evyonimmatanot la-evyonim מַתָּנוֹת לָאֶבְיוֹנִים"Presents for the poor" (Hebrew). Tzedakah (charitable giving) in honor of Purim.  and tzedakahtzedakahצְדָקָהFrom the Hebrew word for "justice," or "righteousness;" refers to charity or charitable giving. May also be translated as "righteous giving."  .
In the Book of Esther, we read,
"The same days on which Jews enjoyed relief from their foes and the same month which had been transformed for them from one of grief to joy and from mourning to festival, they were to observe them as days of feasting and merry-making, and as an occasion for mishloach manotmishloach manotמִשְׁלוֹחַ מָנוֹת"Sending of portions" (Hebrew). Baskets of sweets and other foods exchanged among friends on Purim.  and matanot la-evyonim." (Esther 9:22).
In giving matanot l'evyonim on Purim – and in the larger sense of pursuing social justice – we recognize the need to address the inequalities we see in our society. By engaging in social action on Purim, we hope to help erase the hierarchy of the haves and the have-nots in our world. During this time of revelry and fun, of forgetting our usual inhibitions and turning our usual routines on their heads, let us also remember that we have the power to transform the lives of those who are suffering, to turn their days of mourning into days of joy.
Here are a few simple ways that you can give matanot l'evyonim on Purim:
Donate food or money to a local food pantry.
Volunteer at a soup kitchen, cooking or serving a meal.
Make sandwiches to distribute to the homeless.
Bake and sell hamantaschen and donate the proceeds to an anti-hunger or social service agency.
Conduct a canned-food drive for a local food bank.
You can also incorporate social action themes into your Purim celebration in the following ways.
Take action for women's rights. 
Visit the Religious Action Center of Reform Judaism's women's rights page for updated action alerts that make it easy for you to write to your elected officials in support of legislation that supports, protects, and empowers women. Sign up for emails from the RAC for ongoing legislative updates.
Use macaroni .
During your Purim observance, when the wicked Haman's name is called out during the m'gillahm'gillahמְגִלָּה"Scroll;" One of the five m'gillot (plural) in the Bible: Esther, Song of Songs, Ruth, Lamentation and Ecclesiastes. reading, use a box of macaroni and cheese – or any other uncooked pasta – as a grogger (noisemaker). Afterward, donate the boxes of pasta to food banks.
Help Jews in need to celebrate Purim.
Create gifts of Purim goodies such as hamantaschenhamantaschenאֹזֶן הָמָןTriangle-shaped pastries commonly filled with apricot jam or poppyseed spread (or other fillings) and eaten on Purim; the shape represents Haman's hat or ears  and bring them to people who would have difficulty buying the items themselves. Children of any age can decorate the boxes or make greeting cards to include. Gifts might be brought as part of a visit to a senior center (during COVID-safe times) or left anonymously for families in need. Your local Jewish Family Service or clergy can provide you with a person or place that would love to receive your gift.
Donate grocery store gift certificates.
Gift certificates to local grocery stores can help food pantries assist clients with meeting the dietary needs that canned food drives cannot address, allowing clients in need to purchase fresh foods that food pantries cannot stock.
Have a party to feed the hungry.
Are you hosting or attending a Purim party or seudat mitzvahSeudat Mitzvahסְעוּדָת מִצְוָה"Commanded meal;" a festive meal that follows the fulfillment of a mitzvah, i.e., bar mitzvah, wedding, brit milah. ? Make a donation to a food pantry of to another organization that fights hunger for a percentage of the cost of the food. Ask guests to bring donations of money or canned goods to help fulfill their obligation to give gifts to the poor – and to add meaning to your celebration.
Distribute information about help for victims of domestic violence.
In the Book of Esther, two women find themselves in vulnerable positions because of their gender. Vashti pays a high price for her dignity when she is banished from the palace for refusing to dance at the king's drinking party. Esther, who is chosen as Vashti's successor in a beauty pageant, fears for her very life in approaching the king without his express request to see her.
As we celebrate our victory over oppression, may we also remember those, including millions of women, who are not yet free. Place informational material about a local shelter for victims of spousal abuse at your synagogue, workplace, hair salon, and clothing stores – anywhere you can think of. 
Give your old cell phone to victims of domestic violence.
As you remember the stories of Vashti and Esther, commit to helping women in similar situations. The National Coalition Against Domestic Violence collects deactivated cell phones, which still allow for 911 calls, to distribute to victims of domestic violence so that they can call for emergency help.
Donate to women's empowerment campaigns.
Like Vashti and Esther, women around the world often have limited control over their bodies or their livelihoods. In honor of Purim, choose a campaign or organization that is meaningful to you, and invest your time or money to further the cause. Consider issues such as reproductive choice, global poverty, human trafficking, and international violence against women.