Image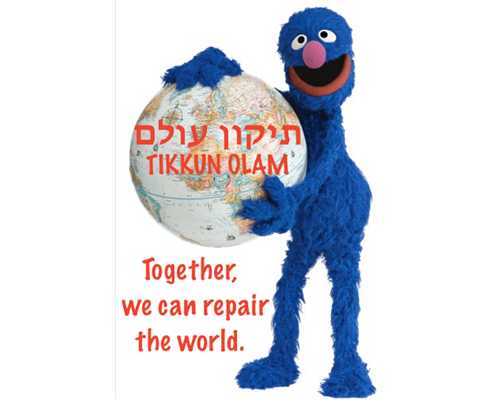 Caring for the environment is an important theme in the Jewish tradition. The holiday of Tu Bishvat, which means the fifteenth day of the Hebrew month of Shvat and is the date of celebration, honors nature and is often called "the birthday of the trees." It's a good time to encourage children to begin thinking about the natural world and the concept of tikkun olam, "repairing the world".
Together with your children, watch the Shalom Sesame videos below to learn about Tu Bishvat. Then try some of the discussion ideas and activities below recommended by Reform Jewish educators to further extend the lessons learned in the videos. If you wish, share your experiences and ideas in the comments sections below!
Discuss
Working and caring for the earth. The Torah teaches that we are responsible for working and caring for the earth. You can talk to your kids about what the words "working" and "caring" mean to them and share ideas about how your family can work and care for the environment at home and in your community. Don't forget that these discussions are a great way to enrich your child's environmental vocabulary by using and explaining words like "recycle," "habitat," and "conservation."
In the video Green Gan, below, the children make a bird feeder. What would happen to the birds if there were no trees? Where could they live? How does the bird feeder made by the children in the video help the environment? What kind of animals where you live might need a safe space? What kind of animal habitat could you create together?
Activities
Together, plant a tree or small garden outside or on the windowsill. You can recycle empty water bottles to make pots and decorate them with Tu BiSh'vat motifs. Kids can be responsible for watering and taking care of what was planted. Parsley, basil, thyme, and other herbs are easy to plant and can be used to spice up any meal. Consider planting parsley at Tu BiSh'vat for eating on Passover.
Explore what flowers and trees grow in Israel and how the climate in Israel differs from your own. If your climate permits, find plants that grow in Israel to include in your garden.
Tikkun olam means "repairing the world" in Hebrew. Everyone can take care of their little corner of the world and help make it beautiful. Inspire your child to say, "I'm small, but I can make a big difference in the world!" Reuse recyclables to turn trash into treasure. Collect paper towel tubes, empty food containers, and old magazines. Discuss how these items can be used again to cut down on the amount of trash. You can start by using these materials to create works of art celebrating Tu Bishvat.
What's happening in Shvat? Shvat is a special month in the Hebrew calendar. But the month of Shvat doesn't only happen in Israel. It's going on all over the Jewish world! Make a Shvat poster that shows what's happening in nature where you live. Go outside and take snapshots of what's blooming or draw what you see. You can take a walk to collect artifacts from nature and use them as part of your poster.
Read Solomon and the Trees together to learn more about the holiday of Tu Bishvat and the concept of tikkun olam. As a child, Solomon loves the forest and visits it often, but all too soon Solomon grows up and becomes a king. He is very busy and forgets about the forest and his friends, the animals. In this lushly illustrated environmental midrash, Solomon comes to understand the price we pay when we don't take care of the earth and its blessings.
Do activities that honor trees. Tu Bishvat is an opportunity to pause and think about the role trees play in our lives, and all of the things we enjoy that derive from trees. Using these discussion questions, videos, and activities, encourage your children to begin thinking about trees and the role they play in our environment.
Watch
Green Gan
A young girl in Israel shows how her school takes care of the environment.
The Tikkun Olam Song
Join the cast of Shalom Sesame in singing about tikkun olam, the Jewish value of repairing the world. We help the world when we help someone!
Kids Talk About Tu Bishvat
What does Tu Bishvat mean to you?
For more Shalom Sesame videos, activities, and other materials, visit our friends at Shalom Sesame.