Image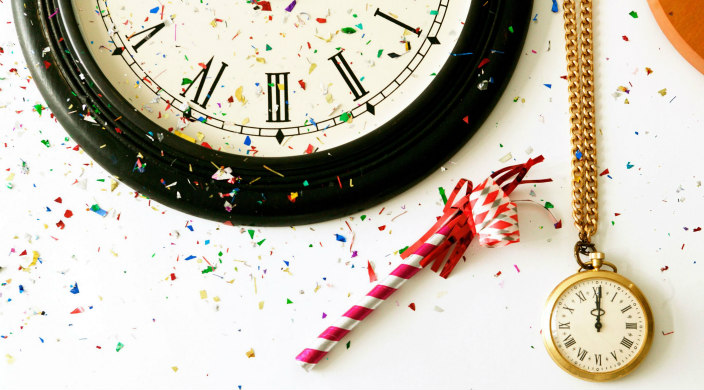 In North America, many Jews prepare for Rosh Rosh HaShanah, the Jewish new year, by making to-do lists: acquiring seats for High Holiday services, inviting guests, purchasing a new fruit, and preparing chicken soup just like Bubbe used to make.
Likewise, as the secular new year approaches, many Jews mull over whether and how to mark the day: To stay in or go out? Keep it casual or make it a more formal occasion? (I, for one, welcome any excuse to get dressed up – almost as much as I welcome any excuse to stay in my pajamas!)
Both the religious and the secular new year mark a joyous day, a time to begin anew, and an opportunity to look ahead to the coming year. (Resolutions, anyone?)
Though I love my home here in the U.S., there are moments when I regret not being in Israel, especially during the Jewish holidays; truly, there is no more special time to be there, particularly during Rosh HaShanah. Conversely, though, and in stark contrast to the brightly lit holiday season here, there is almost nothing special about being in Israel – at least in the Jewish neighborhoods – on secular New Year's Eve.
Indeed, when I have spent the secular holiday in Israel, the only people I've ever noticed celebrating the turn of the calendar were the restaurant owners and barkeepers in downtown Jerusalem (presumably Tel Aviv has a better scene) and hotels catering to foreigners.
Here's a fun fact: In Israel, the secular New Year is called "Sylvester." 
What? Why?!
For one thing, it cannot be called by its Hebrew name, of course, because "Rosh HaShanah" – which is a religious and national holiday in Israel – is already taken. However, New Year's Eve is known as Sylvester in a number of European countries, where many Israelis have roots, and, like so many other customs brought along from the Old Country, they brought along this name, too.
Some brief research indicates that December 31 is St. Sylvester Day, named for a fourth-century pope. As far as important historical figures go, Pope Sylvester was most infamously known for convincing Constantine to prohibit Jews from living in Jerusalem. Ironically, those who brought this name for New Year's Eve with them from Europe were not likely to have been doing much celebrating on Sylvester, as it was a time sometimes dedicated to anti-Jewish rioting.
So what does Sylvester look like in Israel today? I recently took a very non-scientific survey of segments of three different populations. The basic question remained the same: "Do you celebrate Sylvester?"
First, I asked my secular Israeli aunts, uncles, and cousins, whose response was largely, "Ma pitom? Eizeh shtuyot," or "What are you talking about? Such silliness." They all said that in Israel, New Year's is a work day like any other. Most Israelis, it turns out, feel the same way, unless they were raised outside the Middle East or spent any significant time overseas.
Next, I asked three of my childhood friends, all alumnae of North American Orthodox day school, who have since made aliyah (moved to Israel). Their responses all seemed to indicate that celebrating Sylvester is reserved for the young and the hip. They told me, "When I was single, I celebrated it. Now, I'm usually passed out by 10 p.m.," and "I never did anything for Sylvester. I'm the wrong demographic, not cool enough at all!" The other friend had never even heard of Sylvester.
Finally, I asked a group of Reform Jewish friends who spent their first year of rabbinical school living in Jerusalem. They, too, had either never heard of Sylvester or said they traveled out of the country for the secular new year. One couple said they had participated in small celebrations – a nice dinner, a dance at a kibbutz – but overall, they agreed that the secular new year was, in their experience, mostly a non-holiday in Israel.
So, regardless of whether you're in Israel or North America, options abound. What are your plans for December 31? A quiet night at home? A boisterous party complete with glittery hats and noise-makers? Or, something in between? However you choose to observe the occasion, may 2018 bring you and your loved ones contentment, fulfillment and peace.
Happy new year! Happy Sylvester!