Image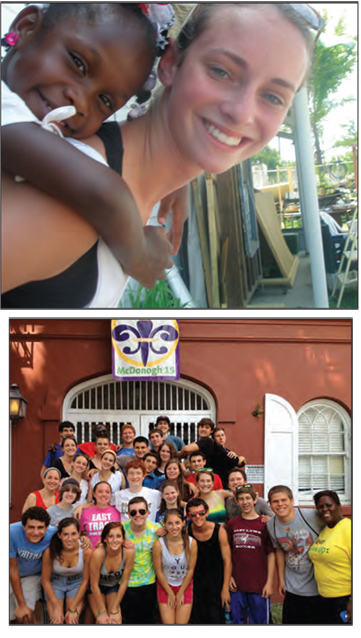 Ask me who my hero was while I was in kindergarten and I would have said my teacher, Mrs. Green, because she was kind and wore funky sweaters. In fourth grade, it would have been a toss-up between Oprah and Ellen DeGeneres, because they both interviewed all of my favorite celebrities. In middle school, I would have haughtily retorted that I did not have any heroes because I saw no positive female role models in a society that only idolized thin, vapid women. However, if you were to ask me today who my hero is, it would be a disheveled, soft-spoken man named Mack McClendon who is making an enormous difference in the Lower Ninth Ward of New Orleans.
Last summer I embarked on a community-service trip called Mitzvah Corps of the South (MCS), run by the Union for Reform Judaism, that combined 27 Jewish high school students from across the United States, three comical chaperones, the vibrant city of New Orleans, and service projects aimed at providing relief from the destruction caused by Hurricane Katrina.
Our second day, we drove eastward through shiny, metropolitan, downtown New Orleans into the sordid and dusty Lower 9th Ward — the voting district downriver of the Industrial Canal and one of the most devastated areas. As we gazed out the windows at the landscape, our mouths hung agape. It had been seven years since Katrina, and before us were gutted and boarded-up houses fronted by five-foot tall lawns; half-broken roofs, as if a jujitsu master had snapped them with his hand; and abandoned cars eaten away by blood-colored rust.
The constant chatter and laughter that usually filled our bus abruptly ceased.
The bus took a left at a pile of pale, dirty mattresses and then stopped in front of an energetically colored warehouse. Hand-painted, yellow letters above its green doors announced: "Lower 9th Ward Village." Inside the warehouse, dozens of colorful banners handmade by previous volunteers hung from the ceiling, proudly demonstrating the dozens of organizations that had dedicated their time to the Lower 9th Ward Village.
A middle-aged, African-American man with a tattered, forest-green T-shirt and a thin black and grey ponytail peeking out under his baseball cap walked over to our group. He introduced himself as Mack McClendon, founder of the Lower 9th Ward Village. The aim of this community center, he explained, is to uplift the community and empower its residents to become self-sufficient. There, residents can garden in the community garden, read books from the village library, ride donated bikes, play basketball out back, and simply talk and share their stories.
With a warm smile that showed his pink gums and a gold tooth, Mack began to tell his story. Prior to Hurricane Katrina, Mack was a telephone technician in the Lower 9th Ward, a vibrant community that was home to the great rhythm and blues artist Fats Domino. He also refurbished vintage cars, worked with his neighbors to improve the ward's underprivileged education system, and had just realized a dream  —renovating his yellow two-story home.
Then came the hurricane, which killed dozens of Mack's neighbors and destroyed all of his precious possessions.
Mack could have cursed his God for sending this catastrophic storm, and his government for not giving his neighborhood all the tools needed for complete rehabilitation. He could have relocated, as a majority of Lower 9th residents did.
Instead, Mack discovered his purpose in life. He created this "village" so that people in the Lower 9th community who had been uprooted by Katrina would have a new home. Mack recruited his neighbors, and together they transformed the warehouse at 1001 Charbonnet Street into a point of pride.
After meeting Mack, we split into two groups. My group first took Mack's guided tour of the Lower 9th Ward, seeing a number of sustainable, energy-efficient homes built by Brad Pitt's Make It Right foundation, along with other recently constructed houses. Many homes, though, were in ruins and abandoned. It looked as if their residents had clawed through ceilings to reach the roof for safety just yesterday. Along the route, Mack turned down a residential street, slowed the van, and pointed to a particularly distressed house. It had been Mack's dream home. Although he masked his emotions fairly well, I could imagine the torturous pain it caused him to drive past it every day.
After the tour we entered a house Mack had recently bought to fix up and then house groups of volunteers for extended periods of time. My group painted all of the rooms a cheery shade of blue and cleared out piles of wood that filled the garage, while the other group weeded and planted in the Village Community Hope Garden. It was invigorating to contribute to such an exciting and novel aspect of the village's expansion. Today, the house can accommodate up to 83 volunteers, each for $30/night.
The rest of the day we played with some of the community kids. Two older boys hoped that one day they'd have a real basketball, as opposed to the soccer ball they were shooting through the net-less hoop. Two girls with red, white, and blue beads in their hair entertained us by singing and dancing. The youngest, an adorable three-year-old called Bucket, had gotten his nickname after falling into a pail last year. Their grandmother sat in a chair, smiling at all of us. After Hurricane Katrina, their home was destroyed and their whole family had relocated to Alabama, but about a year ago they moved back and began to rebuild their lives. She was grateful for the Lower 9th Ward Village and for volunteers like us who were putting in time to help the community.
On the bus ride back, a pensive quiet hung over our group. Perhaps my fellow Mitzvah Corps volunteers and I were thinking similar thoughts about the tremendous destruction in the Lower 9th Ward, about how lucky we were, about the extraordinary ways Mack and his village were giving back. Before the trip, I felt discouraged by the media's constant reporting on vicious dictators, disturbing crimes, and deceitful politicians. But after experiencing what Mack is doing to better his community, my faith in humanity's goodness was reaffirmed.
In this stormy world full of war and bigotry, there is an unexpected haven in the middle of the Lower 9th Ward where people come together amidst destruction to rebuild and grow. In the center of the eye of this vortex is an incredibly caring man named Mack, who taught us: "We can't control disaster, but we can change the way we embrace it." 
Carlin Coffey is a freshman at Loyola University and a member of Temple Israel in Columbus, OH.
 
---
Teen Tikkun Olam
Mitzvah Corps connects Jewish teens with meaningful direct service opportunities, helping to translate Jewish values into tangible, relatable action across the globe. Experiences range from one to six weeks, and vary in content depending on location. Alongside a group of committed peers and a dedicated staff, teens learn about the major issues facing their chosen program site, as well as practical skills they can draw upon to help make that community - and, by extension, the world - a better place.
Examples of summer offerings (which may change annually):
New Jersey: Working with people of all ages in underserved communities
New Orleans: Rebuilding local neighborhoods
New York: Mentoring teens with autism spectrum disorders
Portland, OR: Developing green and sustainable building strategies
Washington, D.C.: Advocating for political and social change
Israel: Engaging in direct service around the country
Costa Rica: Facilitating rural development in the rainforest
Nicaragua: Assisting with environmental conservation
For info, visit the Mitzvah Corps website.