Image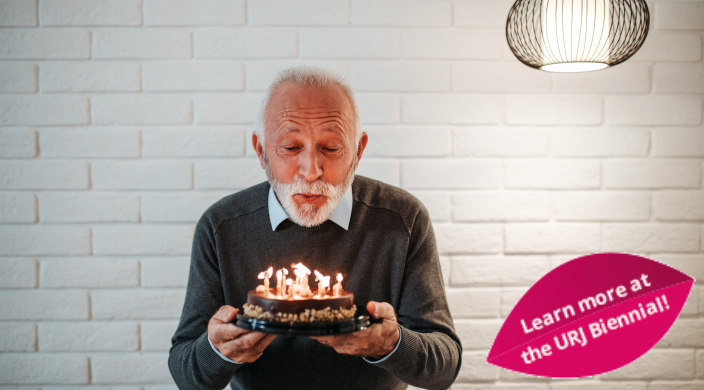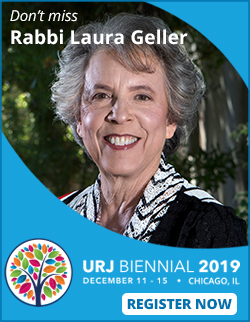 Laura Geller, rabbi emerita of Temple Emanuel of Beverly Hills in Beverly Hills, CA, was the third woman to be ordained in the Reform Movement. Named an "Influencer in Aging" by Next Avenue.org, a site for people over 50, she is a co-founder of ChaiVillageLA.org, the first synagogue village in America.
Rabbi Geller is the co-author, with her late husband Richard Siegel, z"l, of Getting Good at Getting Older, a whimsical do-it-yourself toolkit to empower the boomer generation to deal with the challenges of aging. I spoke with Rabbi Geller while she was on the east coast visiting her 97-year-old mother.
ReformJudaism.org: What made you decide to write a manual for boomers?
Rabbi Geller: Some years before stepping back from my position as senior rabbi of Temple Emanuel, I began a listening campaign to learn what kept congregants between the ages of 60 and 80 up at night, what got them up in the morning, and what their hopes were for this stage of life. I was curious to know how they were making the transition from midlife to the stage that precedes frail old age – a stage with no name that often lasts for 30 years or longer.
It occurred to my husband, Richard, who had co-created the Jewish Catalog: A Do-It-Yourself Kit in 1973, that we needed a similar empowering resource for those of us now in our 60s and 70s. Just as we boomers had reshaped Jewish life then, we believed we could do it again.
What are some of the book's practical tools and resources?
They range from mindfulness training and restorative Shabbat rest, to volunteer and service learning, to choosing a communal living arrangement, to writing an ethical will, to finding blueprints for constructing a simple pine casket. 
Why are creating new rituals for this age group so important?
Traditional Jewish lifecycle rituals have little to offer during the long period of time from marriage to death. In our listening campaign, we learned that boomers wanted more spiritual moments in their lives. And that is where new rituals come into the picture. The book offers ideas about marking and celebrating life changes, such as becoming a grandparent or great-grandparent, stopping full-time work, learning a new skill, and closing up a parent's home.
You call on us to fight internalized ageism. Why is this an important issue?
As we get older, many of us want to avoid what it is impossible to avoid. Saying 60 is the new 40 or 70 is the new 50 is essentially denying that we're getting older and reinforcing the ageist attitude that getting old is only about declining abilities.
Buying into that cultural bias inhibits self-actualization and our role as change agents in tikkun olamtikkun olamתִּקּוּן עוֹלָם"Repair of the world;" Jewish concept that it is our responsibility to partner with God to improve the world. A mystical concept of restoration of God's holiest Name to itself and the repair of a shattered world. Often refers to social action and social justice. . If we can change the paradigm of competition between younger and older people to one of interdependence, our world would be enriched. Inter-generational engagement is life-giving for older people and life-supporting for younger people.
What guidance does the book give on how to respond to inter-generational issues, such as when an adult child wants to move back home or how to tell parents that they can no longer drive a car?
In the case of the adult child, there's not a right or wrong answer to questions like whether or not to charge rent. The book, however, raises 10 questions to consider, including: Will the stay be short-term or long-term? May a romantic partner sleep over? Is he or she expected to spend time with you? On having the talk about no longer driving, we provide advice from the National Institute on Aging.
During Rich's illness, you made the preparations you advise your readers to make – passwords, account numbers, end-of-life decisions, etc. Yet there were surprises for which you were not prepared. What coping mechanisms did you devise to adjust to this new reality?
The biggest surprise was how important community was to me in moving through the incredible sadness of his death. As a rabbi, I had always told people that it's really important to be present for people as they go through mourning. I never really understood how important that truly was until I was inside of it.  
"The essence of the book," you write, is "the art of aging." In what ways can we age more artfully?
By being intentional, mindful, curious, and engaged with people of all ages in ways that give our lives meaning and purpose.
Rabbi Laura Geller will be a featured speaker at the Union for Reform Judaism (URJ) Biennial, the largest Jewish gathering in North America, held December 11-15, 2019, in Chicago, IL. Register now to join thousands of Jews from around the world to learn, pray, share ideas, dance and sing, hear from inspiring speakers, reunite with old friends, create new connections, and more.
Related Posts
Image
As someone who mostly steers clear of reality television in favor of more premium (read: snobbier) fare, I was a little hesitant to check out Netflix's new reality series, "Jewish Matchmaking."
Image
"The Marvelous Mrs. Maisel" is back with its fifth and final season, promising to finally bring everyone's favorite Jewish comedian from the back room of The Gas Light Cafe all the way into America's hearts and living rooms.
Image
When Aly Silverberg (she/her) started a Jewish meme account on Instagram, she never expected it to go viral - or for it to have such a big impact on her life and career. She certainly never expected it to reach tens of thousands of other Jews!