Image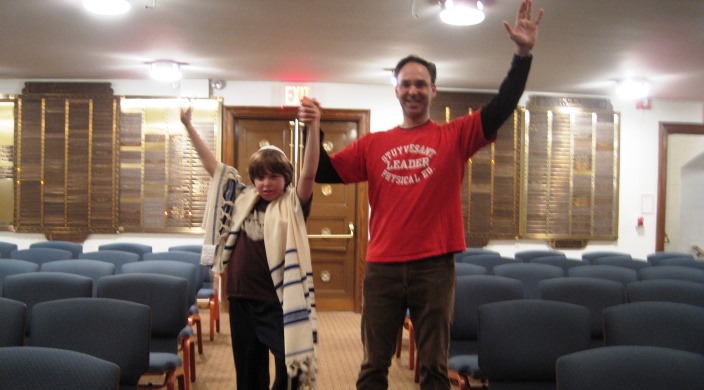 The events of my son's bar mitzvah day don't begin to tell the story of how Max arrived at that moment. Nor do they tell the story of the special connection that he, and we, have developed with the Stephen Wise Free Synagogue, and the gratitude we feel toward that special place. 
Same as many young adult Jews, I hadn't felt the urgency to choose a synagogue until we knew that we were going to be parents. But once we did know, I diligently did the full tour of upper Manhattan's Reform synagogues and settled on Stephen Wise. 
Max was born on erev Rosh HaShanah. Having arrived over five weeks premature, Max spent the first nine days of his life down at Roosevelt Hospital before we could bring him home. He spent most of those days in the neonatal intensive care unit.
Yes, Max entered the world on Rosh HaShanah and came home for the first time on Yom Kippur. He was our High Holiday boy. Having missed Rosh HaShanah services because of Max's decision to join us early, I felt the need to go to temple for some kind of solace. I remember vividly sitting in the sanctuary at Stephen Wise on Shabbat Shuvah (the Shabbat between holidays) that year. I remember saying his name aloud during the Mi Shebeirach prayer for healing.
Time passed. After about four years, which included a short but fun tour of duty in Houston, we were back in New York and temple-less again. Our son's autism was still new to us at that point, and with all of our issues it didn't feel like there was room for another commitment. And we certainly weren't willing to step into a religious community that we weren't sure would accept us as a family: two faiths, autism, and all. "Not worth it," we thought. But then I got a call from my good buddy Alan, who was now on the religious school committee at Stephen Wise. Alan told me the board had encouraged the committee to start a religious school class for kids on the autism spectrum. 
We met with Rabbi Ammiel Hirsch, then still new to Stephen Wise, who explained that he understood that there were many Jewish families in New York with kids with disabilities, including autism, that had allowed their connections to their Jewish community and their Jewish heritage to lapse.
They did this, he thought, because they were afraid that the Jewish community would be unwilling to make the types of accommodations that their families needed in order to feel welcome. Or wanted. Or included. How many Jews are there out there that are not enjoying the richness of their people because of this? How many Jews are rejecting their community because they think that community won't accept them, as they are? He said, in essence, "We need to make Stephen Wise a refuge for these families - a place to run to, not from. So let's create a class in the religious school for kids with autism. We'll start there, see where it goes."
You see, this was new. Our family didn't have any other places reaching out to us like that. We were always the ones doing the chasing.
So all of a sudden we are back at Stephen Wise, where I am on the religious school committee and helping to create a Hebrew school class for kids with autism - from indifferent Jew to super-involved Jew in the blink of an eye. 
We conceived of the Kulanu class as one that would be geared to kids even - and maybe especially - with the greatest challenges that autism can present. There were several classes out there available to higher-functioning kids on the spectrum. We needed one for the kids that had no appropriate options. After some starts and stops, we finally got Kulanu off the ground around seven years ago. The smartest thing we did was to hire Maya Blank to design and teach the class. Maya was the most critical member of the team at Stephen Wise that got Max to his bar mitzvah day. 
Under Maya's caring, creative eye, Max and the other Kulanu kids have learned about Shabbat, about the major holidays, all of the key prayers and songs, about b'nai mitzvah and community service, about Israel. Kulanu has not learned all these things in isolation from the rest of the religious school. Rather, every week, Kulanu has interacted with one or more of the other religious school classes: They have sung together and learned prayers and stories together. Kids from older classes have assisted in the classroom. I think they have learned a lot about our kids that way, about what it means to do your part to repair the world, about Tikkun Olam. 
It had always been a dream of ours for Max to become a bar mitzvah. After a year of preparation with help from Maya, Rabbi Hirsch, and Cantor Dan Singer, on November 3, 2012, our dream came true: Max had a real honest-to-goodness bar mitzvah on Shabbat morning in synagogue, with a parashah in Hebrew, aliyot, dvar torah, Shabbat prayers and songs and all. Congregants and guests in attendance shared in the overwhelming emotion of the occasion. As parents, we felt previously unfelt levels of naches (pride), but we also felt gratitude. Max did the work, and it was his accomplishment, but the occasion was made all the more special because of all of the acts of kindness and selflessness he and we encountered at our congregation along the way. 
Max has become a part of Stephen Wise Free Synagogue over the course of his 15 years. He is as comfortable there as he is anywhere. It has been a refuge for Max and for us. We are glad we ran to it and not from it. 
Dean Asofsky is the proud father of Max (15) and Mia (13) and the lucky husband of Melanie.  He is also a longtime investment banker. He was born and raised – and now lives and works – in New York City, where he continues to be an active member of Stephen Wise Free Synagogue.  The above submission was adapted from remarks that Dean made to the entire congregation on the occasion of Max's bar mitzvah on November 3, 2012.
Related Posts
Image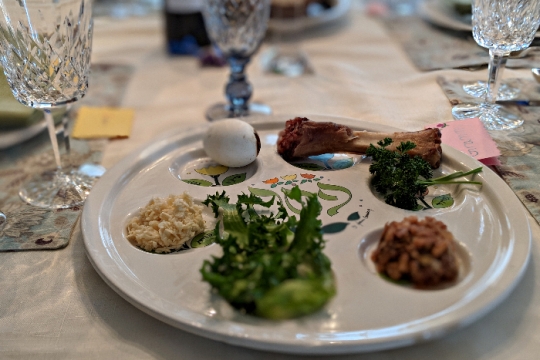 Last Passover began the urgent quest to reinvent much of Jewish life, highlighting that some of the ways we "do" Judaism needed to be updated. This year has been a powerful catalyst to shifts in how we perform our holy work.
Image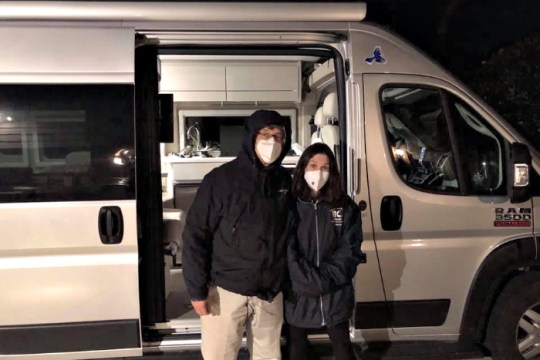 During a time when many feel so disconnected, Rabbi Jeff Glickman and Mindy Glickman of Temple Beth Hillel in South Windsor, CT, decided to take on a radical idea: Join as many Reform synagogues in America as possible.
Image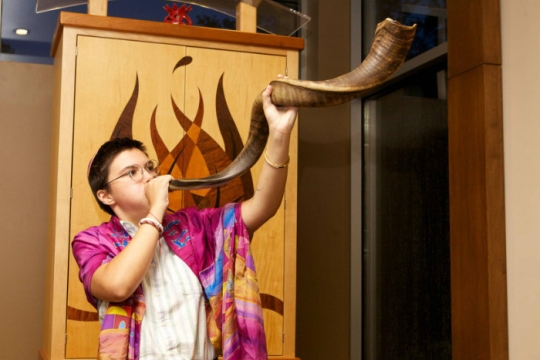 As we approach the most unusual High Holidays in recent memory, ReformJudaism.org is here to help you find ways to observe, celebrate or commemorate the holiday season that work best for you. Here are some helpful tips. 1. Find streaming services.