In the game "Truth-or-Dare," I choose "truth" nearly every time. I'm not much of a dare-taker. Thus, if you and I were playing "Special Edition Truth-or-Dare: High Holy Days," I would confess that the prayer Avinu Malkeinu provides me with both my second-favorite liturgical moment and my second-greatest pet peeve of the year's liturgy. (Note: Even though I may have to repent for it, I will leave you in suspense about my favorite liturgical moment and my greatest liturgical pet peeve. Also, "Special Edition Truth-or-Dare: High Holy Days" is fictional, although I hereby declare copyright in the event Mattel or Hasbro comes knocking at my door.)
My "Avinu Malkeinu pet peeve" has to do with the fact that many people don't realize that "Avinu Malkeinu," translated literally, means "Our Father Our King;" in an effort to make our God-language gender neutral, we often leave that phrase without translation, and just translate the rest of the sentences which follow. (Some prefer to translate the words as "Our Creator, Our Sovereign," or "Our Parent, Our Ruler" as alternatives.) While I appreciate gender-neutrality when referring to God, the words "Our Father Our King" always stirred within me a certain deep understanding or inspiration, even as a child, and I miss saying them on the High Holy Days. Furthermore, it saddens me to think that, were I growing up in a synagogue which didn't explain the meaning of "Avinu Malkeinu," choosing instead to use the Hebrew alone, I would not likely have ever discovered its unique perspective on our relationship with God. In any case, and for whatever reason, in Avinu Malkeinu, the masculine language did not bother me. Instead, I would be transported to another level of prayer. I still remember learning (at Hebrew Union College) from Rabbi Lawrence A. Hoffman about the opportunities for prayers (and their musical settings, of course) to transmit a sense of majesty and mystery. I have always felt the majesty and mystery in Avinu Malkeinu, and it is a combination of the holiday, text, and music which make Avinu Malkeinu my second-favorite liturgical moment.
The folky, easily-singable, and most popular setting that most of us sing on the High Holy Days, with a classic "Jewish sound" much like Havah Nagila, is used to chant the final phrase of the multi-statement formula: " Avinu Malkeinu, choneinu va'aneinu, ki ein banu ma'asim. Asei imanu tzedakah va'chesed v'hoshieinu." (Our Father, Our King, be compassionate to us and answer us, for we have little merit. Treat us generously and compassionately, and redeem us.) We conclude the litany of ways in which we have sinned by asking to be saved. The melody is plaintive and simple, yet powerful to hear, especially with hundreds of people singing along. (LISTEN)1
Much as I love the way in which the folk Avinu Malkeinu sums up the feel of the High Holy Days, it alone would not be enough for me. I must also chant the famous setting by Max Janowski, written in the 1960s. The melody begins simply enough, the notes rising and falling quietly, echoed by the choir, then modulating higher and higher, louder and louder, and a low note drums like the tolling of a bell or a slow march. His harmonies reveal a jazz influence which is both subtle and seductive. The melody peaks with a plea for a good year, and then gently concludes with the request that our voices be heard. I may be accused of sentimentalism, but so be it: Max Janowski's Avinu Malkeinu (LISTEN)2 is my all-time, hands-down favorite piece of Jewish music.
Despite the fact that some congregations would be up in arms if they did not get to hear the above two pieces, there are many other beautiful and emotional settings of these words. There are countless versions intended to be sung without accompaniment in a traditional setting, and contemporary composers such as Michael Isaacson and Danny Maseng have written entirely new settings that are powerful in their own right. Here are examples of an unaccompanied traditional setting (LISTEN)3 and a more modern setting (LISTEN)4.
In Israel, popular music has historically drawn upon biblical stories and Jewish liturgy, blending them with the musical sounds of the era. Thus a rock version by Israeli singer Gad Elbaz bears no resemblance to the versions heard above but is still emotional and moving in its own right, with stylistic hints of his Moroccan ancestry and modern Orthodox male pop singers. It bears mentioning that Avinu Malkeinu has also entered American pop culture and beyond, through its well-known melodies. Not only did Barbra Streisand record a unique version of Janowski's Avinu Malkeinu, but her version was then remixed in the "house music" style by popular Israeli DJ, Offer Nissim. (This may be the first and only time you will ever see "Avinu Malkeinu" and "house music" in the same sentence; they couldn't be more opposite.) The traditional folk version has also been remixed by the popular jam band Phish and the Scottish "post-rock" band Mogwai.
It may seem like an odd choice for a rock band to riff on a traditional religious prayer, and yet, it has happened many times (and in varied genres). The text of Avinu Malkeinu can certainly be a dose of reality, one might even say a punch in the gut. It cuts through our empty promises, mistakes of the past, and uncertainty in our ability to do better. It returns us to square one: We are not perfect, we have not made the right choices, we firmly will ourselves to do better, and in the interim, ask for patience. In this way, the words and melodies of the heartfelt Avinu Malkeinu connote some intangible sense of what is important in Judaism. Harking back to my now-copyrighted "Special Edition Truth-or-Dare: High Holy Days," since I took the "truth" option, that leaves you, my reader, with "dare." Here is your challenge: explore how different melodic settings of this timeless piece of liturgy can be surprising, jarring, and yes, even inspiring.
Avinu Malkeinu, folk tune, arr. Stephen Richards, Transcontinental Music Publications, sung by Cantor Hayley Kobilinsky
Avinu Malkeinu, by Max Janowski, Friends of Jewish Music Publications, sung by Cantor Lisa Levine
Avinu Malkeinu, by Israel Alter, Cantors Assembly, Inc. Publications, sung by Cantor Hayley Kobilinsky
Avinu Malkeinu, by Michael Isaacson, Transcontinental Music Publications, sung by Cantor Hayley Kobilinsky
Related Posts
Image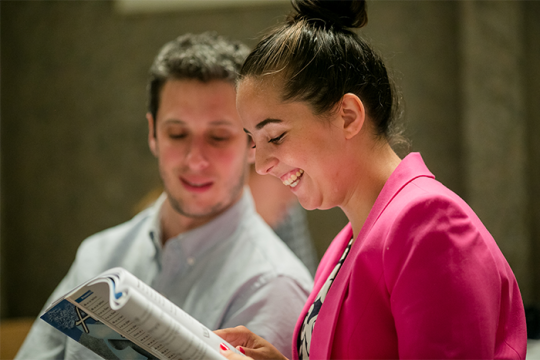 Lifelong learning, however, can be easier said than done. For many, as they enter adulthood, with its competing demands and obligations, setting aside time for learning – and especially for Jewish learning – can be challenging indeed.
Image
At 10, Jeff Erlanger appeared on "Mister Rogers' Neighborhood" in his wheelchair. I recently asked Jeff's parents about how they raised such a competent and loving son.
Image
When I became rabbi of Monmouth Reform Temple in Tinton Falls, NJ, I quickly discovered that some people in our community thought we were a church. Mail was addressed to "Monmouth Reformed Temple," and letters were addressed "Dear Pastor."