Image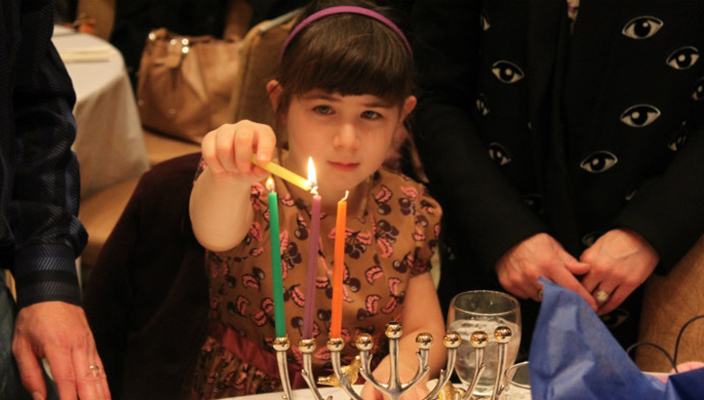 "Should we have a Christmas tree?"
"How should we decorate our home?"
"What wrapping paper should we use?"
"How can we give gifts to each other, to our families, and to help people in need?"
"How do we express our choices to our extended family?"
There are no right answers to these questions, and answers will vary from family to family, and from year to year. How can you create a meaningful, memorable and joyous holiday season in a household where one partner is Jewish, one is Christian, or both were raised with different traditions? How can you create an honest dialogue that allows you to both share your feelings and work together to create your own family traditions?
These five suggestions can guide your conversations so you can approach the holidays with intention and gratitude.
1. Ask and share.
The holidays can elicit deep emotions connected to your families of origin and tied to strong feelings of what you do and don't want and need. When you and your partner ask gentle, open-ended questions and truly listen to each other's answers, you express your emotions and clarify your feelings and needs. Sharing with each other in this non-judgmental way allows you to feel heard and respected.
What was Christmas or Hanukkah like for you growing up? What did it feel like to celebrate the holiday with your family and community? Who were the people and what were the rituals that made the holiday meaningful for you? What do the symbols of your holiday mean to you? Remember that symbols can have different meanings and evoke strong feelings, without being right or wrong.
Enjoy this process of learning more about each other, and view this as the first step in the process of creating your family's own set of traditions!
2. Understand each other's needs.
Once you understand where you're each coming from, you can start to establish traditions for your family. What do each of you need to feel that the holidays have meaning? What values and memories are important to you and how can they be reflected in your celebration? What messages about your religion do you want to emphasize with your children and family? Allow space and time to honor the emotional pieces connected to each holiday for each of you.
How can you honor your extended family's traditions while also creating your own? If making Christmas cookies with your grandmother is a poignant memory, you can make the same cookies, or Christmas and Hanukkah cookies to deliver to children in need. You can help extended family celebrate Christmas with them in their home, and show how much you respect, love and appreciate their celebration, without compromising the choices you're making in your own home. Relatives can bring gifts in Hanukkah wrapping paper while you give them ones wrapped in Christmas paper.
When you're clear about your own answers, it is easier to convey clear messages to your children and extended family.
3. Make choices for today.
What you do this year does not have to be what you do every year. Experiment, see how it feels, reflect, and then decide if you want to do it again. When you put pressure on yourselves to decide whether or not to incorporate a tradition in your family for the next generation, it forces you to make decisions that might not really be right for this year and are not really appropriate for future years either.
As your family grows and changes, you will have different needs, and can make different kinds of decisions each year, as long as you have a respectful dialogue and can arrive at decisions that meet all your changing needs.
4. Be intentional.
You and your spouse will feel successful entering the season if you have had these conversations, and your decisions are intentional, rather than if you put together something in ways that might not really respect either partner's needs. In your conversations, learn about each other's traditions, read about Hanukkah and Christmas and ways to celebrate that are appropriate for your children, and talk with family and friends to get other ideas.
Make decisions that meet each of your needs in ways that feel comfortable and respectful. When you're ready to share your decisions with extended family, do so with the sensitivity that they might miss celebrating with you in the way that they want to. Remember that each person in your extended families has their own needs, and you can honor their traditions while also staying true to yours. Share your reasoning, if they are open to listening, and honor them by listening to what they enjoy about their holidays.
5. Appreciate, love, and laugh.
Fill your conversations with appreciation and open hearts. It can be difficult for one spouse to enter December without a Christmas tree at home if you have decided to raise your family without one, while a Jewish spouse might feel ambivalent or hesitant to have a Christmas tree at home. Acknowledge and appreciate each other as you change rituals that are filled with deep emotions. Remember that there will be unanticipated situations: if you can laugh through those moments and know that you don't have to have it all figured out perfectly, you will emerge stronger!
Both Hanukkah and Christmas celebrate light in the midst of darkness. May your holidays be filled with the light that comes with understanding and honoring each other, creating new traditions, and celebrating with family and friends!