Image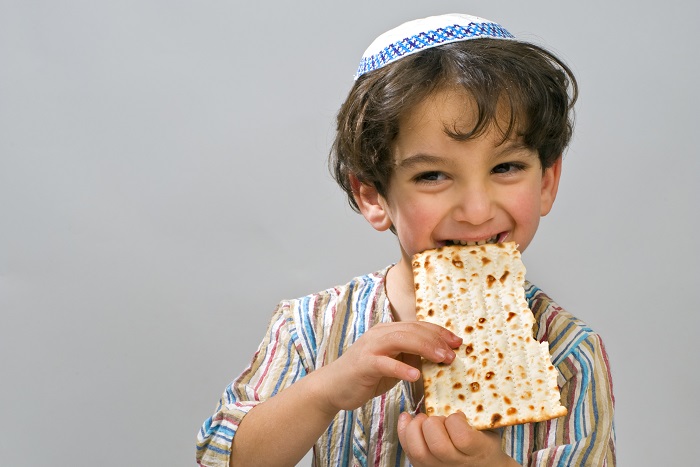 The Four Questions(the) Four Questionsאַרְבַּע הָקֻשְׁיוֹתFour specific questions asked at the beginning of the Passover seder, the answers to which shape the rest of the retelling of the exodus from Egypt. Learn how to recite or sing the Four Questions. , which so many of us now sing as part of our ritual Passover sedersederסֵדֶר"Order;" ritual dinner that includes the retelling of the story of the Israelite's Exodus from Egypt; plural: sederim. , were once simply a list of things done differently on the first night of the holiday. The goal was to encourage children to ask their own questions.
Strictly speaking, if participants ask questions of their own accord during the seder, no singing of Mah Nishtanah is required – and knowing this origin story gives you the freedom to reimagine ways to enhance your seder. 
It doesn't even require a special, child-friendly HaggadahHaggadahהַגָּדָהLiterally, "telling." This is the Jewish text that sets forth the order of the Passover seder. Plural: Haggadot.   – though there are many to choose from. All you need is to do some thinking in advance about who will be present at your seder. According to your child's understanding of how things are usually done at mealtime, plan to do things differently enough to spark their curiosity and prompt every parent's favorite question: "Why?"
Before the Seder
Practice. Help your 4- or 5-year-old learn or brush up on Mah Nishtanah. (And hey, if pre-readers are capable of learning it aurally, you can, too!)
Let kids help clean. Are you already giving your child chores around the house? This is a great time to involve them in Passover prep, including dusting, sweeping, and other general cleaning. As you clear out  from your cabinets, kids can bag up packages of cereal, crackers, and pasta for storage or donation. They can also handle dusters and Swiffers – or feathers and wooden spoons, if you'd like to do Passover cleaning the traditional way.
Enjoy some quiet time. If you kids are done with naps, consider some enforced quiet time during the day to ensure that they arrive to the seder refreshed. (This is a good strategy for many adults, as well.)
Create a cozy space. Is your kid a fort-builder? Ask for their help turning your living room or dining room into a "desert tent," as in Israel, or creating a reading tent complete with pillows, blankets, and age-appropriate holiday picture books.
Set up for the seder. Consider your child's growing capabilities and, if appropriate, invite their help setting the seder table.
Consider kids-only seating. Take the tradition of the "kids' table" seriously by moving in a small, child-sized picnic table or craft table. Instead of a tablecloth, tape down a sheet of butcher paper, and set out some fat crayons or washable markers.
During the Seder
Encourage questions – creatively. Find new ways to elicit questions. One seder leader I know keeps a bowl of kosher-for-Passover marshmallows at the ready, tossing one to any attendee who asks or answers a question during the seder.
Get comfy. Many people recline at the seder to celebrate being free. With kiddos, try this: Instead of putting a pillow on each chair, consider sitting on sofas or on the floor until the meal is served.
Offer snacks. It's tough to get through the first 10 the first 10 steps of the seder and onto the meal if kids are hangry, crabby, or sleepy – so offer lots of veggies and berries to dip after the  . Anything that comes from a perennial plant or shrub will do.
Use props. Use hats or costumes and invite children to act out the action of the Exodus story; haul out the Lego bricks to make kids' creations part of your storytelling; bring out a bucket of egg shakers, maracas, and tambourines when it comes time to sing and dance.
Prizes, please! Choose small, age-appropriate gifts for -hunters that kids can enjoy after dinner.
After the Seder
Be compassionate. Don't be surprised if kids don't eat anything more than ball soup... and cue up a Passover video or movie for them to watch while the meal continues.
Make fun meals. Having trouble coming up with Passover-friendly school lunches for an entire holiday? This video might give you and your child some new ideas.
The main idea is to inspire joy, capitalize on curiosity, and tell the story of the Exodus from Egypt – and frankly, you just can't be successful in doing so if you're hanging onto unrealistic expectations of young children. With a little effort and creativity on your part, nobody will even think to ask, "When do we eat?"
Download and print a Passover Seder for 4-5 Year-Olds for a detailed guide that includes storytelling number significance, and role-playing. Looking for seder ideas for slightly younger kids? Check out "Passover Seder for Young Children (2-3 years)" for more.