Image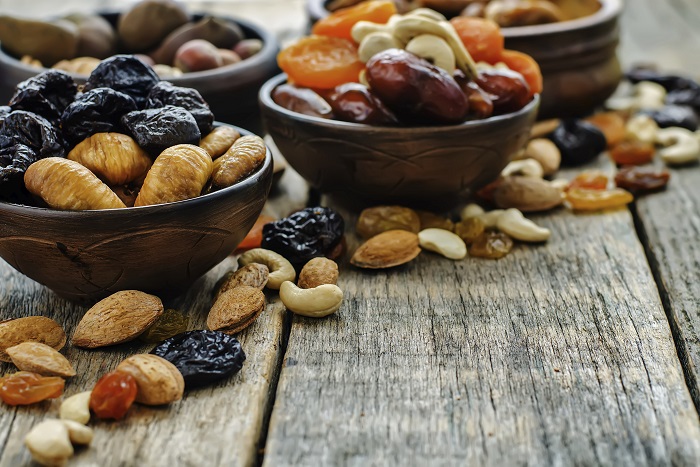 You may have heard of a Passover seder, but did you know that many people celebrate Tu BiShvat with seders also?
Jewish kabbalists (mystics) in the 16th and 17th centuries created a special ritual, modeled after the Passover seder, which celebrated God's presence in the natural world. As the rituals and readings for the Tu BiShvat seder developed, they were eventually collected into a book, Pri Eitz Hadar, (The Fruit of the Goodly Tree), which was published in 1753.
But you don't need to be a mystic to create your own Tu BiShvat seder!
What you will need:
White and red grape juice or wine (enough for four small glasses per person)
A Tu BiShvat seder, full of imagery and symbolism, is often divided into four sections that represent the four seasons. As with the Passover seder, the Tu BiShvat seder evolved to include four cups of wine or grape juice, but in varying shades of red, which represent the seasons: white for the bleak time of winter, white with a bit of red to represent the earth's awakening in early spring, red with a bit of white representing the blossoming of late spring, and dark red to represent the fullness of all the growing plants and vegetation along with the heat of summer.
For adult or older teen participants, the seder are sometimes also divided into four mystical "spheres," each of which represents a different relationship between humans and the earth: Assiya (Actualization), Yetzira (Formation), Beriah (Creation), and Atzilut (Nobility).
Tastings of three categories of fruits or nuts
Those with an inedible outer covering and edible inside: melons, nuts, pomegranates, coconuts, citrus, bananas, etc.
Those with an edible outside but inedible pit inside: dates, olives, plums, peaches, apples, avocados, nectarines, pears, etc.
Those that are entirely edible: berries, figs, grapes, etc.
These categories are said to represent different seasons and/or ways of being in the world, often following kabbalistic categories.
Favorite readings, poems, quotes, pictures, or other sources about trees, nature, the environment, or anything else in our natural world.
Combine as desired, depending on the ages and interests of your participants! Here are some seder resources for you to check out and enjoy with your family or community.
A Tu BiShvat Seder Guide for Kids: video discussion and activity guide for 4-7-year olds and their parents
For everyone (Rabbi David J. Gelfand, Cantor Sarah J. Sager, Rabbi Billy Dreskin, and the Tu BiShvat Seder Production Team of Fairmount Temple in Beachwood, OH): Great short seder, could also be used as a template to create your own! Ages: 8 and older
For a seder on Shabbat (Temple Emanuel Sinai in Worcester, MA): A shorter seder that takes participants through the major rituals (four cups of wine/juice, four mystical spheres), and also includes appropriate blessings for Shabbat (and the blessing after the meal). Ages: 10 and older
Environmental seder (Religious Action Center of Reform Judaism and NFTY: The Reform Jewish Youth Movement): Seder with a gentle emphasis on environmental justice. Includes four questions for Tu BiShvat, major rituals of four cups of wine/juice, explanations of the four spheres, and a good resource list at the end for more information and action suggestions. Ages: 12 and older
Israel-focused seder (World Zionist Organization): Hebrew and English seders (Hebrew version starts from the beginning of the document; English version begins from the end of the document) with a strong focus on Israel and its environmental issues. Ages: 12 and older
Seder booklet (Rabbi Mark Hurvitz): Lovely shorter seder in booklet format, includes rituals for the four cups of wine/grape juice and readings relating different kinds of fruit to our different kinds of human relationships. Ages: older teens and adults.
Mystical seder (Juliette Hirt): A deeper exploration of some of the the mystical teachings of Tu BiShvat, this seder includes beautiful readings and images, and takes participants through the major fruit and wine rituals. Ages: 12 and older