Image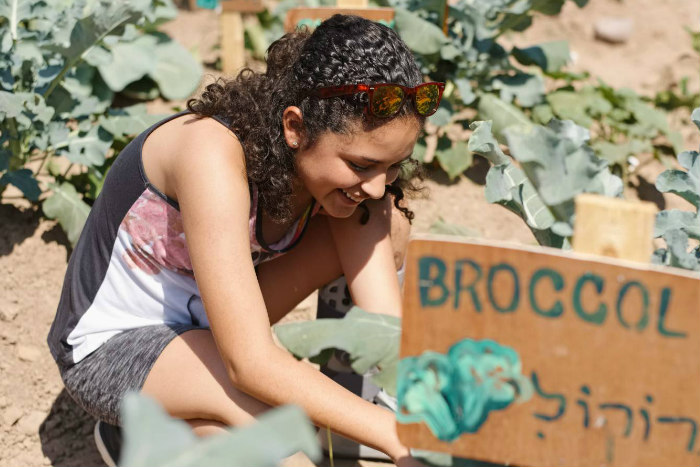 Jews celebrate Tu BiShvat by expressing joy and thankfulness for trees, harvests, and the natural world. Many Jews plant trees and eat delicious fruits and greens in celebration of this "New Year of the Trees." During this agricultural festival, Jews around the world consider our obligation to care for the environment and our sacred responsibility to share the fruits of God's earth with all.
You can incorporate social justice themes into your Tu BiShvat celebration in the following ways:
1. Take action for the environment.
Feeling a moral imperative to take action on climate change? On its environmental issues page, the Religious Action Center of Reform Judaism (RAC) shares action alerts on pressing environmental legislative issues. Bookmark the RAC's environmental issues page to keep updated in the future and sign up for RAC emails for legislative updates.
2. Host a Tu BiShvat social action seder.
You may have heard of a Passover seder, but did you know that many people celebrate Tu BiShvat with seders also? Learn how to host your own Tu BiShvat seder!
You can infuse your Tu BiShvat seder with environmental education. Such seders focus on the natural world and our responsibility to protect it, like this Tu BiShvat seder published by the Religious Action Center of Reform Judaism and NFTY (The Reform Jewish Youth Movement) or this Tu BiShvat seder from Hazon.
In keeping with the nature of this holiday, this seder is a call to action, a time of education and reflection as we examine our impact on the world around us and commit to changing the way we interact with our environment. 
3. Reduce, reuse, recycle... then go further
In honor of Tu BiShvat, make a commitment as a family or with friends to focus on one or more of these environmental practices:
Reduce waste by buying products that use less packaging.
Use the reverse side of paper as scrap paper or for art projects.
Learn about your community's most up-to-date regulations on recycling.
Consider starting to compost.
For more, check out "Beyond Bokser: 11 Ways to Go Green on Tu BiShvat and Year-Round."
4. Give back to nature.
Adopting natural areas, such as parks, streams, and roadsides, is one way individuals of all ages can get involved in enhancing the beauty and environmental quality of natural green spaces. Together with family members and friends, you can informally "adopt" an area simply by pledging to clean it regularly and advocating to the local government for its needs; in some areas, more formal adoption programs are available.
Cleaning up a natural area near your home can make a big difference – not only to the ecological health of the area itself, but to the morale of the neighborhood. Helping restore such areas may also give local children a safe place to play.
5. Prepare an organic .
Organic food is produced without the use of conventional pesticides or artificial fertilizers, animals are reared without the routine use of antibiotics or growth hormones, and food is processed without ionizing radiation or food additives. Introduce congregants to organic foods by organizing an "organic oneg," in which community members bring organic produce and foods to the Shabbat dinner or oneg.
Alternatively, host an "organic tasting" where blindfolded attendees are asked to taste different foods and determine which are organic and which are not. This program allows members to see for themselves that organic food tastes just as good as "regular" food and educates them about safe food measures. Include traditional Tu BiShvat foods like barley, dates, figs, grapes, pomegranates, olives, and wheat, which are native to Israel.
Finally, consider hosting a "no waste" oneg with reusable table cloths, Kiddush cupsKiddush cupגָּבִיעַ לְקִדּוּשׁCup used for blessing wine on Shabbat, festivals and other events, i.e., weddings. , and plates to limit waste and pollution.
6. Learn about how climate change affects your region.
Climate change impacts each area of the world differently. In 2018, the U.S. government released a comprehensive report that explores how climate change will impact each region of the U.S. differently. Educate yourself about the impacts of climate change in your area of the country, then share your findings with your community. Use this easy-to-digest resource to better understand all the impacts of climate change on your region.
To learn more about environmental justice and how you can get involved, visit the Religious Action Center's environment issues page.