To celebrate the 100th anniversary of women's suffrage in the United States this year, Rabbi Carole Balin, Ph.D., is sharing eight chapters of an "alternative Book of Numbers" designed to tell the stories of Jewish women who combined civic engagement with Jewish values in a 40-year struggle "in the wilderness" to pass the 19th Amendment.​ Learn more in her introductory essay, a commentary on Parashat B'midbar.
Chapter 2: Suffragist Belle Fligelman Winestine Takes the West by Storm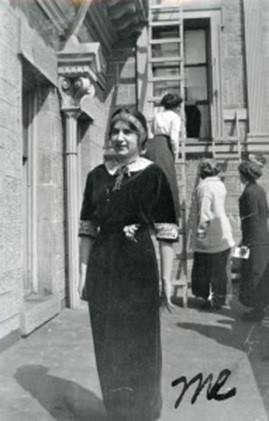 "Up to that time," wrote Belle Fligelman Winestine, describing her involvement in the women's suffrage movement, "no one in Montana, or anywhere else for that matter, had heard of a respectable woman making a public street corner speech."
Her stepmother was horrified by this unladylike behavior. She warned Belle that if she delivered one more speech, she need not come home. Nevertheless, Belle persisted.
"We knew we would have to adopt all the normal political techniques if we were going to win the vote," she recorded in a memoir about her experience as a suffragist. Not quite five feet tall and dubbed a "plucky little generalissimo" by a local newspaper, Belle was guided into civic engagement by a belief acquired from her rich Jewish upbringing. She was convinced that "God was the idea of goodness," an idea embedded in this week's Torah portion, Parashat Naso II.
In Parashat Naso, we find a triplet of verses known as the Priestly Benediction, regularly recited during worship and simchahs (joyous events):
The Eternal bless you and protect you!
The Eternal deal kindly and graciously with you!
The Eternal bestow [divine] favor upon you and grant you peace!
(Num. 6:24-7)
Consider the elegant symmetry of the triplet. Notice the parallelism of the opening phrases and how each contains two blessings. But, at the same time, observe how the verses in Hebrew as we read from right to left increase in length, from three to five to seven words:
יְבָרֶכְךָ יְיָ וְיִשְׁמְרֶֽךָ
יָאֵר יְיָ פָּנָיו אֵלֶֽיךָ וִיחֻנֶּֽךָּ.
יִשָּׂא יְיָ פָּנָיו אֵלֶֽיךָ וְיָשֵׂם לְךָ שָׁלוֹם
In The Torah: A Women's Commentary, Rabbi Amy Kalmanofsky interprets this literary technique as a sign that God's abundant blessings expand over time (p. 829).
As creatures made in God's image, we too have the capacity to fill the world with blessings. Take Belle Fligelman Winestine as a real-life example.
Belle was born on March 25, 1891 into a family of Romanian Jewish immigrants and raised in Helena, MT. Her mother, Minnie, died shortly after giving birth to her, and her father, Herman, remarried a German-Jewish immigrant named Ghetty. Herman became a well-to-do owner of a clothing store located in Montana's capital and, without a whiff of irony, called his store the New York Dry Goods Company because he believed New York City to be the height of fashion.
Belle and her older sister, Frieda, received a public school education; Belle attended the University of Wisconsin in Madison, where she became president of the Women's Student Government Association and editor of the student newspaper. During her senior year, she lobbied the Wisconsin legislature in favor of granting women the vote. After graduating with a degree in journalism, and a brief stint as a reporter in New York and Milwaukee, she returned home to report for the Helena Independent.
As much as she loved to write – and would publish children's literature, plays, poetry, and short stories (including one that appeared in The Atlantic Monthly and another titled "Sin on Yom Kippur") – Belle abandoned full-time journalism for the political arena. "As it turned out," she wrote, "I was just in time to get involved in the state's suffrage campaign."
Pioneer Jews: A New Life in the Far West explains that Belle jumped in with two feet. Besides speaking on street corners, she championed women's suffrage by: driving a horse and buggy to gold-mining towns and ranching communities; parading down Last Chance Gulch, Helena's main thoroughfare named for the down-on-their-luck prospectors who discovered gold there in 1864; writing for Montana's Suffrage Daily News; and celebrating on November 3, 1914, when women in her home state got the vote.
Belle didn't stop there. When Jeannette Rankin of Missoula, MT, decided to run for Congress in 1916, Belle became a key member of her campaign. When Rankin won the historic election and became the first woman to serve in the U.S. House of Representatives, Belle followed her to Washington to run her congressional office. Over the next two years, she noticed that male leaders seldom addressed the needs of women and children – such as equal rights, equal pay, and peace – and thus spent a lifetime advocating for these causes.
It was in D.C., too, that Belle met Norman Winestine, a Yale graduate working in Herbert Hoover's wartime Food Administration, which was responsible for conserving domestic resources and feeding America's European allies. Norman wooed Belle during the winter of 1917-18 by bringing her leftover pies that his office had tasted to inspect for the valuable commodity of wheat. The two married in April 1918, and when the couple moved back to Helena, Norman joined the family business.
Even as her domestic responsibilities multiplied with the births of three children, Belle continued to be a conduit of kindness and grace in the wider community of Montana. Active in the League of Women Voters and a self-appointed lobbyist for causes ranging from child labor laws to women's service on juries (which passed in 1939), she also made a run (albeit unsuccessfully) for the Montana Senate.
Nothing, however, surpassed her work on behalf of women's suffrage. As she wrote at the age of 83, "I never go to the polls without a silent thank you to those many energetic, earnest women in Montana and…other states who made it possible."
In our own day, too, as we gear up for a national election, may "those many energetic, earnest women" (and indeed all individuals) whose actions evince the divine attributes of kindness and grace be favored with peace.
---
Photo details: Belle Fligelman Winestine (1891-1985) at the University of Wisconsin, c. 1913, dressed in the outfit she wore to speak about women's suffrage before the Wisconsin legislature as a college senior. Image from Montana Historical Society Research Center, Archives, Item PAc 85-31 B1F2.18.
The Women Behind the Scenes, from Biblical Times Until Now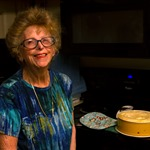 We are indebted to Rabbi Carole Balin, Ph.D., for her beautiful article regarding Belle Fligelman Winestine, z"l, and her activism for women's suffrage. I can think of no more fitting way time to salute another amazing Jewish woman who, though probably less well known, nevertheless represents the entire century that has passed since women's suffrage became a reality. 
That woman is my mother-in-law, Rayna Frank Goodman, who was born on September 15, 1920, one month after the Nineteenth Amendment to the Constitution was passed. 
This August, American women everywhere will celebrate the centenary of women's suffrage. One month later, God willing, the Goodman family will also celebrate Rayna's 100th birthday.
Rayna grew up in St. Paul, MN, where she and her family belonged to Mount Zion Temple. She cannot really be described as an "activist" in the way that Belle Fligelman Winestine was – but activism does not only exist on the front lines of public advocacy. It also exists in the steady, ongoing commitment to the synagogue, the family, and the welfare of the community at large. That has been the substance of Rayna's activism, as representative of so many Jewish women, which has undergirded and promoted Reform Judaism throughout the past century. 
She married Alfred Goodman while he was studying for the rabbinate at the Jewish Institute of Religion in New York. After Alfred was ordained and served a stint in the Army Chaplaincy, Alfred and Rayna and their two sons (their daughter was born later) moved down to Columbus, GA, where Alfred would serve the historic Temple Israel for the next 33 years. 
All through the 1950s and '60s, Columbus was engulfed in the civil rights movement of the Deep South. At the beginning of the 20th century, Columbus was known as "the lynching mecca of the South." But in the prophetic tradition that he had learned from his beloved teacher Rabbi Stephen S. Wise, z"l, Alfred was determined to change that dynamic.
Together with his Christian colleagues, he founded the ministerial alliance that worked to ease the tensions brought about by desegregation. Alfred's soaring oratory and fearless leadership helped to transform the culture of Columbus from a "lynching mecca" to a cultural mecca, yet still within the quiet pace of life in Georgia. Although I only met the Goodmans in the spring of 1980, when my now-husband Steve and I became engaged, I quickly understood that all that Alfred accomplished in the rabbinate, and within the community, would not have been possible without Rayna. 
In her humility, she herself might blanch at this assessment. But it is the truth, and I am so proud of her, and all she has accomplished in her life. She was at Alfred's side as his helpmate and mother to their three children, supporting every one of his stands in the congregation and the community, editing his sermons, and giving refuge to the local Presbyterian minister's children after he was dismissed by his church because of his work with Alfred in promoting desegregation.
Rayna worked throughout her life until retiring from her position as the library teacher at the Bealewood Elementary School of Columbus. She served as secretary of the Jewish Ladies Aid Society of Temple Israel (the synagogue's sisterhood) and went on to serve on the national board of the National Federation of Temple Sisterhoods (now Women of Reform Judaism). 
Rayna stepped down from the presidency of JLAS two years ago, but she still bakes 20 cheesecakes for the annual Temple Israel "Deli Day," whose proceeds are divided between JLAS and the local food bank. One of the most literate people I have ever met, Rayna belongs to the Riverside Readers, a book group for which she makes regular presentations; her most recent one this, past year, was on Queen Elizabeth II. She served as President of the Century Club, also a literary club, and was a founding member of the Columbus Symphony Women's Association; in fact, she played violin in the orchestra before it turned professional. 
She helped to manage a substantial endowment given to the temple and the community by the Schwob family of Columbus, and every year (including this one) Rayna has accompanied the family Hanukkah blessings on the piano. And yes, Rayna still drives her car, but she has recently limited herself to the few blocks between her home, the grocery store, and Temple Israel. She listens to the Metropolitan Opera radio broadcasts every Saturday afternoon and is an avid fan of golf and football.
Our Torah portion, Parashat Naso II, records the completion of the Tent of Meeting in the Wilderness; where, under the supervision of Moses, the chieftains of the tribes bring the offerings of the people (Numbers 7:10-89, from The Torah: A Women's Commentary). These chieftains, of course, we're all men, recorded in the census that counted only men. 
If I may, I suspect we can be certain that the offerings would not have been adequately compiled without the women of Israel heavily participating in the effort. 
Rayna Goodman's name may not be recorded in national histories of women's suffrage, and yes, even models for clergy spouses have continued to evolve over these many years. But in a multitude of ways, it was because of Rayna and her contemporaries that Jewish life in the U.S. has grown and flourished throughout the century that has passed since women first won the right to vote. 
Together, they have made it possible for the more publicly recognizable activists in our community to act. These outstanding women have merited all the kavod (honor and respect) we can accord them. May we, and those who come after us, continue to stand on their shoulders.
---
For a fuller background on Columbus, GA, and Jewish life in the Deep South during the Civil Rights Movement, please see To Stand Aside or Stand Alone: Southern Reform Rabbis and the Civil Rights Movement, by P. Allen Krause, edited by Mark K. Bauman and Stephen Krause (University of Alabama Press, 2016). 
Reference Materials
The Torah: a Modern Commentary, pp. 1,058-1,062; Revised Edition, pp. 928-945
The Torah: A Women's Commentary, pp. 815-829
Haftarah, Judges 13:13-25
The Torah: A Modern Commentary, pp. 1,257-1,258; Revised Edition, pp. pp. 948-949
---
1For a fuller background on Columbus, GA, and Jewish life in the Deep South during the Civil Rights Movement, please reference:  To Stand Aside or Stand Alone: Southern Reform Rabbis and the Civil Rights Movement, by P. Allen Krause, edited by Mark K. Bauman and Stephen Krause. University of Alabama Press, 2016
2The Torah: A Women's Commentary, ed. Dr. Tamara Cohn Eskenazi and Rabbi Dr. Andrea L Weiss. WRJ/URJ Press, 2008, pp. 830-835.