Image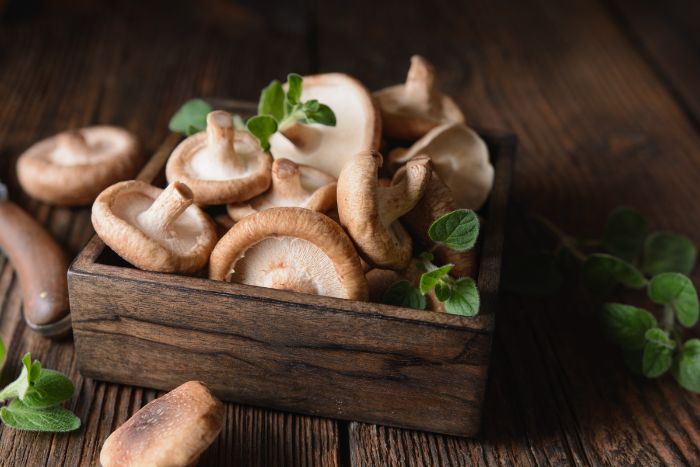 Jewish cooking expert Tina Wasserman writes:
"How long have Jewish people been eating mushrooms? A long time! Mushrooms were mentioned in the Babylonian Talmud (N'darim 55B), and wild mushrooms were in such abundance in ancient Israel during the rainy season that discussions arose about putting a tax on them.

"In later generations, mushrooms were especially important to poor Ashkenazic Jews. They were easily found in the forests, and since spices were expensive, their flavor, especially when dried, was a boost to a relatively bland diet."
These 11 recipes are veggie-heavy and feature mushrooms as a key ingredients. B'tayavon!
This simple, elegant holiday dish is served at the Aferiat home. Yolande Aferiat, from Oran, taught her daughter-in-law Kathy how to make it, and Kathy described it to Tina Wasserman, who shares it with us here.
Vegan Chef Mark Reinfeld shares a tasty kebab recipe skewered with portobello mushrooms, red onions, bell peppers, cherry tomatoes, and the pièce de résistance, a richly, BBQ-flavored grilled tempeh.
This recipe combines many of the flavors and foods found in Spain and Portugal (the home of Sephardic Jews) with the classic technique for making a bread kugel. Use whatever kind of mushrooms you like, as the recipe does not specify. 
Never thought to have hot and sour soup for Shabbat dinner? Well, the thousands of Jews who have lived in China over the last 1,300 years have! Using chicken soup as the base, hot and sour soup is not only iconic for Chinese cuisine, but it is representative of China's contribution to the chicken soup category.
Contrary to popular belief, curry powder is not a single spice but in fact a blend of many spices (seven in this recipe). Here, the combination of spices with tomato is indicative of New Delhi origins.
Hungarians have long been fond of making dough containing rich ingredients such as cheese and butter. These mushroom turnovers in a rugelach-like dough are so savory, you won't miss the nuts, raisins, and sugar!
Recipe author Deborah Rood Goldman writes, "goal was to build a healthy and delicious grain bowl that was low-fat and filling. This combo of sweet pumpkin, sautéed crunchy cabbage and flavorful shitakes fits the bill."
There is nothing like pot roast gravy on a pile of little brown granules mixed with golden fried onions and mushrooms to transport one back to the "good ol' days."
This recipe was originally created for Passover, hence the matzah, but it's delicious all year long. Serve it with roasted asparagus and homemade parsley pesto (recipes included!)
This Moroccan-inspired dish is a perfect way to reap the bounty of wonderful vegetables available during the Sukkot season. It also makes a beautiful, edible centerpiece for your dinner table in the sukkah.
One favorite dish of the Ashkenazim that survived the move from the shtetl to North America was the hearty mushroom-potato-barley soup called krupnick. This soup is a take on traditional krupnick.