Image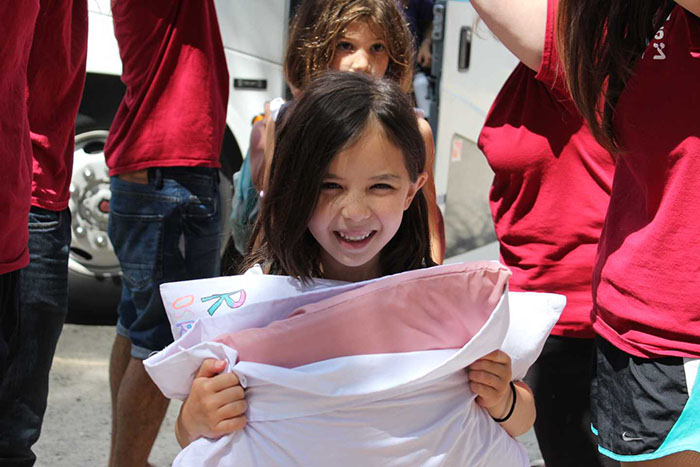 Sending your kiddo to camp? Here are ten great tips for getting your camper packed and ready to go!
1. Socks and underwear.
Pack old socks and underwear (and twice as much of it) that you expect to toss after the summer because much of it likely won't return home. Roll and stuff them in shoes to save space!
2. Label everything.
A Sharpie is your best friend. His bunkmates will be his.
3. Backpack.
For daytrips, to and from the pool, on a hike – you name it. Include a backpack or small tote bag even if it's not on the packing list. This will also be useful on the last night of camp, depending on your camp's packing procedures.
4. Seek out veteran parents.
Your camp has spent years refining its packing list and you should follow it. You should also get in touch with some veteran parents through your synagogue, parents' Facebook page, camp blog, etc., for their tips and tricks. Combined with the official packing list, their wisdom may give you a clearer picture on your own child's packing needs.
5. Let them pack.
Like other parts of the preparation process, packing should be a joint venture, and you should supervise. Once everything is laid out, let her take the lead on the actual packing. This lets her demonstrate responsibility, and helps her manage anxiety and excitement. (She also has to pack to come home – this is good practice!)
6. Shabbat clothes.
Shabbat is a special time at camp, and one of the ways many Jewish camps mark that time is by dressing a little differently than the rest of the week. Often, it is requested that white clothing be worn – the color of the Sabbath bride – for Friday evenings and/or Saturday mornings. Be sure to note your camp packing list for specifics!
7. White T-shirts.
Pack extra white t-shirts (or bandanas, socks, etc.) in addition to his Shabbat clothes for tie-dye activities.
8. Color war.
Does your camp have a color war? Check out past photos, or ask around to veteran parents. Try to make sure your child has an item of clothing or a bandana or hat in each color in her duffel (but maybe try not to be too obvious here, as color war is often a surprise!)
9. Make a list, and check it twice
Once you've got everything he'll be taking, type up a list and print two copies. Put one in the suitcase, and mail a second copy to him in the last week of camp so he can remember what he's supposed to look for when he packs.
10. Unpacking from camp
When you arrive on opening day, your child may be running around with excitement and want to leave the unpacking to you. The transition into the cabin will be easier for him if he does the unpacking, with your assistance, rather than the other way around.  This ensures that he knows where all of his stuff is located around the cabin once mom and dad leave, and you won't receive a frantic letter saying "I can't find my _______ , please send more!"
More packing tips from the staff of URJ Crane Lake Camp
To find the right Jewish summer camp for your child, browse the Reform Movement's summer camps.  
Use this tool to find the perfect Reform Jewish summer camp for your child.