A snail is attacked by a couple of tortoises. When later questioned by the police, the bewildered mollusk replies, "It all happened so quickly." Here's another: There is this man whose parrot is excessively foul-mouthed. Threats prove futile, so he puts the bird in a freezer. After a while, he opens the door and the chastened parrot asks in polite, formal English, "What had the chicken done?"
The audience sitting in a dingy Netanya nightclub expects more jokes of this genre from the popular stand-up comic, Dov Greenstein. On this night, however, he delivers a performance that subjects his audience to a barrage of disjointed squirm-inducing rants and insults. As people walk out in disgust, the comic adds them to the tally on his onstage chalkboard. Those who stay end up learning a great deal about what it means to be alive, to be hurt, and, above all, how difficult it is to remember.
At first glance, Israeli novelist David Grossman's new novel, A Horse Walks into a Bar, appears to be a radical change in tone and direction from his previous two works of fiction – emotionally heavy books that either indirectly or directly deal with the grief the author experienced when his son, Uri, a tank commander in the Israeli army, was killed in action 11 years ago in Lebanon. This new work reminds us that humor, especially in a country with so many war victims, can help to smooth over tragedy, both individually and collectively, making life more bearable.
Grossman's unsettling and mesmerizing narrative voice in the novel is Avishai Lazar, 57, a retired Jerusalem district judge and widower. Lazar accepts an invitation from Dov Greenstein, his childhood friend, to attend the Netanya performance. The two first met at age nine, when they shared the same after-school tutor. They hadn't seen each other in more than 40 years, since they were both campers in Gadna, a military-themed program to prepare high school students for future military service.
In his nightclub act, Greenstein delivers an autobiographical monologue that becomes increasingly painful for both him and the audience. We learn that this son of working-class Holocaust survivors was small for his age and constantly bullied. When assaulted, he walked on his hands to protect his face. Through a brilliant literary device, the author employs Lazar's emotional reaction to the performance as a conduit for the reader.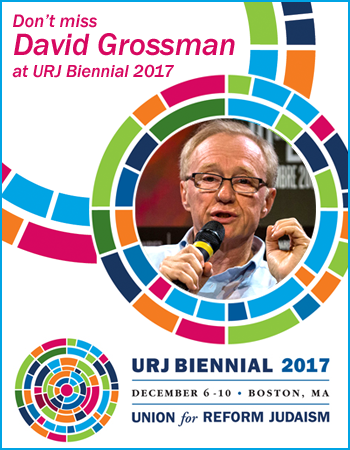 In a 2007 speech in New York City, Grossman spoke of how his son's death "now permeates every minute of my life." The power of memory, he said, "is indeed great and heavy." His new novel explores the psychological and emotional damage memory can do, as the comedian goads his audience into acknowledging his grief and the experiences that have shaped him into the person standing before them: a 57-year-old man with a legacy of failed marriages and children who barely know him. As a boy, he joked and clowned around in an attempt to shield his mother from her Holocaust memories, and tried, unsuccessfully, to dodge the punches of his father, an angry, lost soul.
Grossman pushes down deep into the wounded heart of a despairing man, who ever more frantically cries out, "I have a thousand tricks for not being; I'm a world champion at not being…When [my father] used to hit me, I'd practice stopping my heartbeat." While some audience members leave, that some remain, intent on hearing his story, is a triumph for the exhausted performer. For the retired judge, it's a painful reminder of his own failure to respond to the bullying of his friend all those years ago.
The central question in Grossman's novel could hardly be more relevant and topical: How much adversity can we bear, and what do we do when facing it becomes unbearable? The author has been asking this question through his novels and works of non-fiction for his entire career. The intensity and urgency of Grossman's questioning has only increased over the years.
When set alongside his previous works, Falling Out of Time and To the End of the Land, this novel completes what one reviewer has called "a trilogy of loss." It is a work of somber brilliance and unsettling rage, an unsparing exploration of the seductive spell and "the corruption that is in cynicism," as Grossman expressed it in his eulogy for his son.
Dov Greenstein breaks that spell, but the joke is on us, audience and reader, and all who have fallen for the comfort of escapist thinking.
Grossman has written a polemic of unusual power. It is both a lamentation and a plea for human compassion and empathy for both the self and the other. 
David Grossman will speak at the URJ Biennial to be held in Boston, MA, from December 6-10, 2017, where he will receive an Eisendrath Bearer of Light Award, among the Reform Movement's highest honors. His latest book, A Horse Walks into a Bar, has been nominated for a 2017 Man Booker Prize, a prestigious literary prize awarded annually for a single book, which is translated into English and published in the United Kingdom.
---
Rabbi Robert Orkand, who retired from the pulpit rabbinate in 2013, lives in the Boston area. He is a past chair of ARZA, the Association of Reform Zionists of America.