Image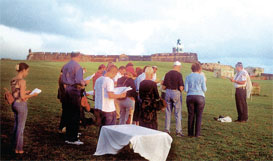 Harry A. and Barbara Tasch Ezratty are both past presidents of Temple Beth Shalom. Harry is also author of 500 Years in the Jewish Caribbean; Barbara is a food writer and book publisher.
What excites tourists about Puerto Rico?
The island's public beaches are popular destinations for snorkeling, scuba diving, boating, swimming, sunbathing, and kayaking. Fishing for Blue Marlin in the Atlantic Trench, at 28,000 feet the deepest part of the Atlantic, is a year-round sport that also attracts deep-sea fishermen worldwide for the fall's big-game tournament. Big draws are professionally designed golf courses and hiking in El Yunque Rainforest, Puerto Rico's highest mountain range (3,500 feet). Zip-lining—hurtling above the tree-lines from a looped line stretched from one mountainside to another—has become a hot new sport, and the Caves of Camuy, one of the world's three largest cave systems, are breathtakingly, expansively beautiful.
What are the cuisine options?
Puerto Rico is known as "The Culinary Capital of the Caribbean." You can enjoy American, Asian, Brazilian, Caribbean, Cuban, French, Italian, Mexican, Middle Eastern, Peruvian, Puerto Rican, Spanish—and more. Tables Magazine: Puerto Rico's Guide to Great Dining can help you navigate 700 of the plentiful options.
The basic island food derives from a combination of the old Caribbean Taino Indian and Spanish influences. The indigenous Caribbean pineapples were on the island before Columbus and are still sweeter than those enjoyed by statesiders. Other basic foodstuffs, such as root vegetables, rice, and seafood, are available today in old-style and updated versions reflecting the influx of myriad cultures on the island's cuisine.
Temple Beth Shalom has published its own Spanish-English cookbook, What's Cooking/Que Se Cocina, which is still in print and available from the synagogue. Here is a tropical-tasting recipe by long-time member Edna Friedes, who died in October 2012 at age 105½:
Pineapple Chicken Salad

3 chicken breast halves, skinless and boneless
1⁄2 cup pineapple chunks, reserving 1⁄2 cup juice
1⁄4 cup seedless green grapes
1⁄2 tsp. curry powder
1 Tbs. mayonnaise
Salt and pepper to taste

Bake the chicken until done. Cool. Cut the chicken into cubes. Add curry powder, salt, and pepper and mix well. Add pineapple chunks and grapes. Toss to mix. To make the dressing, combine the reserved pineapple juice and mayo. Mix well.
What are your top travel tips?
The sun in Puerto Rico is seriously stronger than stateside (being closer to the equator), so use lots of sunblock.
And because Puerto Rico is a U.S. territory, Americans do not need to bring their passports.
What are the Jewish sites of interest?
In San Juan, three synagogues serve the population of approximately 2,000 Jews. The Conservative congregation has about 215 families, many of whom descend from Cuban immigrants in the early days of the Castro regime. The Chabad congregation is the smallest, with about 20 families. And the Reform congregation, Temple Beth Shalom (TBS), has about 60 families—some of them descendants of Jews who emigrated from the States to the island in the 1950s and 60s and formed the congregation in 1967.
All three congregations join together for community events, such as the recent dedication of the Holocaust Memorial across from the Capital in Old San Juan; and the three cooperate with the Chabad movement's "Jewish Welcome Center," which opened in 2012 in Old San Juan and offers tours of Jewish interest.
What are services like at Temple Beth Shalom?
We're very proud of being a "singing" congregation. Without a full-time cantor, our congregants have learned both old and new melodies for weekly and holiday services from visiting vocalists. We participate not as "audience members" but fully—very vocally—in weekly services.
On Friday nights, services are mostly in English and Hebrew, using Gates of Prayer; on Saturday mornings, services are mainly in Spanish and Hebrew, utilizing a Spanish/Hebrew prayer book. This meets the whole congregation's needs—the majority of whom are English-speakers and approximately 30% for whom Spanish is their first language. Fifteen years ago, TBS was all English-speaking, but as trained locals began to replace stateside middle-management personnel in island jobs and the resident Puerto Ricans started exploring Judaism, a number of Spanish speakers converted and found their Jewish home here. Many of these new Jews-by-choice came from anusim, families who knew or suspected their forbearers included secret Jews. To this day, visiting rabbis offer training to them, and we hope more anusim will join us.
The TBS attire is very casual (except no shorts or beach clothes are allowed). Although we began as an almost Classical Reform congregation, like the rest of the Reform Movement, we have moved towards traditionalism in ritual observance; today most men wear kippot, and prayer shawls are prevalent. Part-time visiting rabbis, who stay for one or more months during the winter season, represent varying degrees of tradition on the bimah, all of which are welcomed.
Do you have unique celebrations?
Taschlich services are held on the Caribbean beach, two blocks from TBS, often surprising bathing-suit clad tourists.
We invite visitors to join us for weekly services. You'll not only meet our friendly members, but people from other island congregations, cruise ship passengers, businesspeople staying at nearby hotels, and local university students - and become part of Reform Judaism's family in sunny San Juan.