Image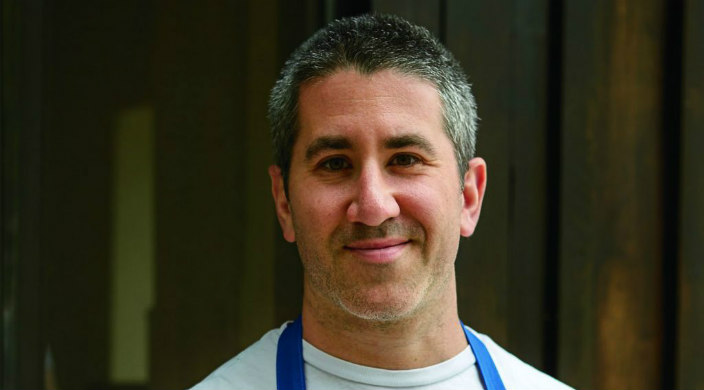 Chef Michael Solomonov, winner of a James Beard Award for best Mid-Atlantic chef, and his business partner, Steven Cook, established their landmark Israeli restaurant, Zahav, in Philadelphia in 2008. They have since published a cookbook by the same name and opened a variety of other eateries, including Percy Street Barbecue, Federal Donuts, and Rooster Soup Co., a Jewish deli-inspired luncheonette, the brainchild of his partner Steve Cook, which donates all profits to benefit the city's homeless and hungry.
We caught up with Chef Solomonov recently to talk about the defining influences that shaped his career as a chef.
ReformJudaism.org: You were born in Israel but spent your formative years in Pittsburgh, "feeling mostly American." Yet you are best known for Israeli cuisine. How did that come about?
I signed on as the sous-chef at Marc Vetri's Italian restaurant in Philadelphia in 2003, just before it closed for its three-week summer break, and took the opportunity to visit my family in Israel. My younger brother, Dave, was on leave from the military, so we had a chance to reconnect after a long separation. Since Dave had the inside scoop on many of Israelis best eateries, we traveled up and down the country, eating. For the first time, I saw Israel through the lens of a chef, and was impressed by the many ethnic influences.
Dave went back for his final month of military service, and I returned to Vetri. A few weeks later, while driving on the Pennsylvania Turnpike, I received an urgent message to call my Aunt Ava. I pulled over and got the news. "It's David," she said. "He's dead. He was killed today in the North."
David died on Yom Kippur, shot by Hezbollah snipers from across the border in Lebanon.  He had volunteered to cover a patrol shift for one of his religious comrades, so he could go to shul.
How did you handle your brother's death in the Yom Kippur War?
The moment I returned from his funeral, my tendency toward drug addiction reared its head. I broke up with my longtime girlfriend and ended up sleeping on a futon in Vetri's office. I considered joining the Israeli army to live Dave's life – and probably die his death – but thankfully, Marc and my new girlfriend, Mary, talked me out of it.
How did you move from cooking Northern Italian to Israeli cuisine? 
Marc told me that Steve Cook, a graduate of both Wharton and the French Culinary Institute, needed a cook for his little restaurant, the Marigold Kitchen, in West Philly. Steve's fiancée Shira, it turned out, was an old Pittsburgh friend. I took that as a sign from the restaurant gods that moving to Marigold was the right decision.
I set free the Israeli influences that had begun to seep into my consciousness and started experimenting with Israeli food. The Yemenite soup I loved while attending an Israeli boarding school at age 16 found its way onto the menu in the form of braised monkfish with apple, celery root, and Yemenite spices. Grilled kebabs became lamb kofte, wrapped in cabbage and served in a pool of pink lentil soup. A food critic praised it as "Jerusalem in a bowl." That was the light bulb dish for me.
The more my menu leaned toward Israel, the more passionate I became about cooking great food, and the more I began to see it as a way to honor David's memory.
Zahav is a huge success. Did it start out that way?
When we opened in May 2008, its future was far from assured. Zahav was the first restaurant of its kind. What Americans knew about Israeli food then began and ended with hummus and falafel. Even Steve and I didn't know what it meant to be an Israeli restaurant. During the first year, we were a month away from turning out the lights.
What turned it around?
We came to understand that Israeli food is not a static collection of traditional recipes. It is an idea. What connects the many restaurants in Israel – from Bulgarian to Arabic to Yemenite – is an approach to dining and hospitality shaped by a shared experience, particularly around the Shabbat table, embracing so many cultures.
Zahav is a kosher-style restaurant that does not serve pork or shellfish, and doesn't use milk and meat in the same dish. How does that figure into the shared experience idea?
Kosher rules help define the boundaries of Israeli cuisine. The second you add pork or shellfish to a dish, it can become Greek or Turkish. When you add yogurt to lamb, it can become Lebanese or Syrian. Without the influence of kashrut (the laws of keeping kosher), the notion of Israeli cuisine itself begins to fray.
What does Israeli cuisine mean to you personally?
It connects me to the country of my birth, helps me represent a country that is often misunderstood, and offers a way to celebrate the country that my brother died defending.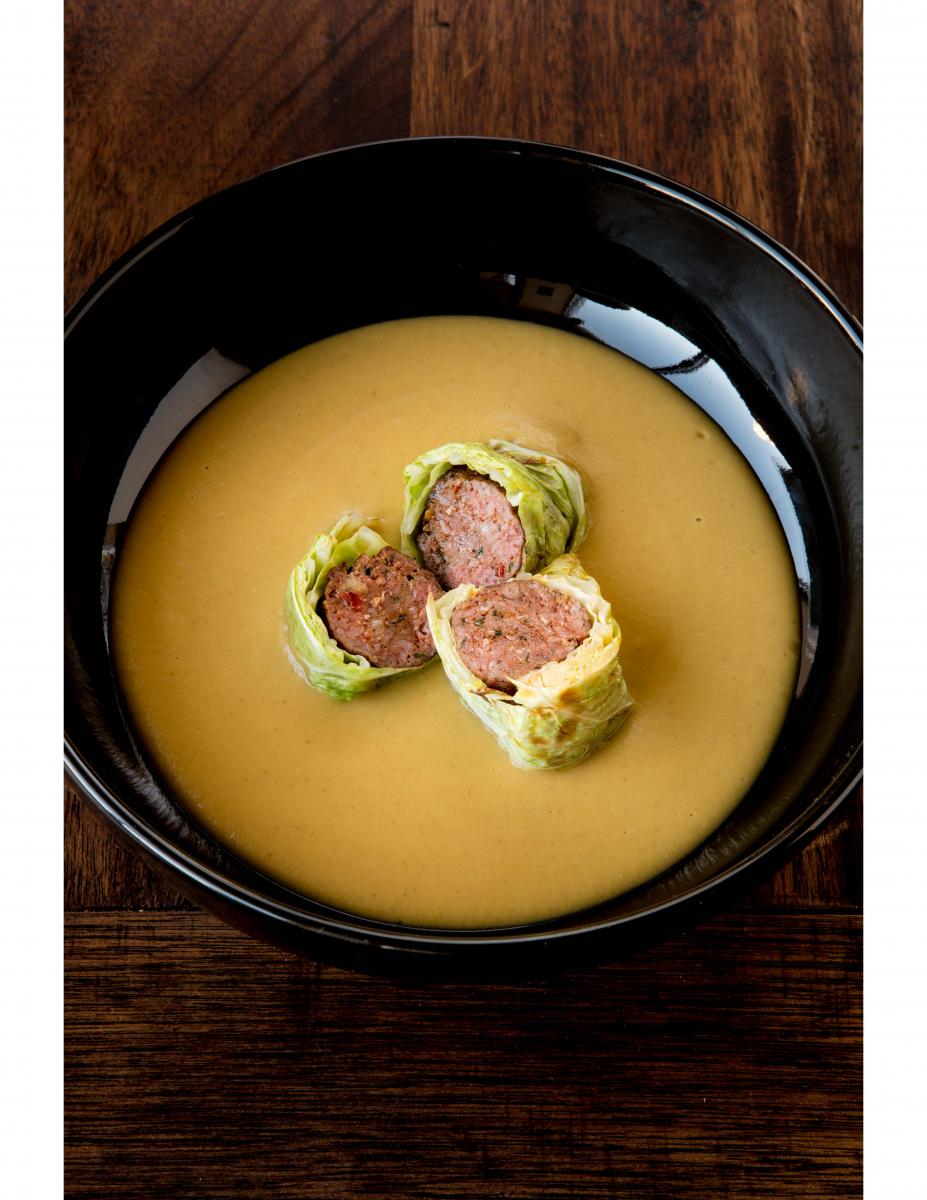 Try this recipe in your kitchen:
Pink Lentil Soup with Lamb Kofte
Caramelized Onions
Yield - 1 ½ cups; serves 4
¼ cup olive oil
6 large onions, halved and sliced
Kosher salt
Soup
1 tablespoon canola oil
2 cups pink or red lentils
1 large carrot, sliced
2 garlic cloves, sliced
1 tablespoon cumin seeds
¾ teaspoon kosher salt
1 cup caramelized onions
6 cups chicken stock
2 smoked turkey wings (optional)
Kofte
1 pound ground lamb
1 onion, grated
1 cup chopped fresh parsley
1 tablespoon kosher salt
2 teaspoons black pepper
½ teaspoon ground cinnamon
2 garlic cloves, minced
⅓ cup club soda
Canola oil, for cooking the kofte
8 large Napa cabbage leaves
Directions
For the caramelized onions: Warm the oil over low heat in a large skillet. Add the onions and a couple pinches of salt. Cook over low heat, stirring periodically, until the onions are completely brown and almost spreadably soft, about 3 hours. Caramelized onions freeze well and will keep for a few months. Makes about 1 ½ cups.
For the soup: Warm the oil in a large pot over medium heat. Add the lentils, carrot, garlic, cumin seeds, salt, and caramelized onions. Cook, stirring occasionally, until the carrot begins to soften, about 10 minutes. Add the chicken stock and turkey wings, if you like, raise the heat to high, and bring to a simmer. Reduce the heat to low and simmer, covered, until the lentils have fallen apart and the flavors have thoroughly blended, about 1 ½ hours. Discard the turkey wings if using. Puree the soup in a blender until smooth, adding up to 1 cup water to thin the soup to the desired consistency.
For the lamb kofte: Combine the lamb, onion, parsley, salt, sugar, black pepper, cinnamon, garlic, and club soda in a large bowl. Mix gently by hand until well blended. Cover with plastic wrap, pressing the plastic onto the surface of the mixture, and refrigerate for at least 1 hour or up to overnight.
Working with damp hands, form the mixture into logs about 1 inch in diameter and 3 inches long. Arrange on a plate, cover with plastic wrap, and refrigerate for 1 hour.
To cook the kofte: Heat ¼ inch oil in a large skillet until shimmering but not smoking. Add the kofte and sauté until nicely brown on all sides but still rare in the middle, about 3 minutes total.
To wrap and bake the kofte: Preheat the oven to 275 degrees F. Bring a large pot of salted water to a boil. Add the cabbage leaves and cook for 2 minutes, until softened. Transfer to a large bowl of ice water to chill, remove, and pat dry. Cut away and discard the tough vein at the bottom of each leaf, burrito style, and arrange in a small baking dish.
Lightly brush the wrapped kofte with oil and bake until the lamb is just cooked through, about 20 minutes.
To serve: Reheat the soup, ladle it into wide, shallow bowls, then slide in the lamb kofte.
Photo credit: Michael Persico
Related Posts
Image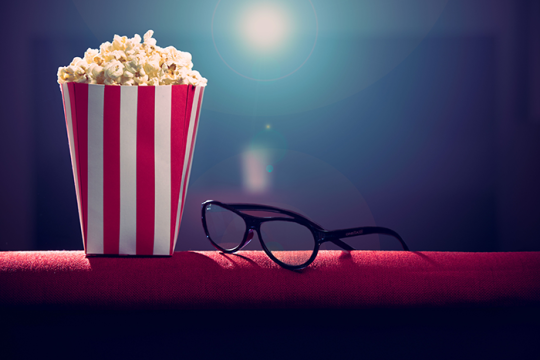 Two very different Jewish films have emerged on the 2023 late summer film scene. One depicts the trials and tribulations of a 75-year-old legislator during the greatest crisis of her life, the other portrays a 12-year-old girl on the cusp of adulthood.
Image
As we are amidst the season of new beginnings - new Jewish year, new school year, and new Torah cycle - we have a wonderful opportunity to explore the many Broadway composers who were inspired by the Biblical beginnings of the Book of Genesis.
Image
One might not immediately associate Frank Stella (b. 1936), the American painter, sculptor, and printmaker noted for his work in the areas of minimalism and post-painterly abstraction, with a lyrical poem that concludes the traditional Passover meal.